October 21, 2011


For Jason's birthday we decided to climb La Plata Peak. I have no pictures from the last time I climbed the peak so now I can do my first trip report on it, and we took the route from the south that neither of us had taken before. We enjoyed beautiful weather on the hike.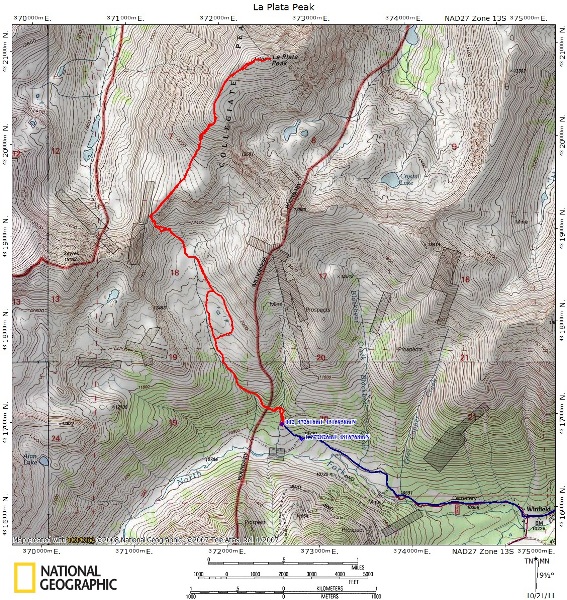 Click for a larger version

| | |
| --- | --- |
| Distance: | 7.2 miles |
| Elevation Gain: | 3,550 vertical feet |
| Time: | 5 hours |
---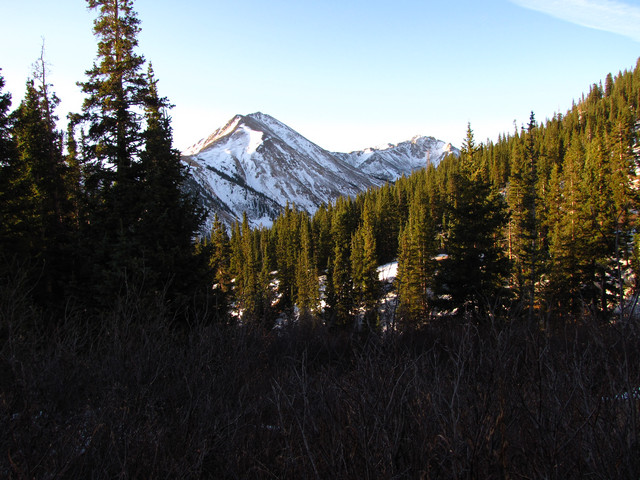 The weather forecast was bomber so we didn't start this hike until 7 so we could have a warmer start to our day. Also nice to start in the light of the day.


---


The trail quickly gets up into an alpine basin that is gorgeous with mountains in all directions.


---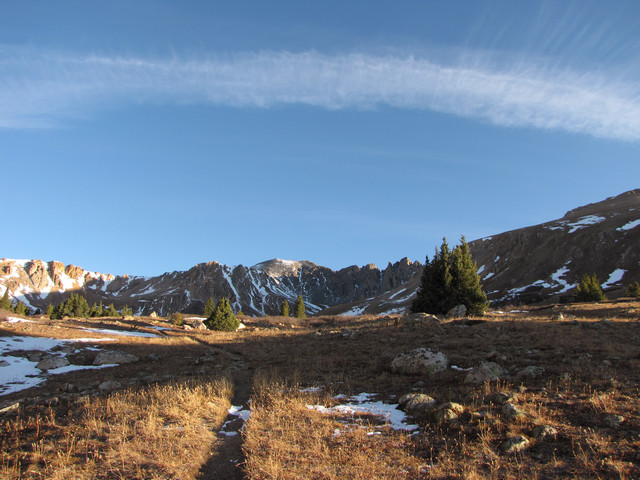 At the end of the valley the false summit of La Plata is visible.


---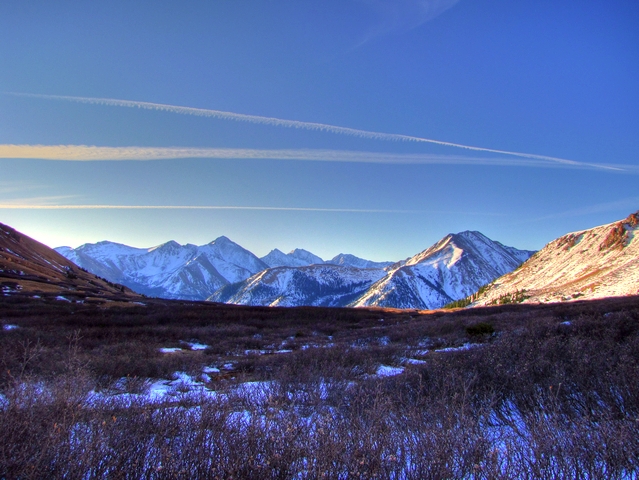 Don't forget to look behind you as you climb into this valley. Huron Peak and the Three Apostles dominate the view behind.


---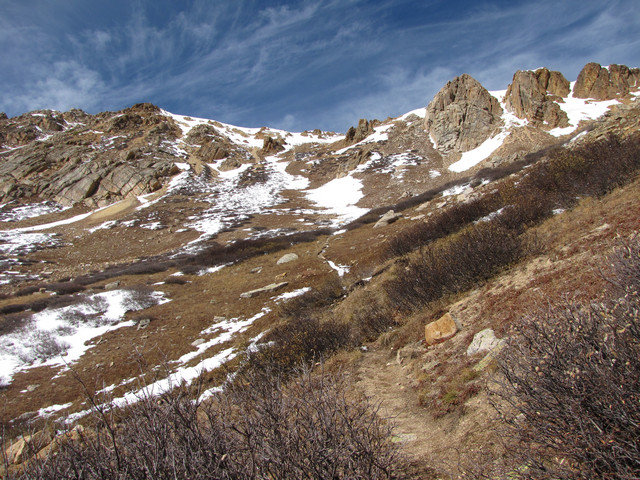 At the end of the basin you must ascend the headwall to gain the ridge and continue on the way. It's steep but short and sweet.


---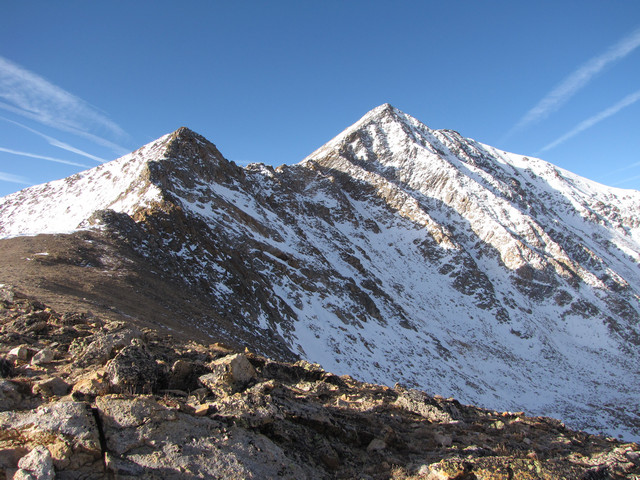 After gaining the ridge again, you need to look around an notice the view of Sayres Peak.


---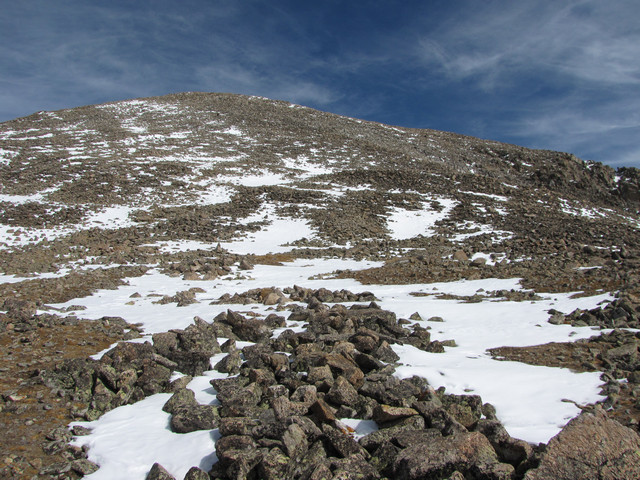 The next challenge is to get up the false summit. There are dozens of trails and hundreds of cairns in this area, the key is to head for the right side of what appears to be the top. We had been discussing how after hiking for many years we were used to false summits but this one still makes you feel a little


---
---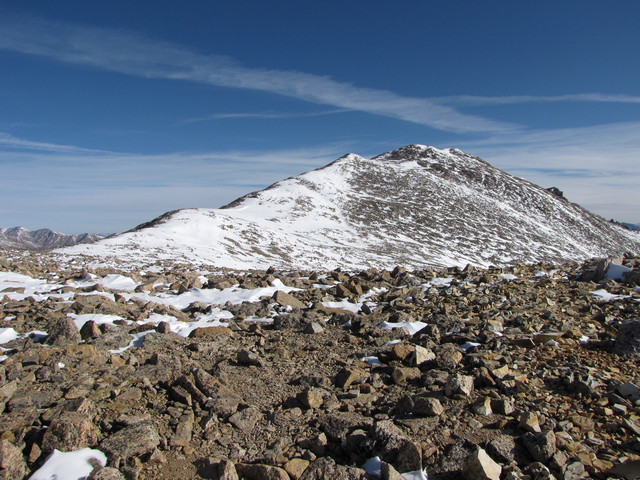 After gaining the false summit the trail goes between two mounds and this is the view of what remains.


---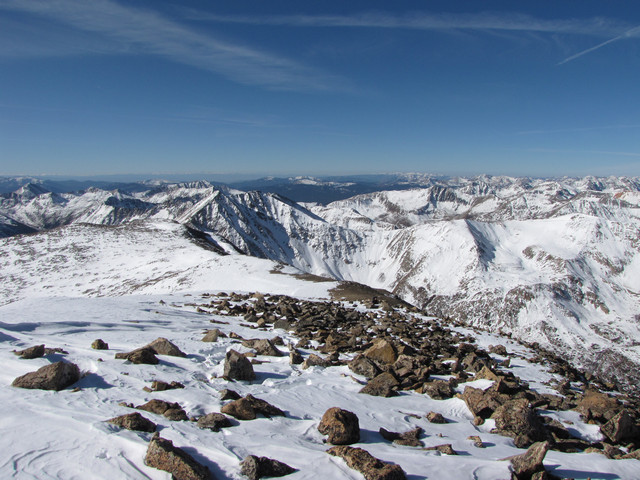 We took it in stride though and were soon working our way up the summit ridge.


---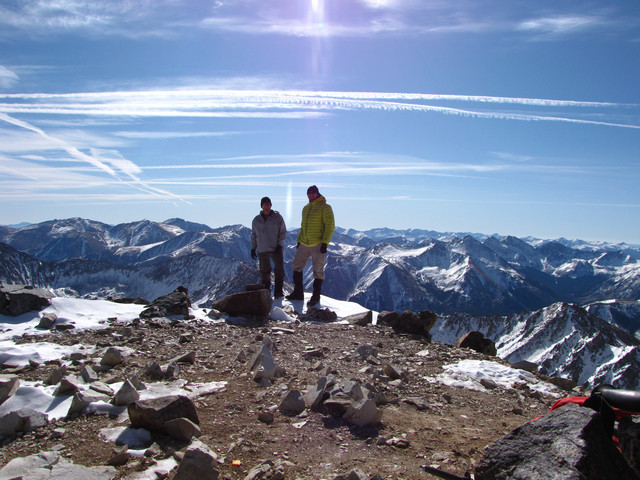 We made it!!


---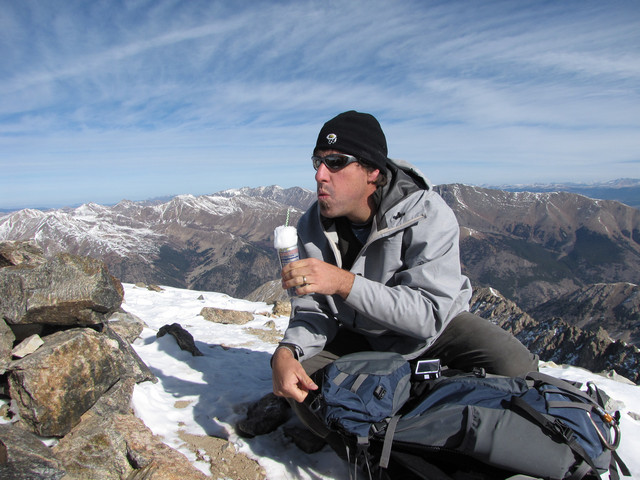 It was Jason's birthday trip, so what better for a summit celebration than a Red Bull with a birthday candle to blow out.


---
I did a few pano's from the summit click here for those (some are very large files):
Elk Range Pano
Ellingwood Ridge Pano
Full Summit Pano

Tenmile/Mosquito Range Pano


---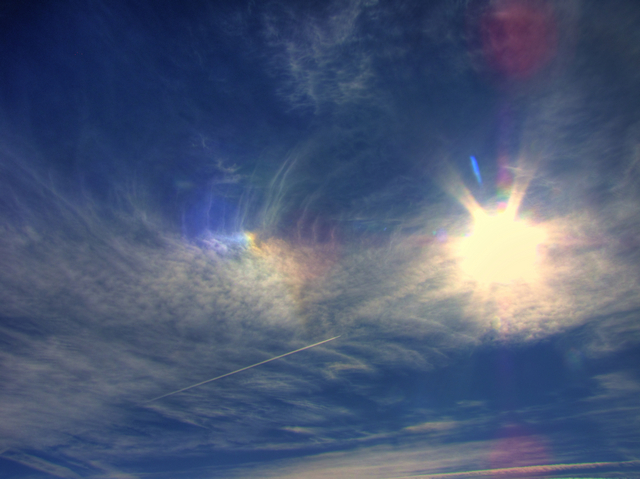 While on the summit I saw a sun dog. We also had an interesting experience with the weather on the summit. As soon as we stopped, both of us put on additional layers as normal to keep warm as our heart rates come back down. We were fine for a while but then both noticed that even though it was sunny and no wind we were having a very hard time staying warm. The air temperature was much lower than we'd expected. I had two synthetic shirts on, a down sweater, a shell jacket, wool beanie, insulated windproof gloves, shell pants and pants, gaiters, wool socks, and heavy boots. Yet I was having trouble staying warm and was loosing feeling in my fingers and toes. I really wish I'd brought along a thermometer for the trip, but from experience I'd say it must have been close to 0 if not below. Which was weird for how nice of a day it was, and only being October. While descending the wind picked up and even though we were moving and still wearing all our layers we were still cold. Though as soon as we got past the false summit again the air temperature was much higher again. We were able to take off several layers and still be plenty warm. Strange how in such a small elevation change the temperature can be so different.


---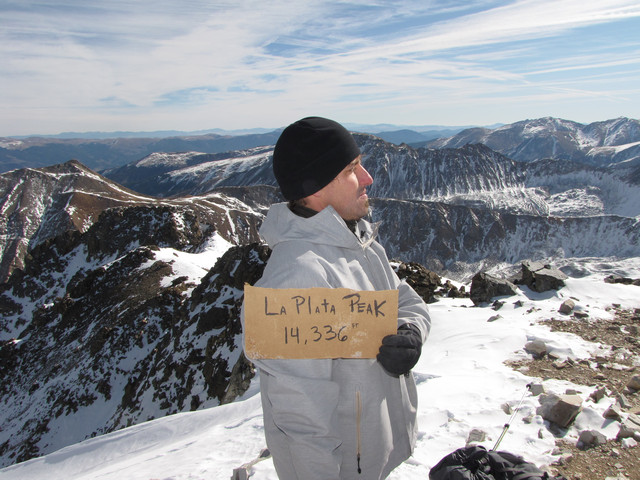 It drives me nuts that people leave their cardboard or paper signs on the summit of a mountain. Pack it in, pack it ou. We did have a little fun taking mug shots with it though. If you see this gentleman while hiking do not approach and report to authorities immediately.


---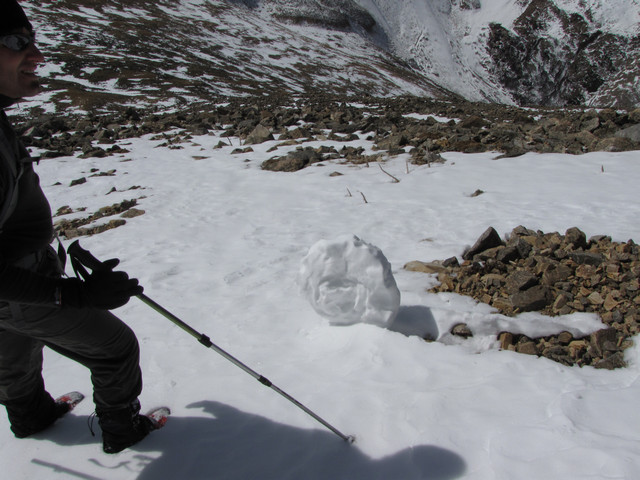 On our way down (well into the warmer air) we came across a snow roller. This naturally happens on steep snow slopes when the snow is melting.


---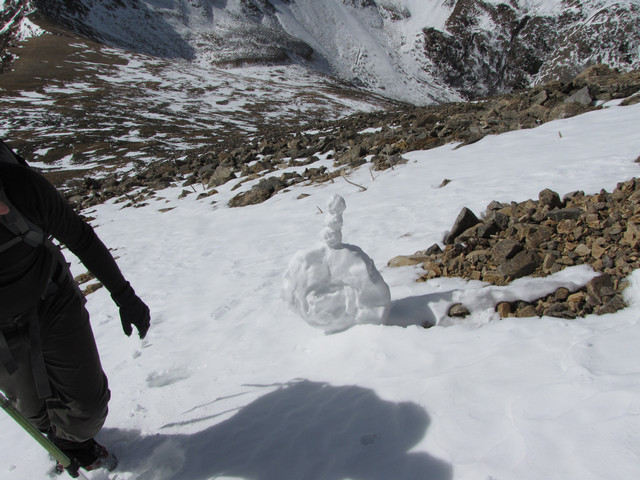 Jason decide to turn it into a snow roller cairn. Is this LNT trail marking?


---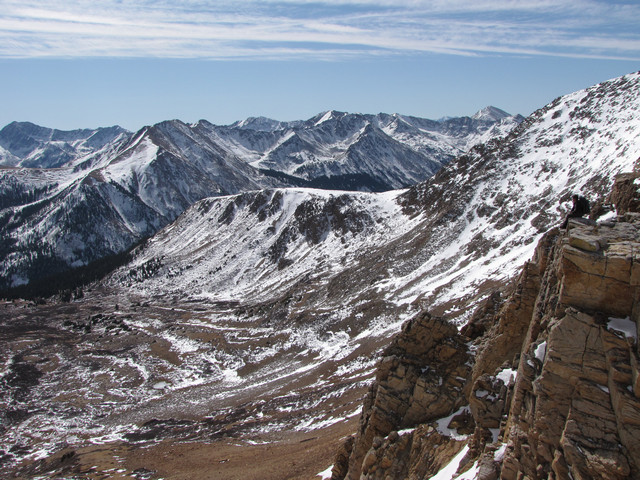 Jason surveying the basin below reflecting on his 37 years. Or possibly just planning our route out to avoid the swampy marsh.


---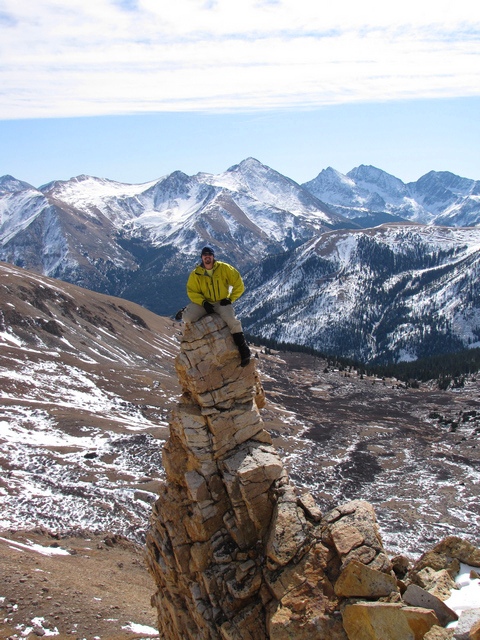 I aspire to be a mountaineer someday!


---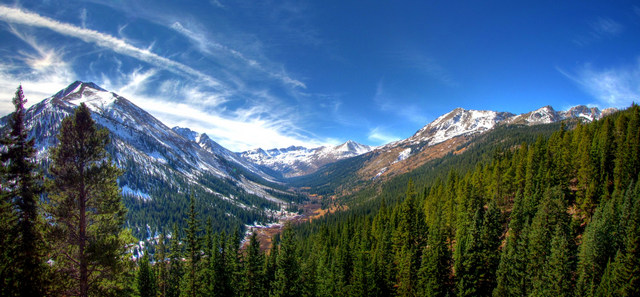 It had been a fun day and the best birthday hike for Jason yet, not that the competition for that was tough. I loved this route and it ranks for me as one of the most scenic routes I've done.


---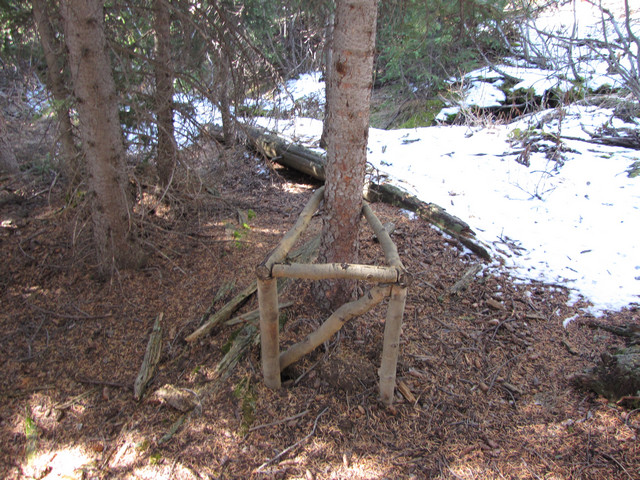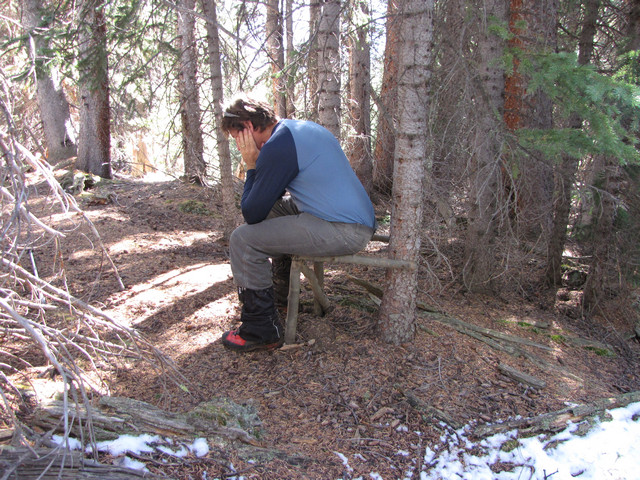 Oh and as it turns out there are restroom facilities at the trailhead, but you need to supply your own wag bag and toilet paper. :)



---
You are welcome to contact me with any questions regarding questions about, or problems with, this website. Just send me an e-mail at josh_friesema@hotmail.com.