June 26-28, 2009
Jason, Geoff, and I had attempted this peak in September of 2007. That year we had been unable to summit due to weather. Partly as a pursuit of adventure and partly as a result of the Durango/Silverton Train price hikes, we decided to hike the Vallecito Route this time. It definitely turned out to be an adventure. In total it was a 42.5 mile trip with 10,737 vertical feet.


Map: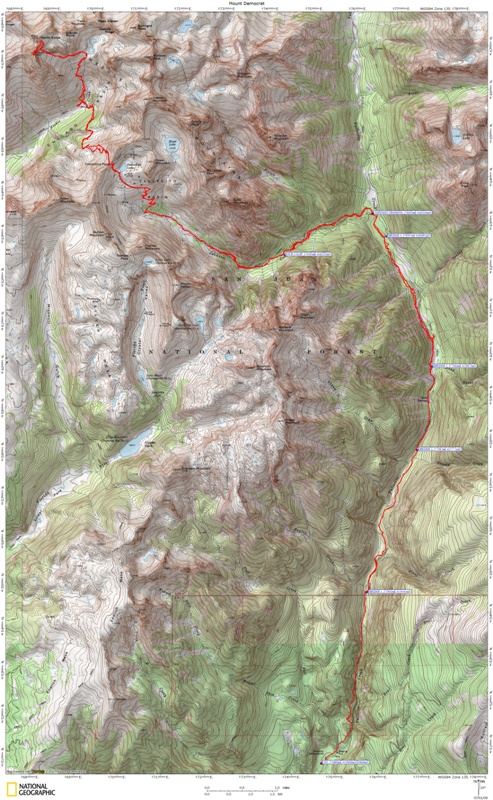 click map for a larger version



Elevation Profile:

---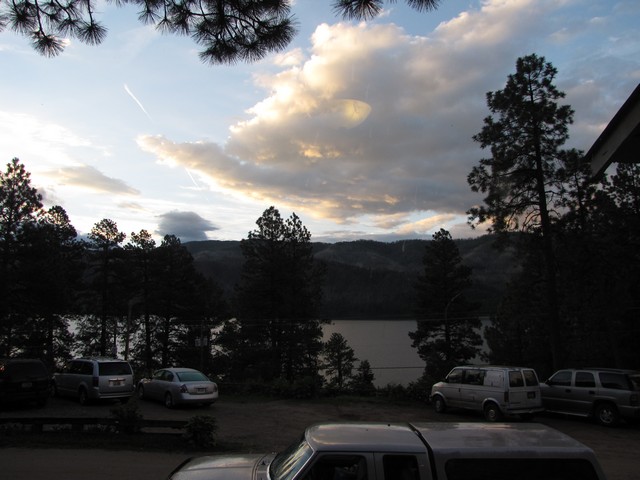 We stayed at the Pine River Lodge on Vallecito Reservoir and woke to clear skys that unfortunately turned cloudy quite fast.


---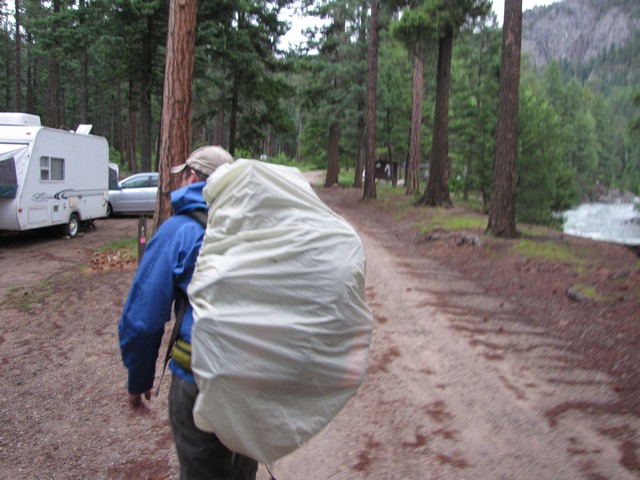 We were on the trail by 7 and the rain had already started.


---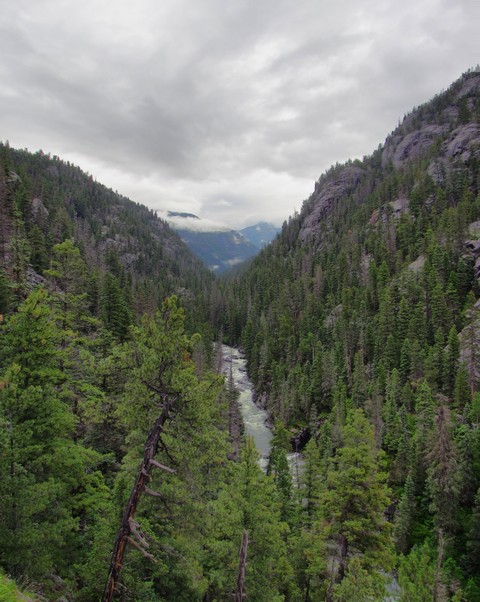 The trail rises up above Vallecito Creek fairly fast then there are some ups and downs as you parallel the creek.


---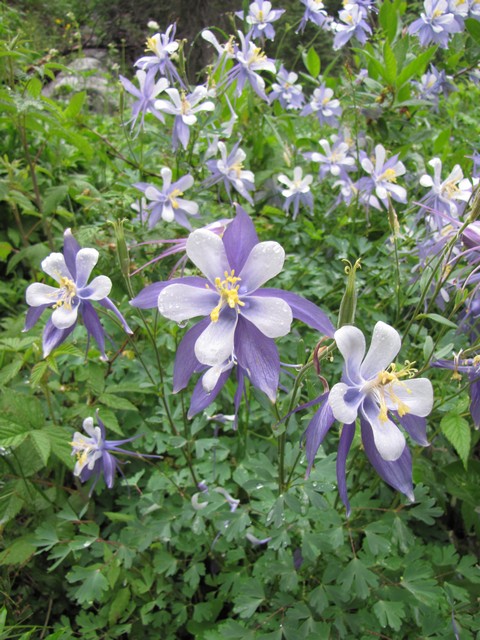 The wildflowers were blooming in abundance. I was especially impressed with the Columbines.


---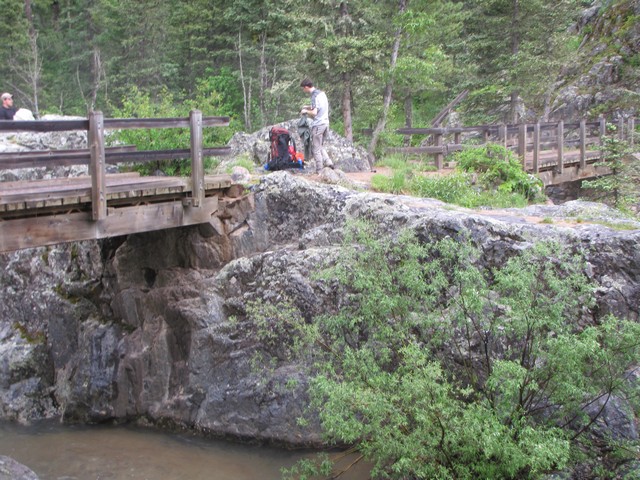 It didn't take us long to reach bridge 1 (of 4) on Vallecito Creek. This bridge is really cool as it's actually two bridges that use a rock island in the creek. It made a great place to stop and eat.


---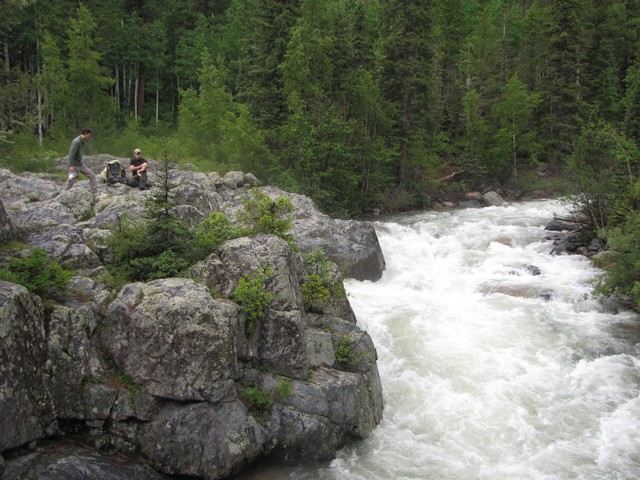 We noticed the creek was flowing pretty strong. To me this doesn't really qualify as a "creek". I'm thinking river.


---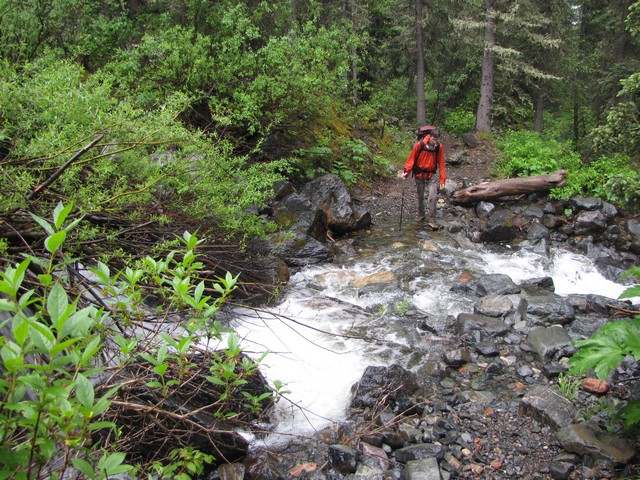 There are many small creeks along the way that must be crossed as well. Though all are easily crossed by hopping on rocks.


---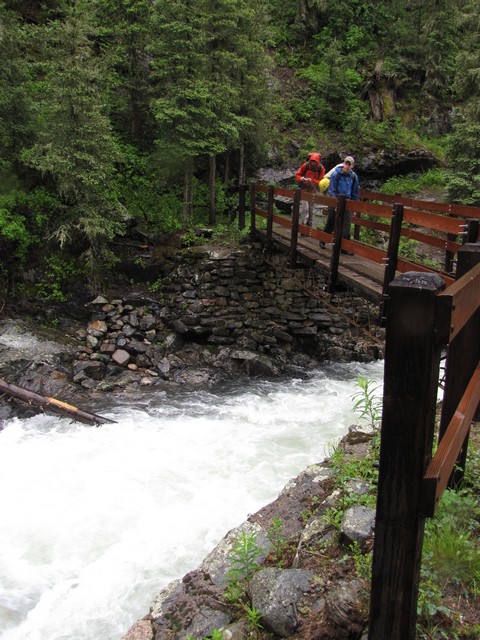 We made good time up to bridge 2. We noticed several good campsites between bridge 1 and 2. Our goal though was to get over Columbine Pass on day 1.


---

When we reached "bridge" 3 we knew we had a problem. We knew it had been knocked out by an avalanche in 2005, but had been told after mid June the creek could be waded. There's no way. It was fast moving and probably 4 feet deep. The rope that had been hung across was on some very bad anchors and was rope spliced to webbing spliced to something we couldn't tell what it was. We decided to stay on the west side of the creek and try to find our way through. This turned out to be easier than expected (though still a challenge).


---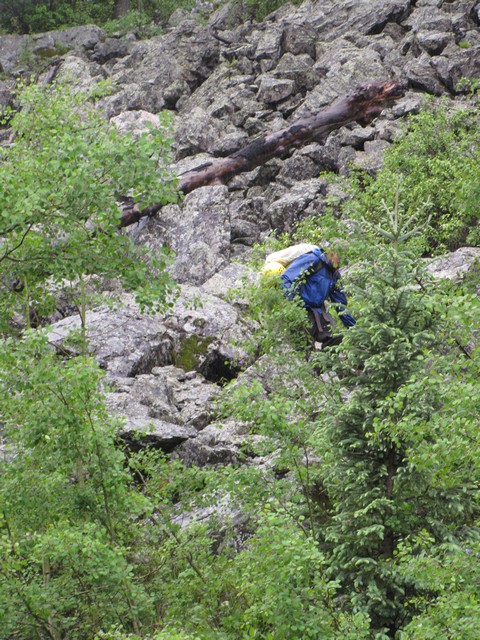 The hardest part is getting around the talus field at bridge 3. Jason and I went high and Geoff stayed low near the creek. Geoff's way was easier.


---

We followed some light paths from there and found a nearly dry creek bed that made for some quick travel.


---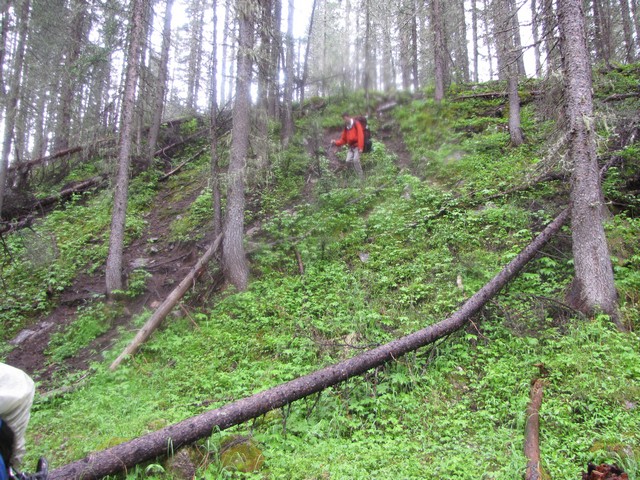 Then we mostly followed some strong elk paths. This worked really well, but there were still some difficult areas of avalache debris and walking through wet willows soaked us thoroughly.


---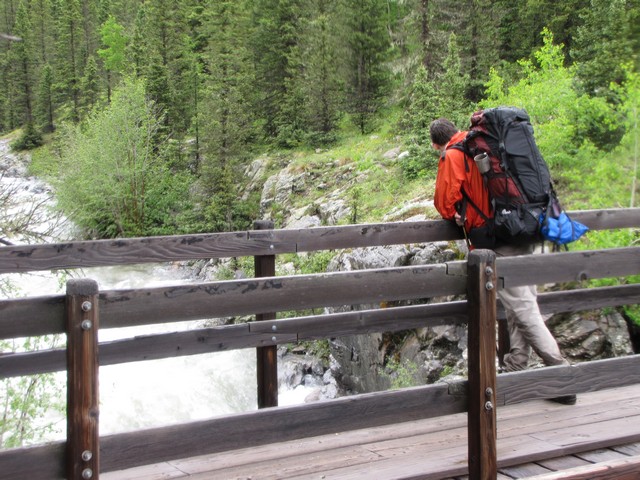 We reached bridge 4 a little over 2 hours after leaving the bridge 3 site. Not bad for 2 miles of bushwacking. Definitely way better than risking the crossing. We stopped to check out the bridge but obviously had no need of it since we'd skipped bridge 3.


---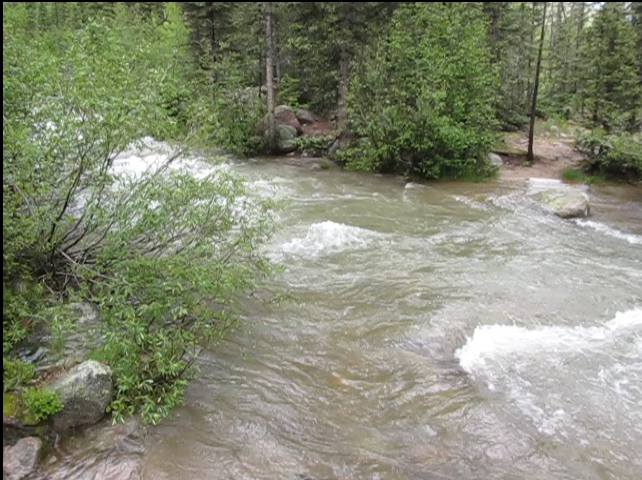 Next was one of the best parts of our trip. We reached the Johnson Creek crossing and were shocked to find that that one looked dangerous too. While trying to figure out what to do a couple of guys showed up who had hiked in from Elk Park. They weren't too sure about the crossing either.


---
Then we realized that we had 5 guys and there were several large dead aspens next to the creek. So we built this bridge...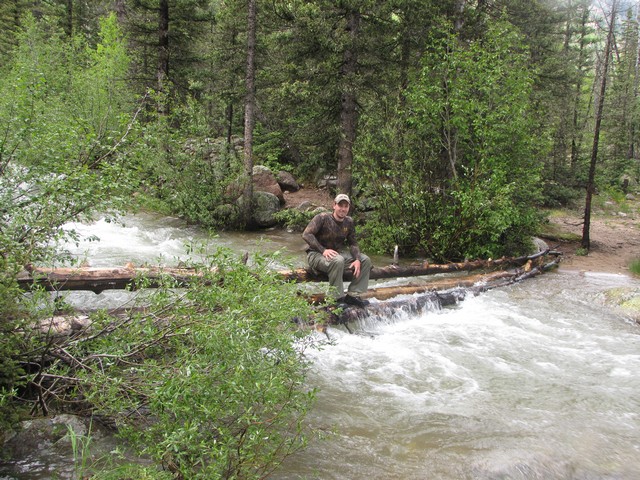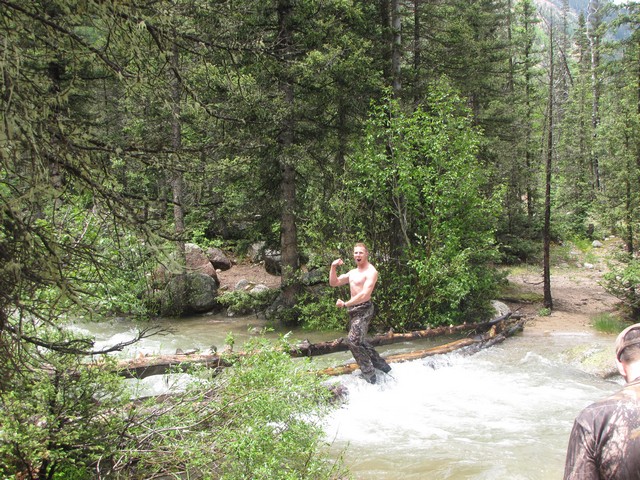 The two guys from North Carolina (Luke and Rance) were a huge help, and saved our trip. Amazing how God can time things so that two guys who started hiking 8 days before us could wind up in the same spot within 5 minutes of us with the same problem.


---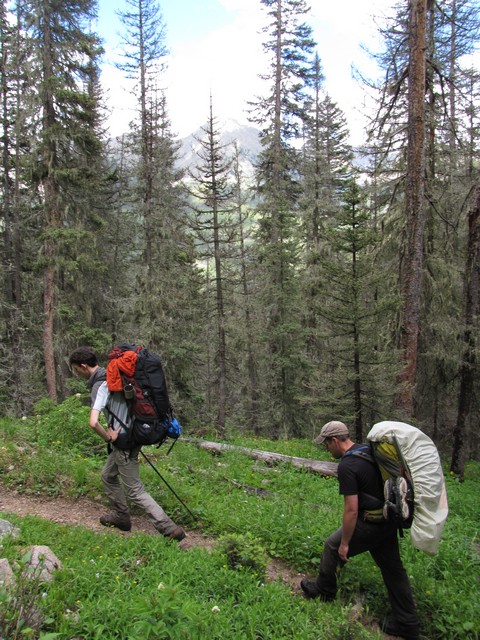 While building the bridge the sun came out which helped lift our spirits for some more hiking. The trail after crossing Johnson Creek gets a bit steeper and begins to do some switch backs.


---
The benefit of the steeper ground was all the waterfalls...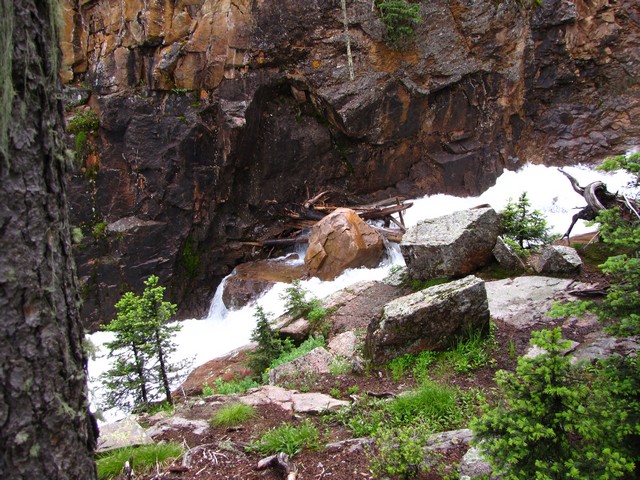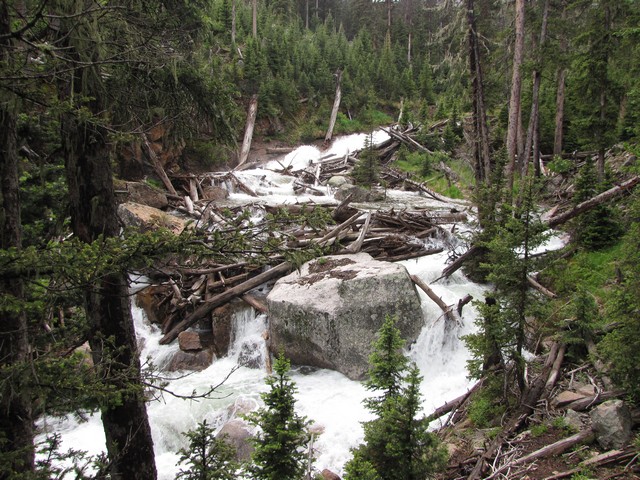 I could have taken pictures of hundreds more waterfalls.


---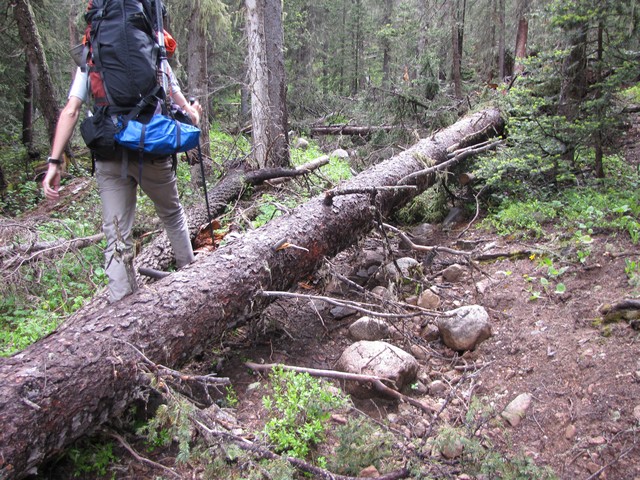 Due to a wet year and the bridge being out preventing maintenance, there are a lot of fallen trees on the Johnson Creek trail. 30 or more would be my guess. They aren't terrible difficult to get around but they do slow down progress.


---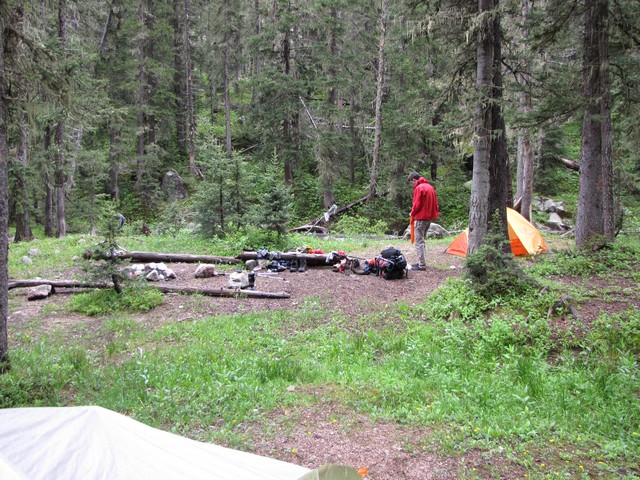 After getting to 10,100 on the trail we were pretty exhausted. It had been nearly 13 miles of tough hiking with full packs, so Jason found a great site and we stopped to make camp on Johnson Creek instead of getting over Columbine pass. Later that evening Luke and Rance caught up and joined us at this camp. They were great for conversation, and they built a fire which was fantastic after a long wet day.


---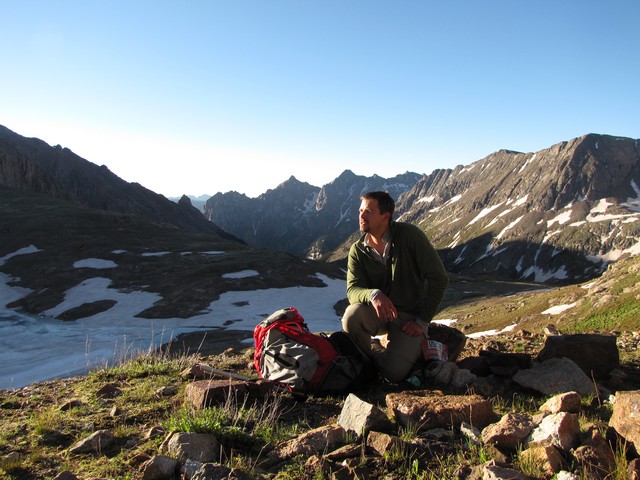 The next day we decided to push long and hard with light packs and do Columbine Pass, descend to Chicago Basin, climb Mount Eolus, decend to Chicago Basin, climb Columbine Pass again and return to camp in one day. We knew it was going to be a long day so we started hiking at 4 am. We reached Columbine Lake just after sunrise and stopped to eat breakfast.


---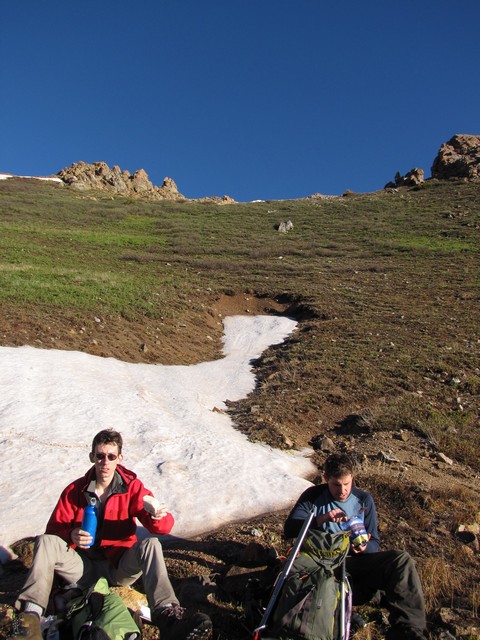 Columbine Pass is a quick steep ascent from Columbine Lake.


---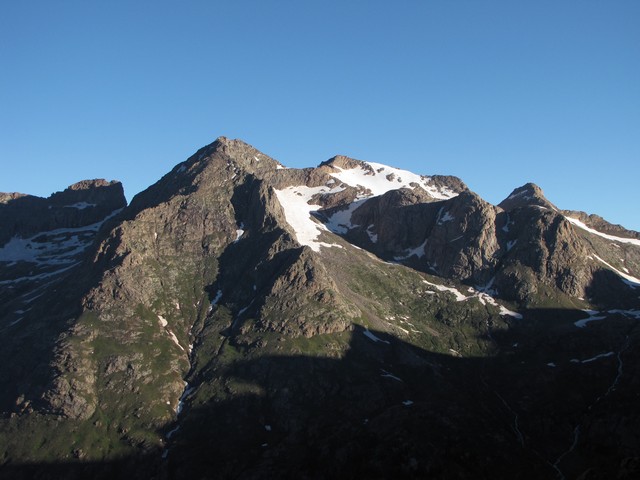 When we reached the pass we could see across the valley to our goal. It was a nice vantage point to scope out the route, but intimidating as well. From here we could see we would be using the crampons and ice axes.


---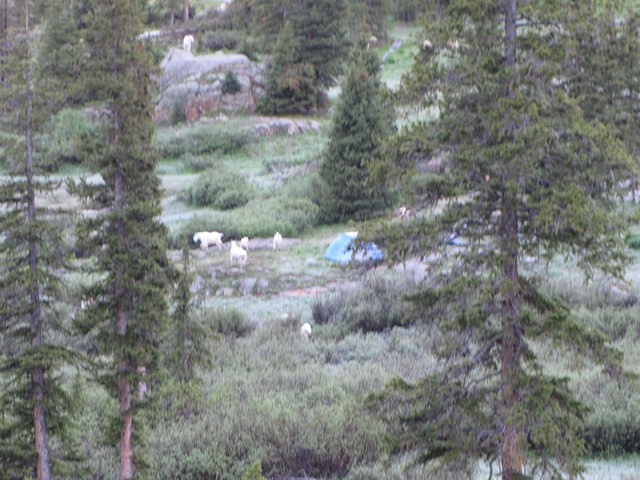 The descent went quickly to Chicago Basin where we found dozens of tents. We also found a lot of mountain goats there, and campers trying to defend their campsites.


---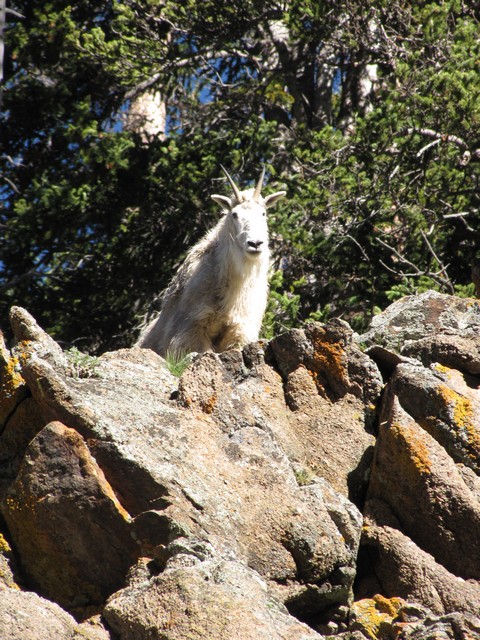 Keep your eyes on the goats, this guy almost got me with a rock.


---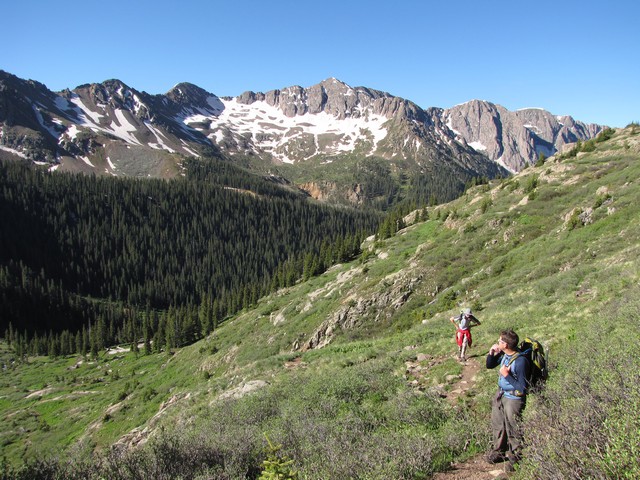 As we began ascending again we didn't see anyone else on the trail until 13,000 feet which suprised us a little on such a beautiful morning.


---


The Twin Lakes were still frozen over and there was quite a bit of snow up towards Sunlight and Windom. Shortly after passing Twin Lakes, Geoff realized he didn't have enough left in him to make the summit before the weather turned so he headed back. The clouds were building and I think the fact that he hadn't had the time to acclimate was slowing him down.


---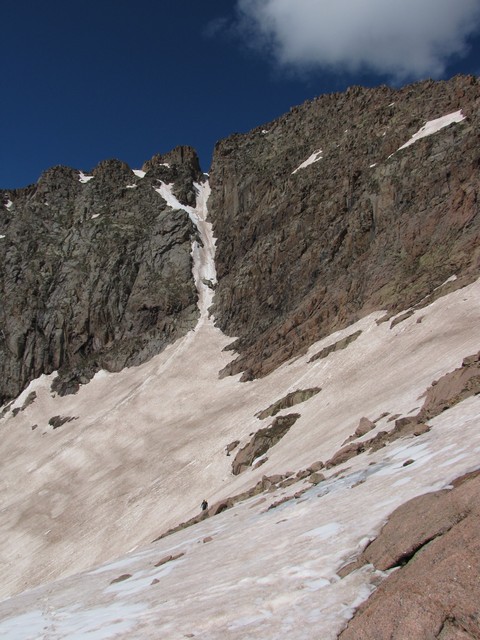 Jason and I continued up to the ledges that lead to the ridge of Eolus. They were covered in solid snow so the climb was some nice easy cramponing.


---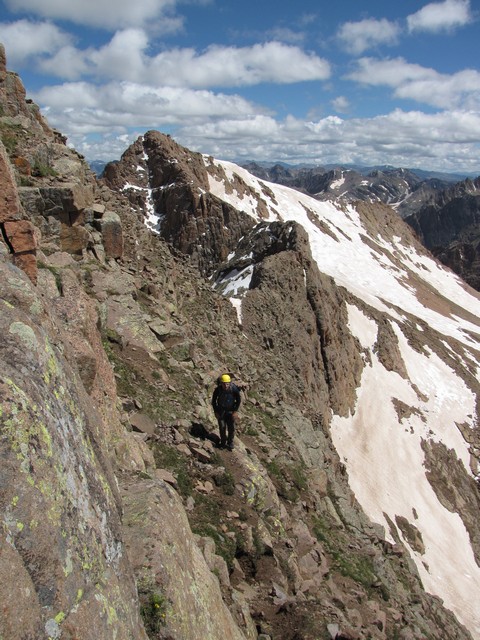 After reaching the ridge we quickly crossed the catwalk (pictures below on the return) and found the ledges to be an interesting maze. We quickly realized though that the easiest route is well cairned.


---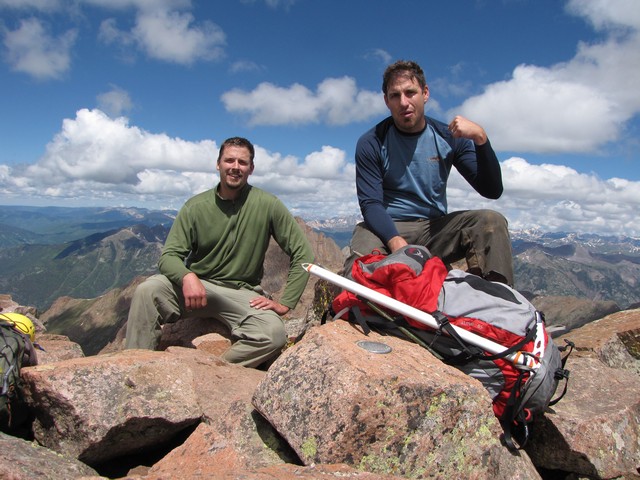 At 11:30 we reached the summit. The GPS showed we had come nearly 10 miles and gained 6,000 feet that day alone. And of course that meant we still had a long trip back to camp.


---
---

Here is the customary summit panorama. Click it for a large version.


---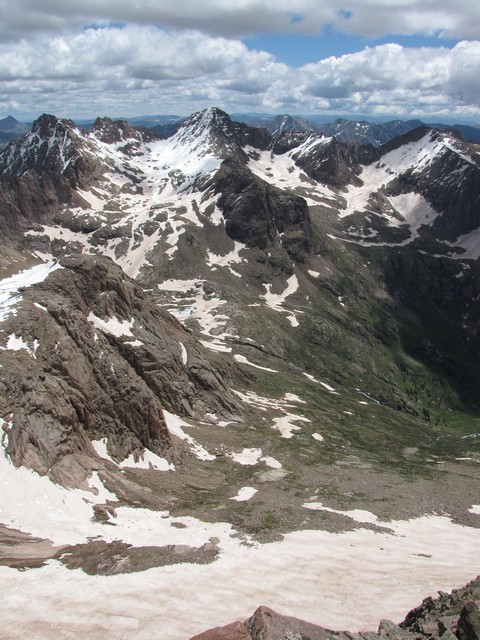 Sunlight and Windom look awesome from Eolus.


---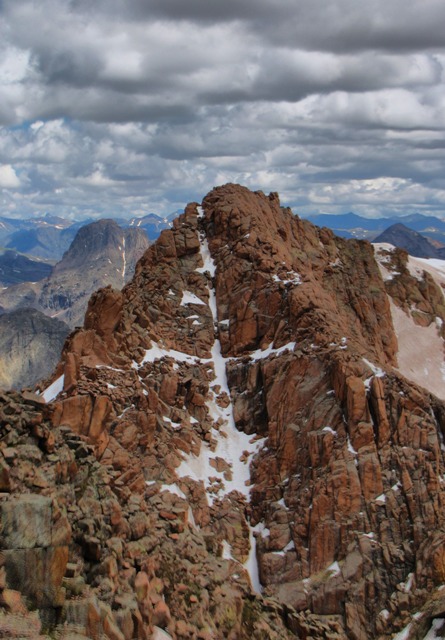 As we began to descend we noticed that North Eolus has snowfields on it that form a cross, possibly better than the one on Mount of the Holy Cross. Pretty cool. Although any religious pilgrims will have a lot more of a challenge getting to see this one.


---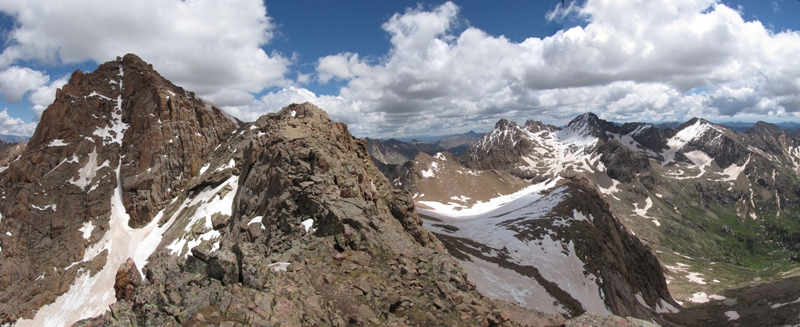 On the way back down we took a little more time to take pictures of the catwalk. I'm in this photo, look for the yellow helmet.


---

It's extremely difficult to capture the exposure of the catwalk in a photo, but this photo (actually 12 stitched together) does a decent job. Click the photo for a larger version.


---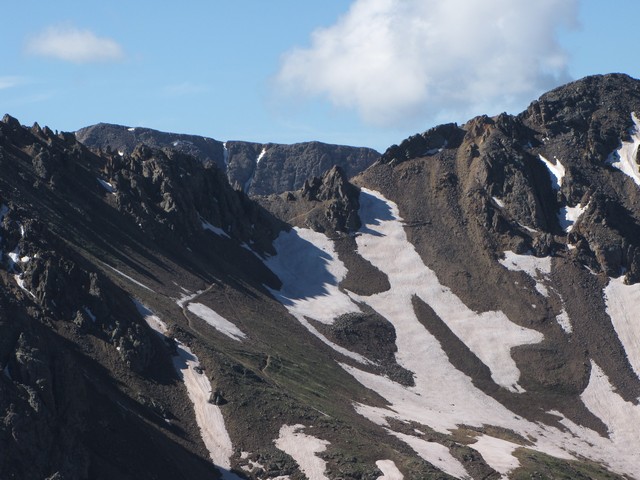 On the decent we were in a hurry to get back over Columbine pass while we still had good weather. We didn't do much glissading though as there weren't many safe options. In fact I actually had to do a first do-or-die self arrest on this descent during a section we were just walking. Practice pays off, I was able to arrest the slide quickly and well before the danger.


---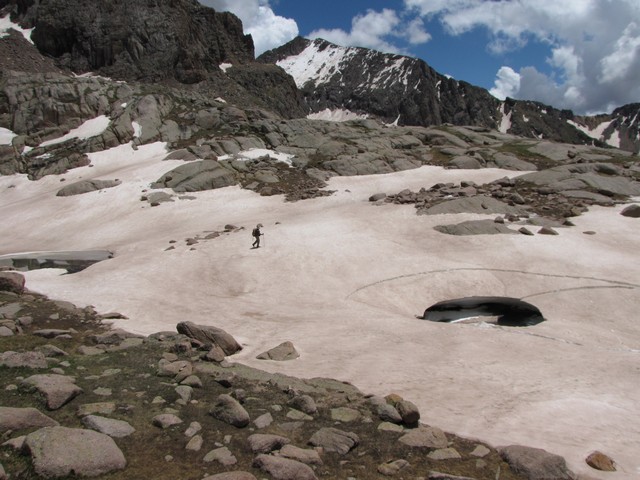 The snow is melting quickly but is still found down to nearly 12,000 feet with small patches down to 11,000.


---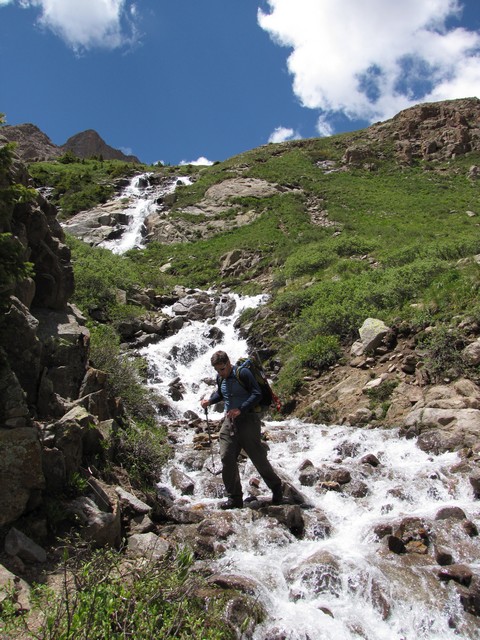 Even in Chicago Basin waterproof footwear is a must.


---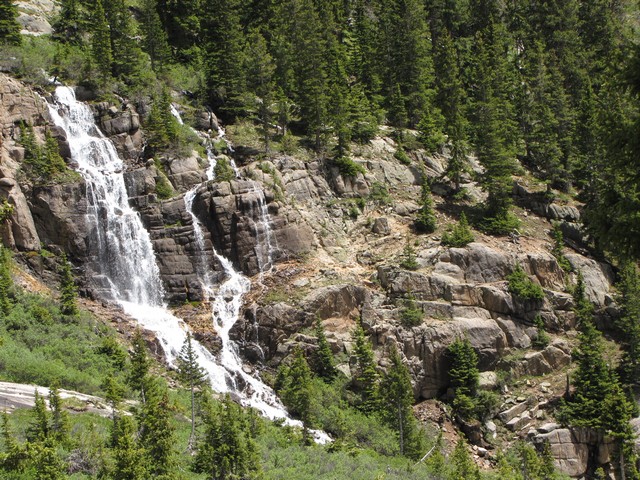 Again it was just so hard to decide when to stop photographing waterfalls.


---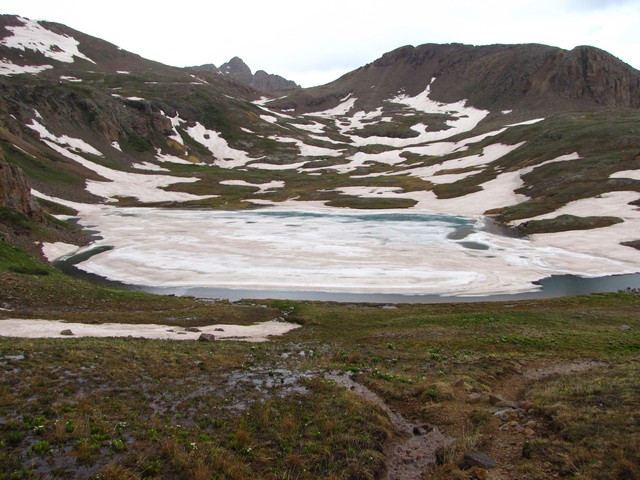 We ended up crossing Columbine Pass quite quickly to stay ahead of the weather. Just as we got down the other side to Columbine Lake it started to rain. Then just as we reached the first trees we saw lightning.


---

About 2 miles short of camp it started hailing so we took cover under some trees and waited that out.


---

Then back at camp we returned to a warm fire. That was awesome. Hallaluyer, as Rance says.


---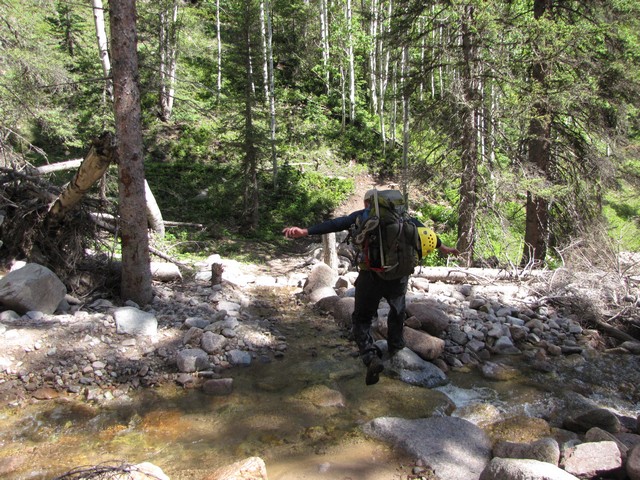 The next day we took our time getting things together and headed out.


---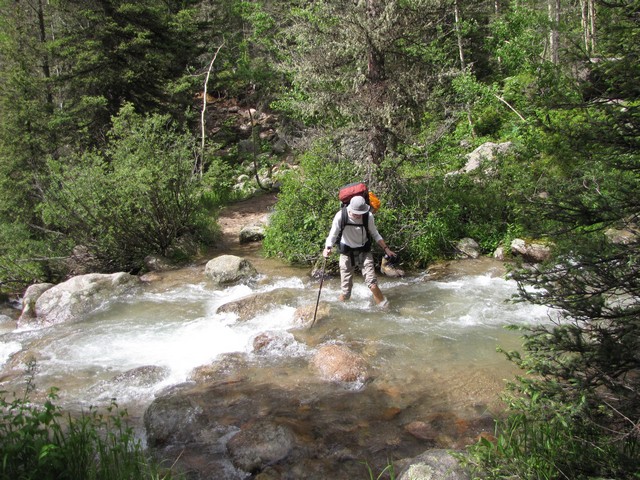 The stream crossings were all a little lower.


---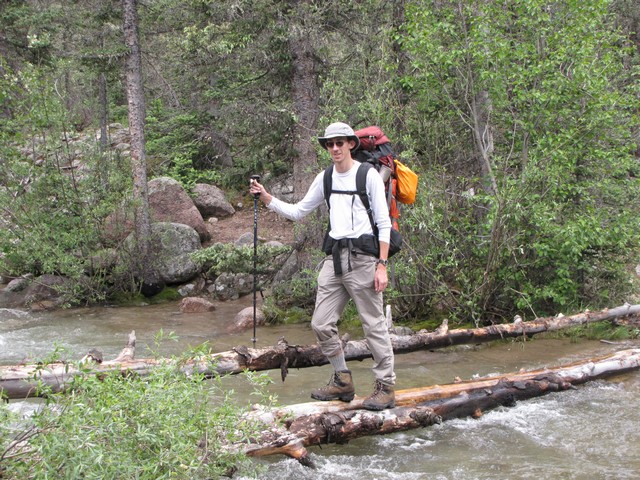 Our bridge had survived the past couple of days of rain, and wasn't really even touching the water now.


---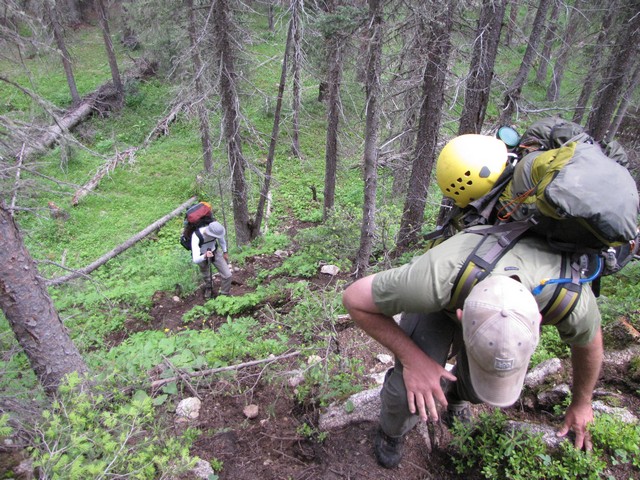 Again though we took to the elk paths between bridges 4 and 3 to avoid having to wade through Vallecito Creek.


---


Here is a look at the avalanche debris from the 2005 season at bridge 3.


---

Most of our trip out was sunny and warm, a nice change from the trip in.


---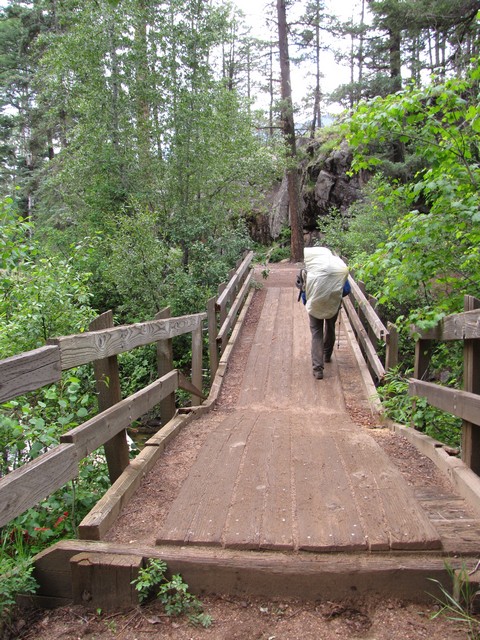 It was a welcome site to reach the Fall creek bridge (damaged by a huge aspen that fell on it) which is just outside the Vallecito Campground.


---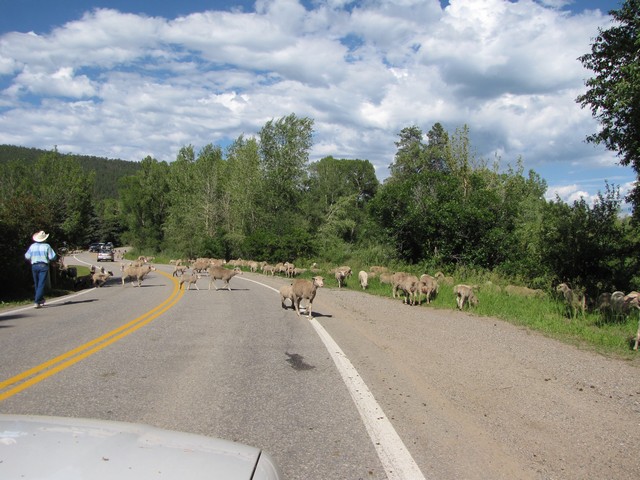 On our drive back out on 501 we came across some sheep being herded to a different field. Pretty entertaining.


---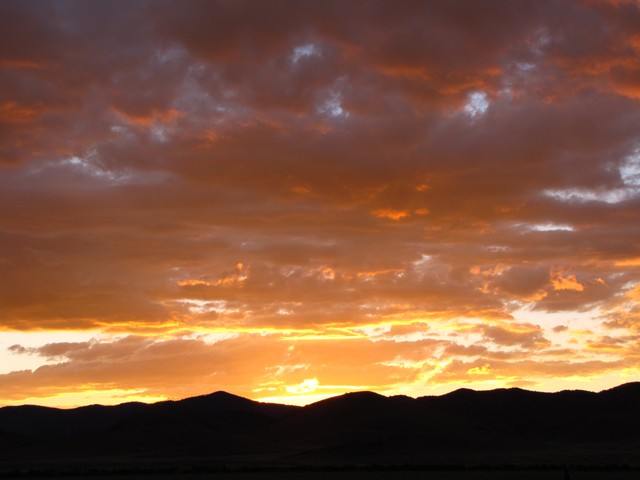 Then a beautiful sunset as we crossed the San Luis Valley.


---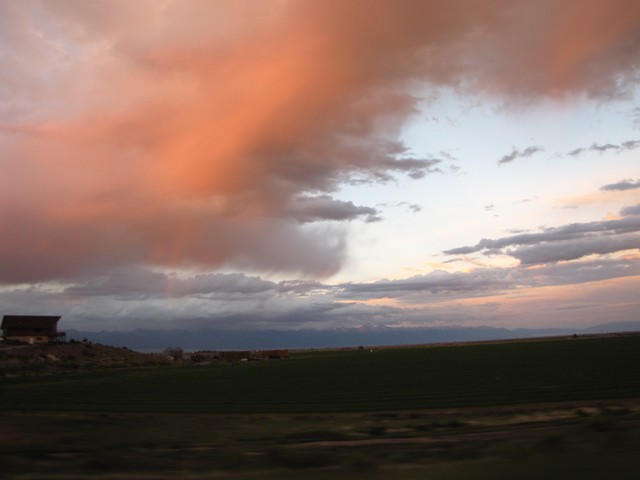 Hard to see in the photo but we also got a rainbow to boot.


---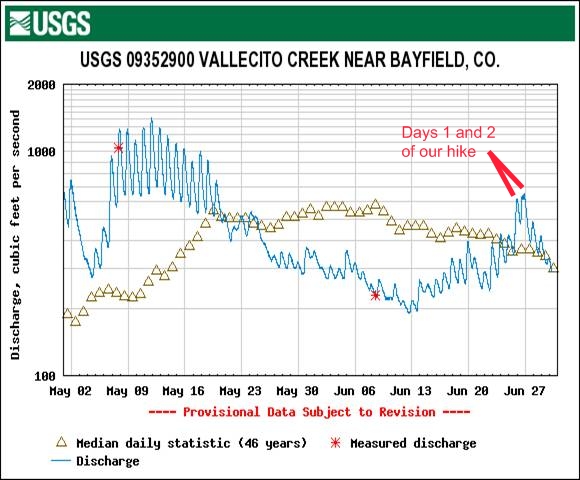 After getting home I looked up Vallecito Creek water levels to see how our trip fit. Turns out it was a high water time. We'd been planning this trip since early June when water levels had gone way below normal and didn't expect such a resurgance. You can look up the current conditions of Vallecito Creek on the USGS Water Data Site.

Overall it was just an amazing trip. I'd been preparing for it for a long time. I even picked up jogging, which really got me in shape for this hike. I'd also lost 25 pounds to prepare for this. In the end though it still just comes down to relying on the strength of God. He brought us the help we needed to build a bridge, and he gave us the weather we needed just long enough to achieve our goal safely. We made some new friends on this trip, and got to enjoy another hike with our friend Geoff. Now Jason and I have just one left to finish all of Colorado's Fourteeners. We'll be doing that one in July, Deo volente.


---
You are welcome to contact me with any questions regarding questions about, or problems with, this website. Just send me an e-mail at josh_friesema@hotmail.com.