August 6-10, 2010
Mount Rainier
14,411 feet
2 years ago my friend Mitch Walma failed to summit Mount Rainier with a friend and his wife (read that account here.) He immediately vowed to return. I suggested to him that perhaps Jason and I could be his team on the next attempt. After all we'd finished all the Colorado 14ers and were looking for our next challenge. The next year we made the decision final and began planning and preparations. We amped up our workouts. I even ran in a 15k race on the 4th of July (I was slow but I finished). Jason was doing the Manitou Incline several times a week. Jason and I did some rope training ahead of time so he could learn how to use a rope to rescue himself or someone else from a crevasse.

Mount Rainier is not just another 14er. Though similar in elevation to the 54 14ers in Colorado it stands heads and shoulders above as a challenge. Technical skills, adequate equipment, and physical fitness are mandatory. Rainier turns back 50% of its climbers every year without reaching the summit.

This is our GPS track: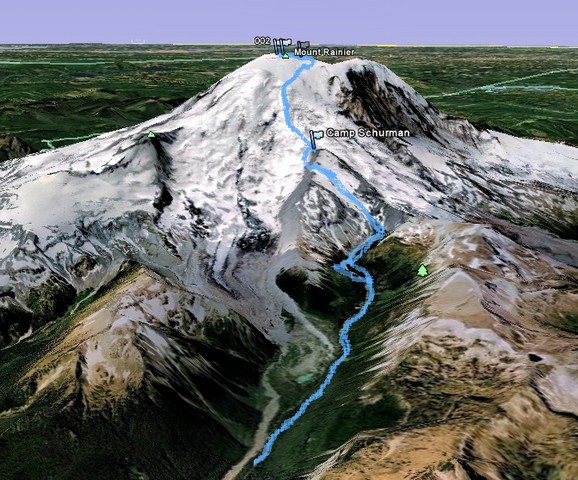 click here to see a couple other maps of our route

This is the elevation profile: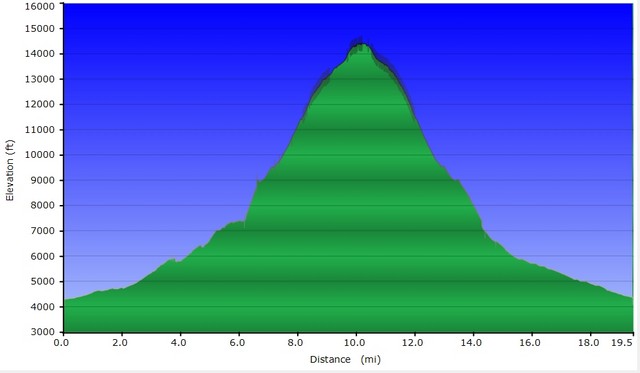 | | |
| --- | --- |
| Distance: | 19.5 miles |
| Elevation Gain: | 10,000 vertical feet |
---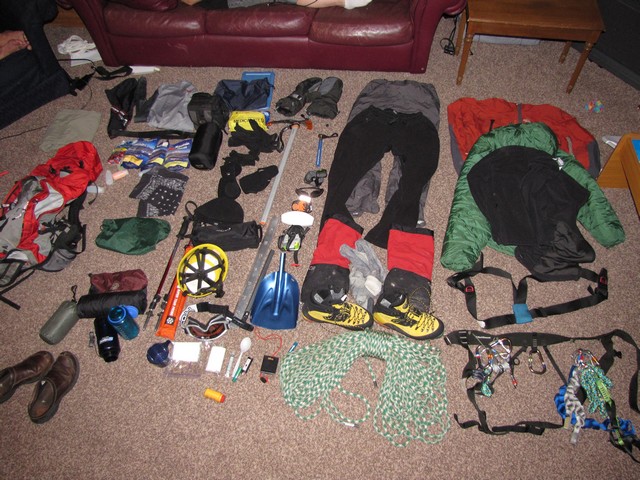 I packed my bag several times in preparation for this trip. This is nearly everything I packed to carry on the trip. (Well, not the slip-on shoes in the lower left.) My pack weighed close to 50 pounds.


---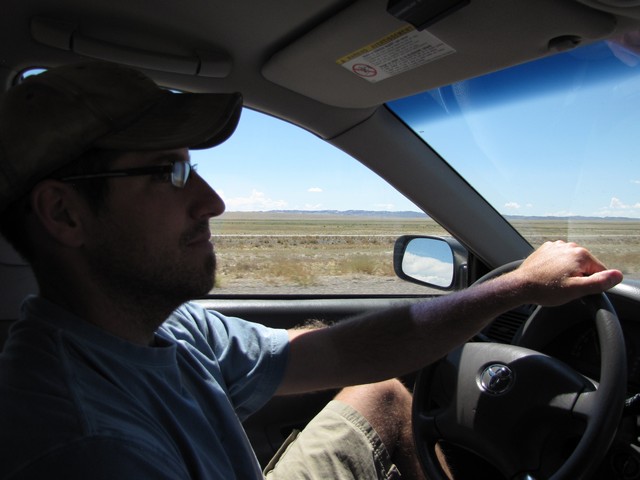 Then there was the driving. Nearly 1400 miles to reach the trailhead. Fortunately Jason, Mitch, and I did a pretty decent job of rotating driving duty. We mostly kept it to 3 hour shifts at a time.


---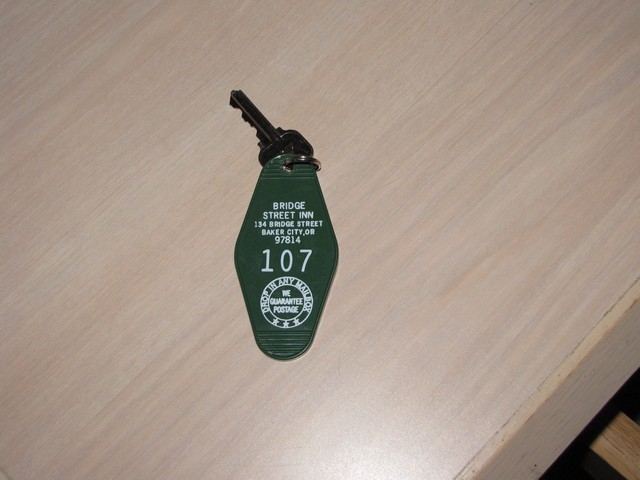 We left on a Friday, spent the night in Baker City Oregon in a hotel so old that we actually got a key for the room instead of a plastic key card.


---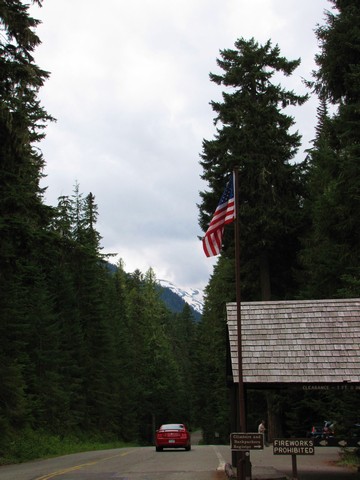 We reached the White River rangers station early on Saturday. We decided to reserve a spot at Glacier Basin campground, 1.5 miles in and spend Saturday night there to get a jump on our hike Sunday.


---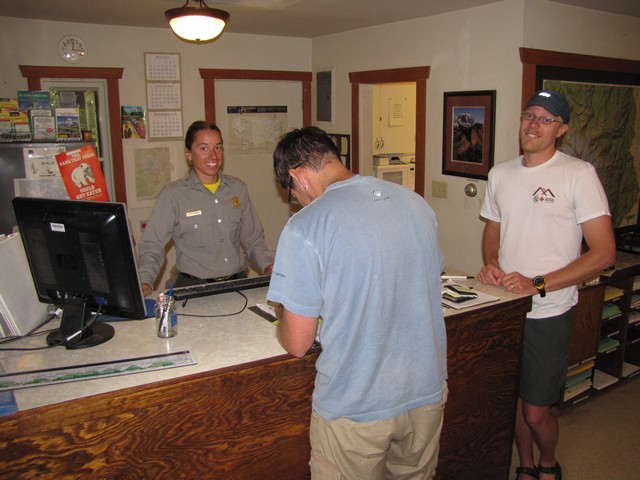 The rangers were quite helpful. We learned that the snow bridge on the bergschrund was getting thin so we'd have to traverse around that. We also got a talk on how to use the infamous Blue Bags. Blue bags are basically the parks way of trying to keep the backcountry free of human waste (i.e. poo). As the nice ranger explained you poop on the ground then place the blue bag over your hand pick it up and turn the bag inside out. Then put that bag inside a clear bag and use a twist tie to seal it all up. Then after you "generate a blue bag" (nice new euphemism), you carry it with you until you reach a designated blue bag collection site.


---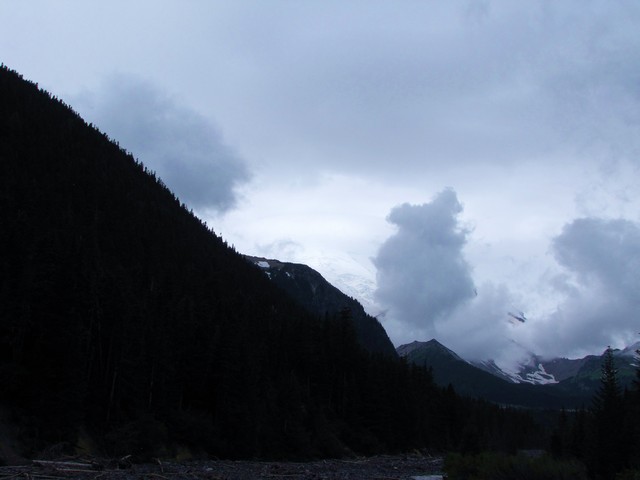 On our drive to Mount Rainier this was the clearest view we had of the mountain. Though we'd heard you can see it for miles around, it was hidden in the ever present Washington clouds.


Day 1
---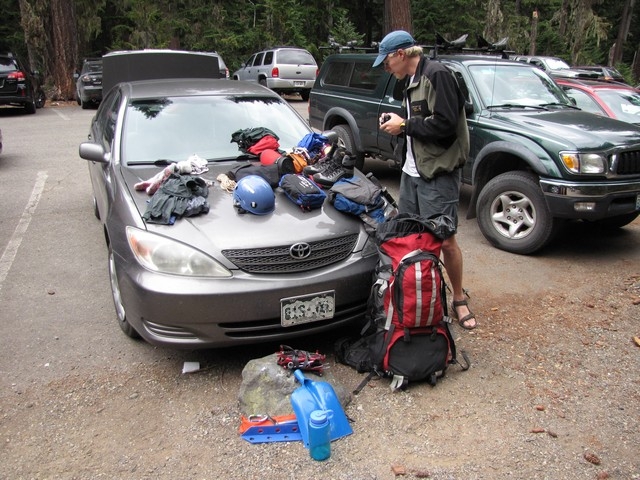 In the parking lot we did our final preparations of gear. It looked like we were having a yard sale.


---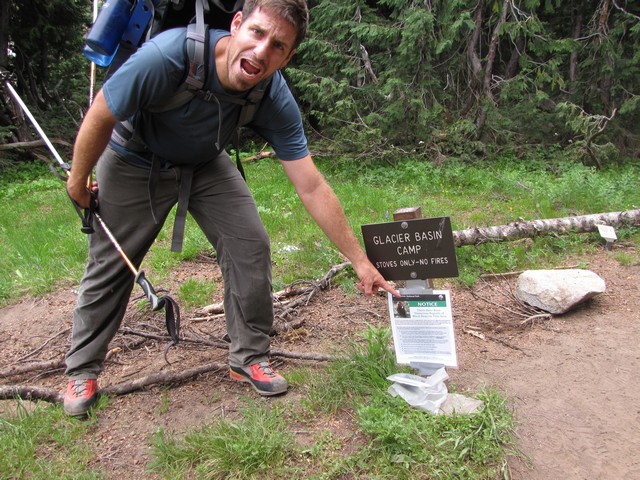 When we booked our reservation at the ranger station for Glacier Basin they warned us they had been having bear problems in that campground. They said if we had any interactions with a bear to record them in the "bear log" (notebook in a plastic bag) at the base of this sign.


---

We didn't even make it into camp before we came across the bear 30 feet off the trail. He was a very small young bear, but not scared of humans at all. We recorded in the log seeing him and that he did not even flinch when we yelled at him. Then we read the post before ours where someone described him as a "very large, very fast grizzly." I'm sure this 2 year old black bear would love to hear that. Later a ranger came by and asked about the interaction and asked if we'd help "haze" the bear. So four guys with rocks in hand went into the woods after a small bear. One glance of this intimidating group of warriors and the bear took off. Which is too bad because if the rocks hadn't worked we wanted to try some name calling, public humiliation, and forced recital of the Greek alphabet to complete the hazing.


---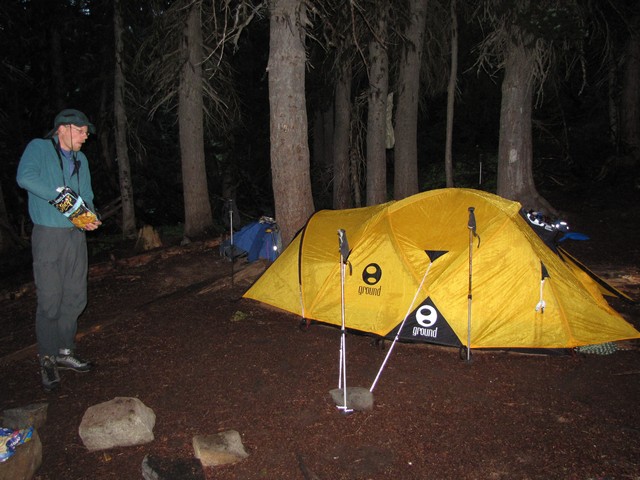 We set up camp and began to eat our dinner of Pita chips, humus, baby carrots, red pepper, and cucumber. This meal was purchased before we decided to hike into Glacier Basin that night. The pita chips were really more pita powder by the time we got there, but everything else survived the trip well. However due to the threat of bears coming for food and not wanting to carry that food the rest of the trip we worked hard to eat it all. We polished everything off except half of the cucumber. However, that many carrots ended up having a colorful effect later when we had to "generate a blue bag."


Day 2
---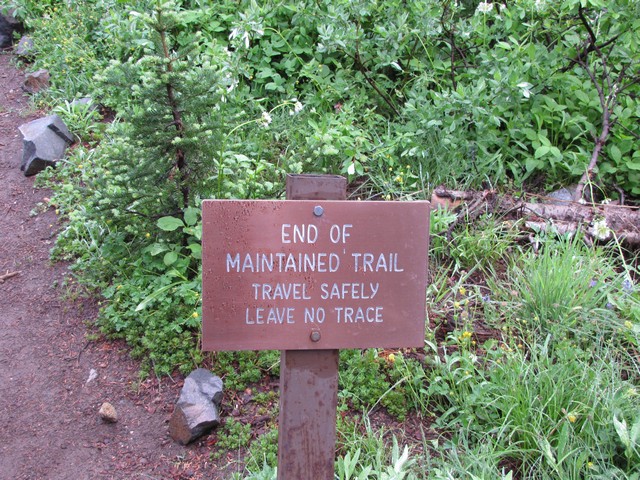 The next morning the rain had stopped but clouds still remained in the valley. Everything was wet as we packed up and got on our way. We knew we were getting into some serious wilderness when we came across this sign. Getting crazy now.


---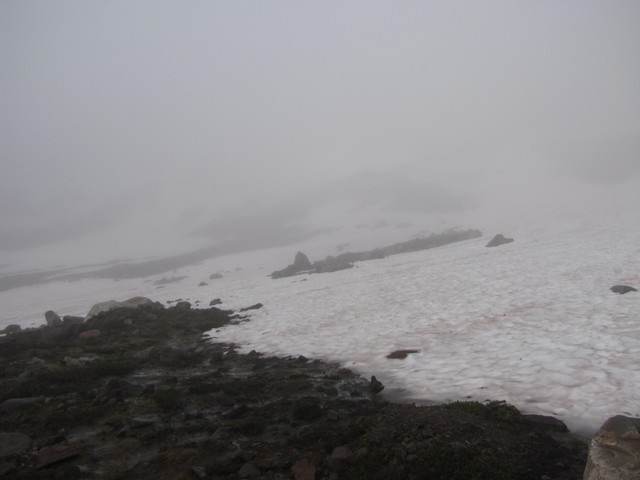 Not long after leaving Glacier Basin we came to the snow fields below Inter Glacier. We decided to rope up right away to get a chance to work on hiking as a rope team before things got real steep. Which Mitch was still telling us this trail did. At this point Jason and I were starting to wonder if there even was a mountain somewhere in this park.


---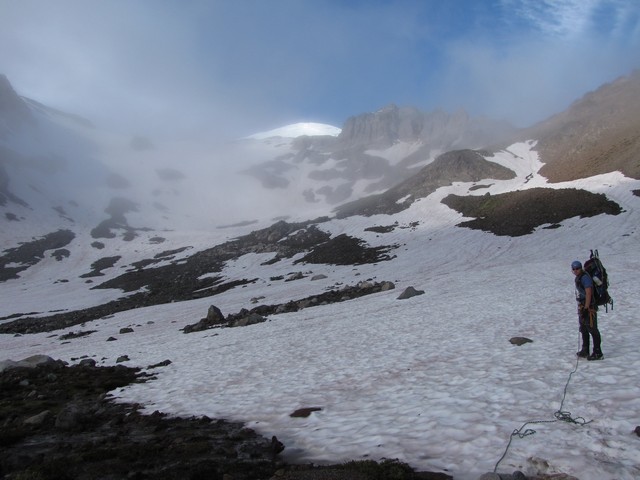 Just after getting going the clouds opened up and we got our first glimpse of the summit. This was quite exciting to see though the scale was really hard to understand. Our excitement was quickly put in check though when we met two hikers moments later. The first one we ran into had a shell shocked look about him. We asked how it had gone. He said he and his buddy had fallen into a crevasse and been stuck for 4 hours. "You'd better know what you're doing up there." We later learned from the ranger that they were descending the mountain in the afternoon and the leader had fallen through while walking down the main boot packed trail. His partner stopped the fall after 25 feet and set up anchors. Then the partner laid on his belly and scooted out to the edge to communicate with the one that fell in. Unfortunately he scooted onto an overhanging lip that collapsed beneath him and he went in as well. Fortunately the anchor he set held both of them, but in the crevasse they had two problems. They didn't have a shovel to break down the overhanging lip to make it possible to climb out and they didn't bring parkas to keep warm. Basically they were stuck inside a refridgerator with no way out. Fortunately a passing group noticed the anchor and ropes and helped pull them out. After the incident they never recovered mentally. They left all sorts of gear behind (hiking poles, helmet, ice axe) and didn't properly rope up for the trip out. This really put into perspective the serious nature of this mountain.


---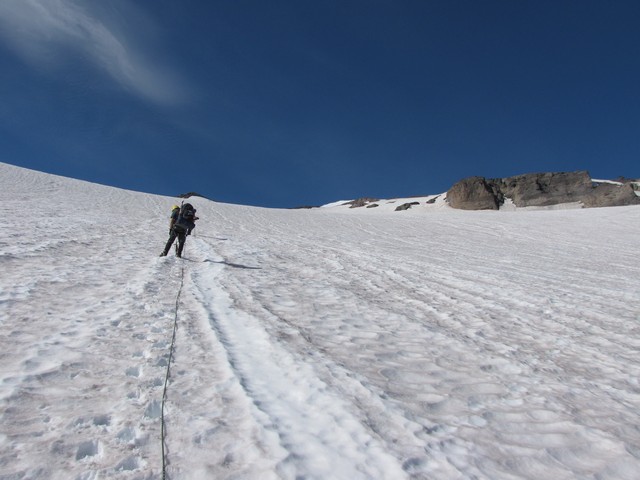 Up we went anyway. The Inter Glacier gets up to 40 degrees but is very straight forward. We only saw one relatively small crevasse in it.


---


We exited the Inter Glacier at Camp Curtis. We were totally out of the weather now and this is where you make the transition from one of the smallest glaciers to one of the largest on the mountain. You can also see the rest of the route from here. Still the scale was hard to understand. From here we were only about 2.5 miles from the summit, yet were over 5,000 feet below it. The rock formation across the glacier from here is called Little Tahoma.


---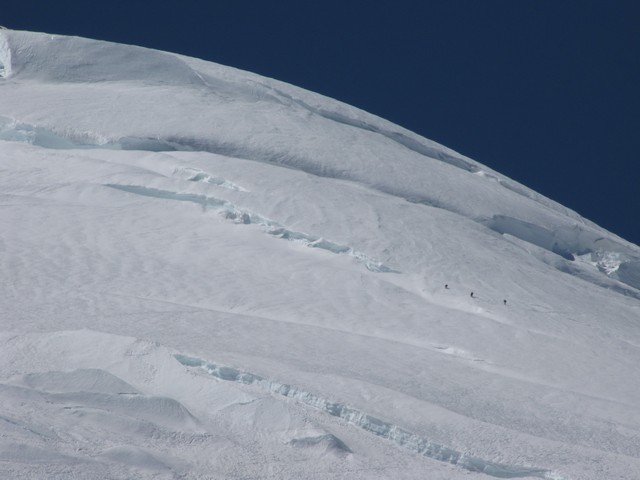 For an idea of scale the summit is the snow covered high point on the right of the photo above. Just below and to the right of the summit you can barely see a horizontal line. That small line is the crevasse these three hikers are below, I used a 20x zoom to capture them.


---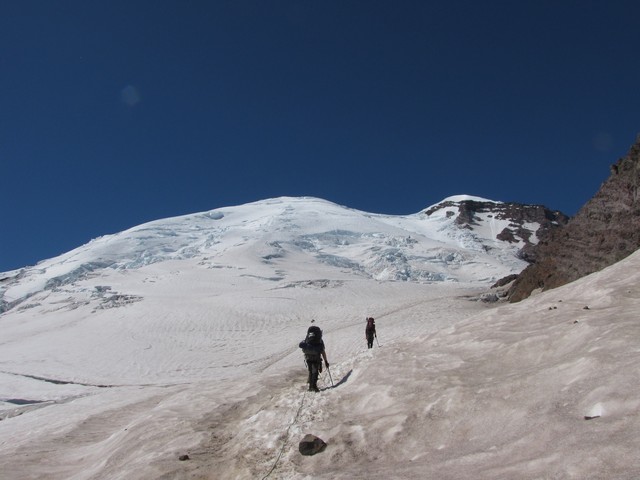 Not long after getting on the Emmons Glacier Mitch joked about Jason and my first crevasse crossing. It was about 4 inches wide. The joke turned out to be ironic though as while crossing we realized that though only 4 inches wide at the top it opened up into a huge cavern below.


---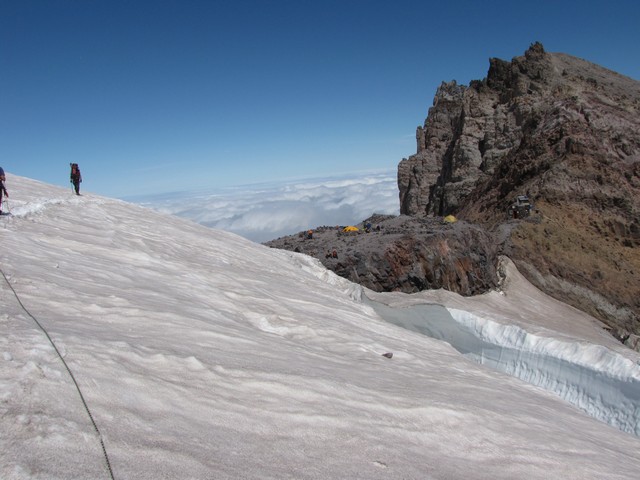 It didn't take long to make it from Camp Curtis to Camp Schurman. Plenty of camping spots were available on the dirt so we grabbed on of those. There was an occasional breeze that carried the smell from the toilet there, but other than that camp was beautiful.


---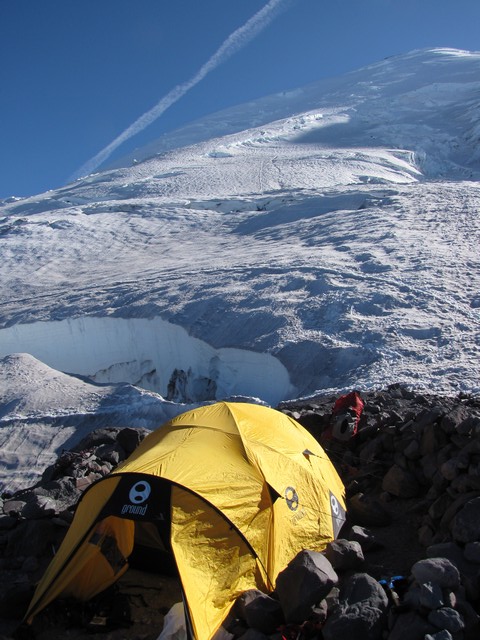 We set up camp, made preparations for the hike, and began talking to other people in camp. Craig and his team (Gary, Gary, and Steven from San Francisco) were headed out the same morning at midnight. We all agreed that hiking on somewhat the same schedule would be nice. So they decided to leave at 12:30 and we would be heading out at 1 am. Later in the evening another group of 4 young guys showed up and they decided to leave a little after us.


---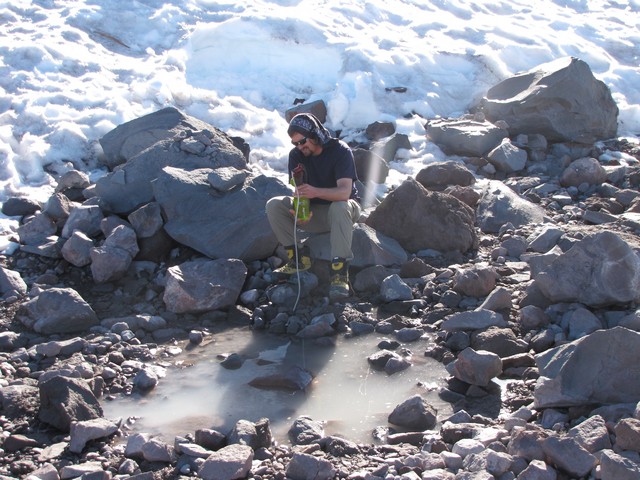 We found a pool of water near camp so we used a water filter instead of boiling snow. This was faster but did require us cleaning the filter about every 4 to 6 liters. The MSR miniworks is an amazing filter, this water came out crystal clear and tasted great.


---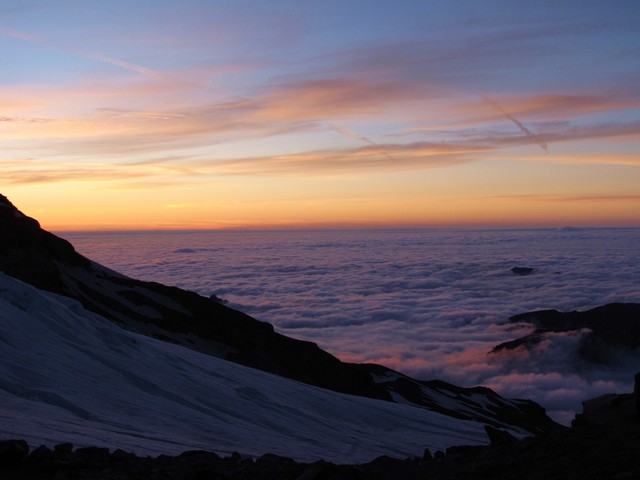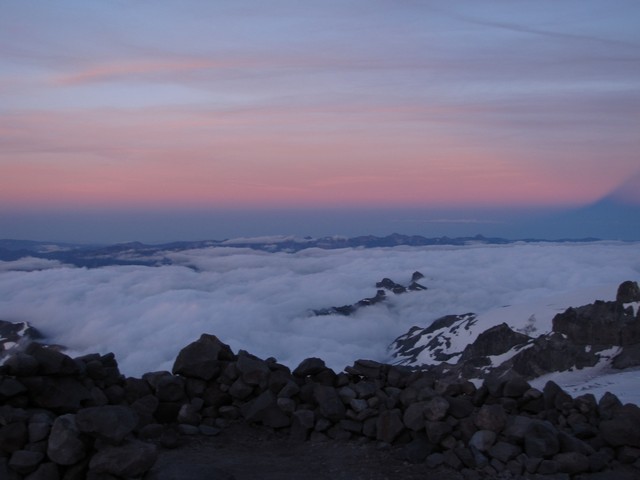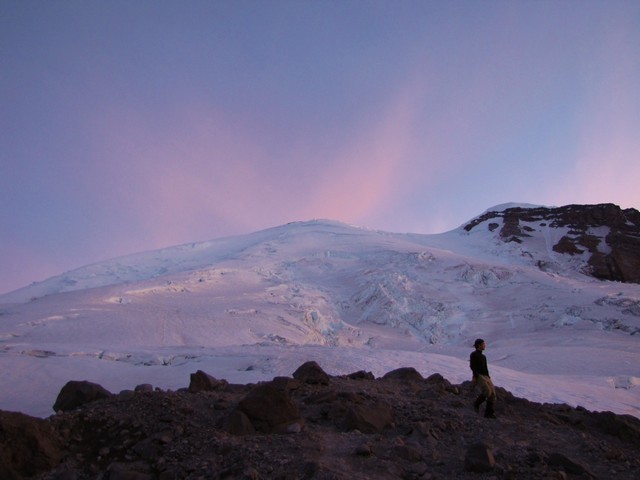 We all went to bed early, around 6. Unfortunately we had tried to hydrate ourselves well for the next day so every 5 minutes one of the three of us was getting up to pee. One time I got up though was right at sunset. I grabbed my camera quickly and snapped a few shots. It was amazing.


---
---
Day 3
---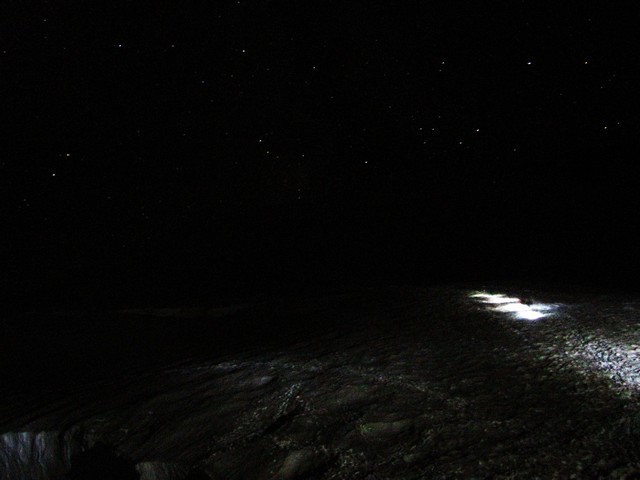 The next morning we awoke the sound of a jet engine. Actually it was from a pair of XKG stoves that Craig was using to heat some water for his group. We got up and ate some breakfast and got ready. I took this photo as Craig's team was headed out. There was no moon at all so it was just the stars and the small area of ground around us that our headlamps could illuminate. Hiking like this was strange to me. Even though last in the group I had to be ever vigilant to watch to make sure I wouldn't walk into a crevasse, and I had to constantly watch the rope to try to make sure there was only about 6 inches of slack in it at all times. We could see some city lights in the distance but most were covered by clouds. We were about 60 feet apart and that gap can't close. You really get the feeling of being alone on a never ending steep snow slope. We caught up to Craig at one point where a large crevasse had opened up in the route and it took him a little time to find a route around it. Not long after that we passed his team when one of their members had a crampon break. It turns out Craig is a master with duct tape.

On a side note we later realized this was Craig Van Hoy, a well known guide who has summited rainier over 350 times, climbed the seven summits, and was the guide for Erik Weihenmayer the first blind climber to scale Mount Everest. I'm quite impressed with his demeanor. He was obviously extremely competent in the mountains but had no air of superiority to him. He even complimented our speed up and down the mountan (called us the Colorado Cruisers) even though he holds the speed record for ascending Rainier. I love participating in a sport where the superstars act like this.


---


We were now the lead team on the route that day and had to do some route finding. We kept a pretty good pace still. The sky behind us began to grow lighter as we passed 13,000 feet.


---

Not too long later the sun came up. I've seen sunrises from 14ers before, but this took the cake. We were above the clouds all day. I love that.


---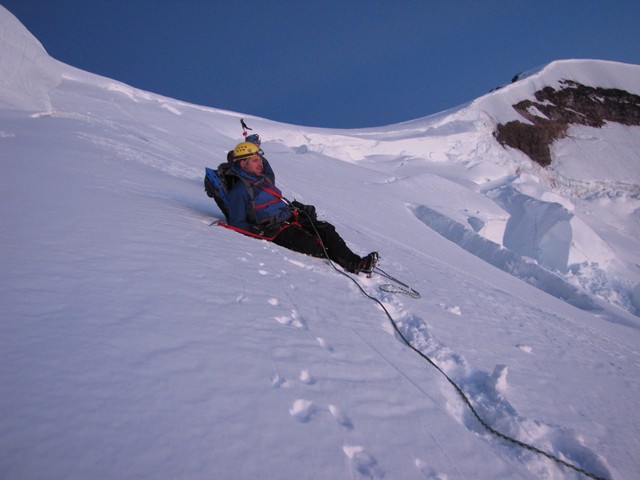 We decided to pause here and take a little break and enjoy the sunrise.


---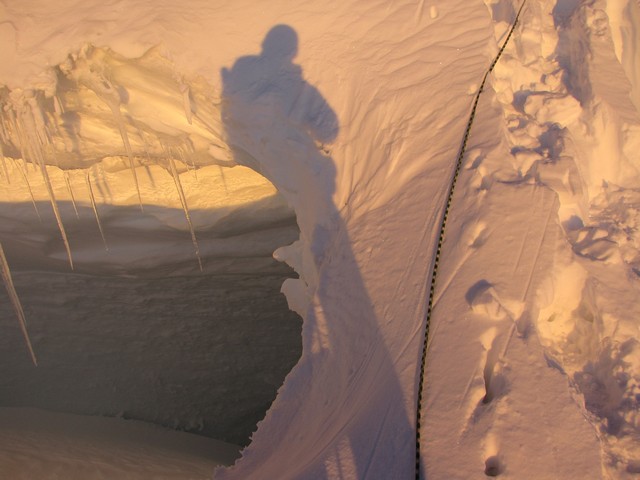 After traversing below most of the Bergschrund we finally found a decent bridge for crossing. This put us on the saddle between Mount Rainier and Liberty Cap.


---


Oh, what a morning.


---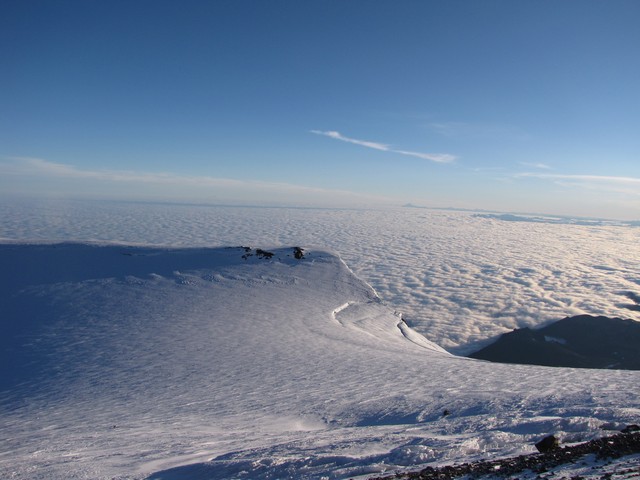 Where does the snow end and the clouds begin?


---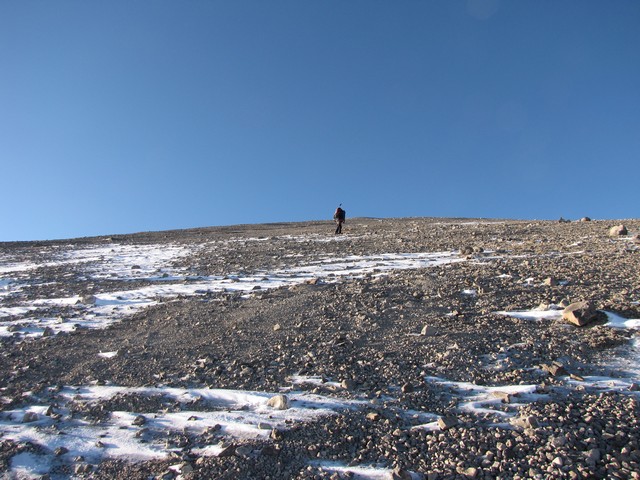 Coming up this way we ended up on dirt for the last 400 vertical feet. It was nice to be off of the ropes though.


---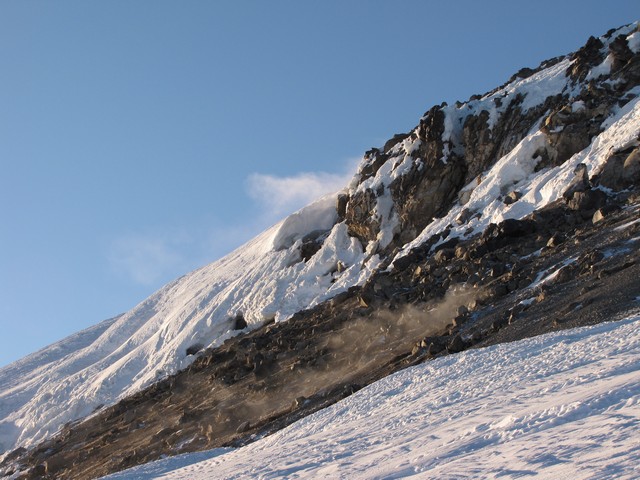 Near the summit we began noticing the fumaroles. This kind of gave the landscape an eerie feel, and a reminder of what we were standing on.


---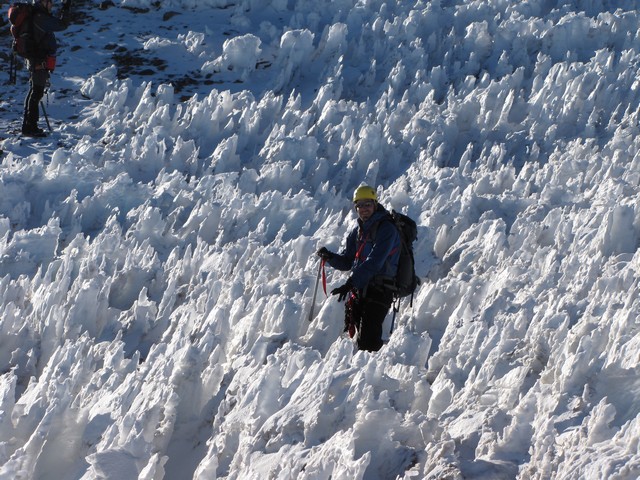 The last challenge before the summit is navigating through the penitente field. This was very cool. A little tricky stepping but a whole lot of fun.


---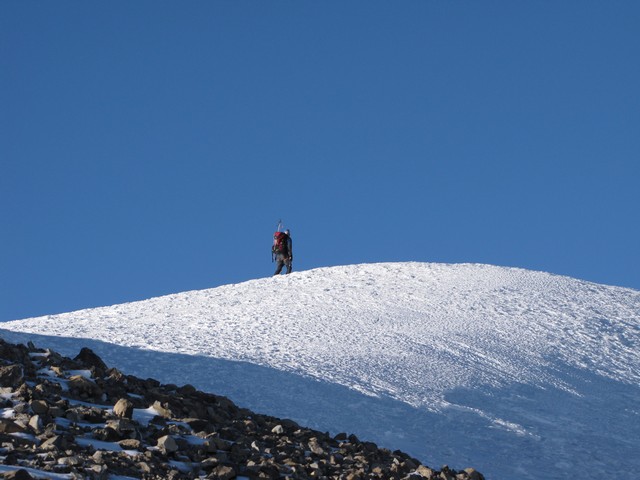 Moments later we were there! 6 hours and 22 minutes after leaving camp Schurman that morning.


---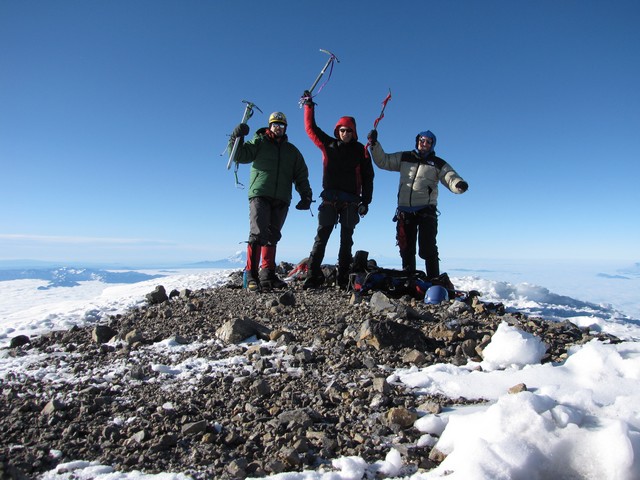 Woohooo!


---


Here is the summit panorama. Click it for a larger version.


---

We could see Mount Saint Helens from the summit quite clearly.


---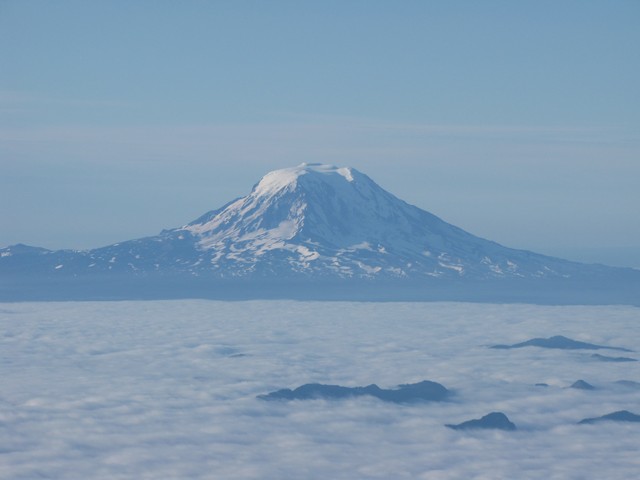 As well as Mount Adams


---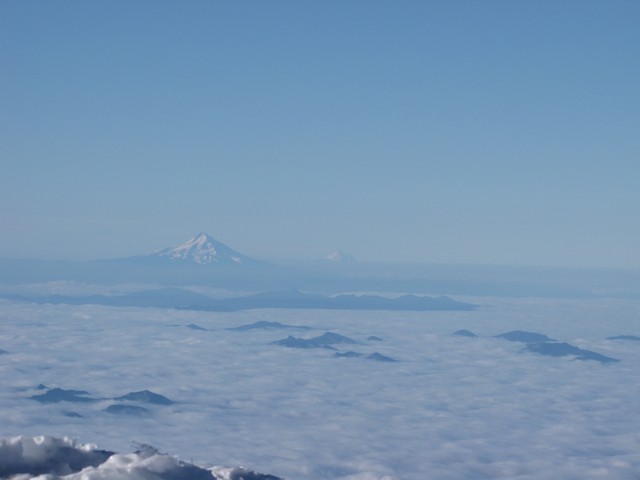 And Mount Hood.


---


We didn't stick around on the summit too long though. Speed is safety. The idea being to get back down to camp Schurman before the afternoon sun really started to heat up the glacier and make the snow bridges weak.


---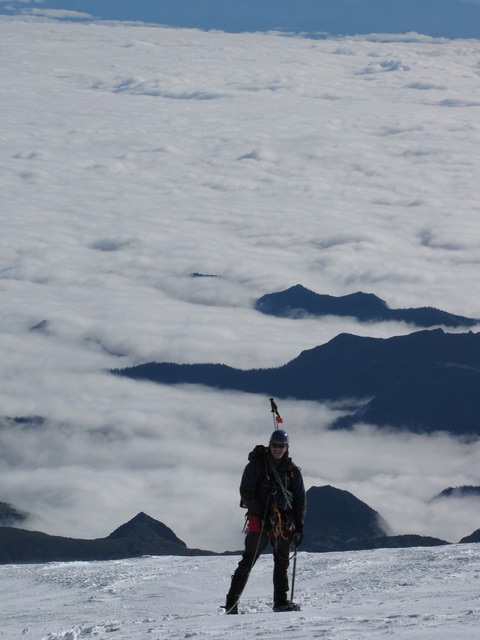 The trip down was slow as we needed to be very cautious with every step, but it was a scenery fest.


---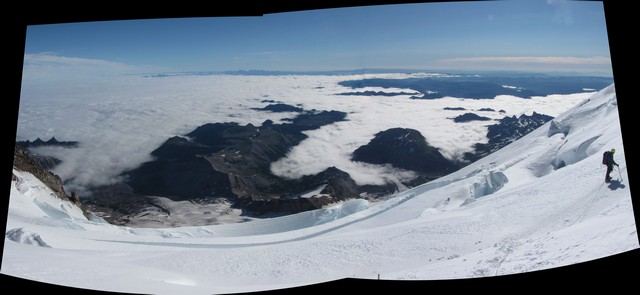 This is looking down the Winthrop Glacier.


---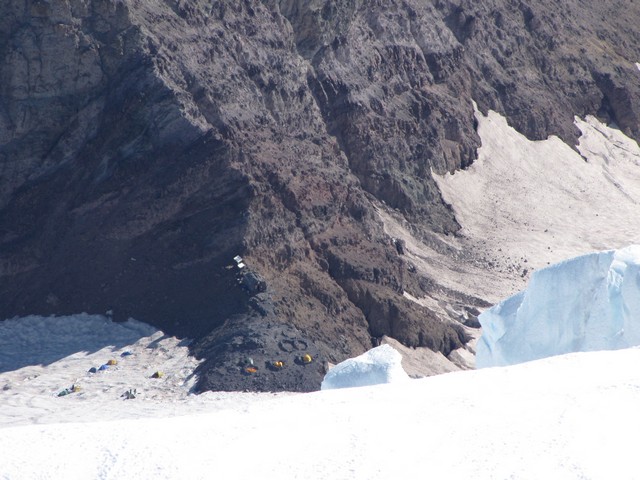 It was amazing how quickly it seemed that camp was just right below us, yet so very far away still. It was obvious from this vantage point just how sustained the steep slope is on the mountain.


---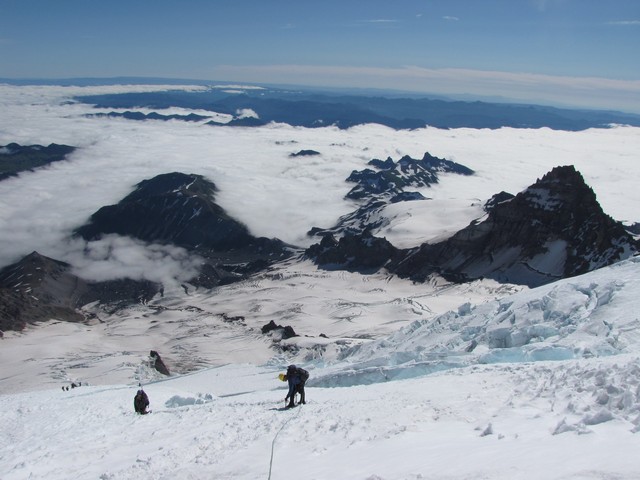 We got to see some nice blue ice in some of the Crevasses. This is formed by the heavy pressure of the glacier squeezing all the air out of ice. The deeper ice is much more blue but a lot harder to photograph.


---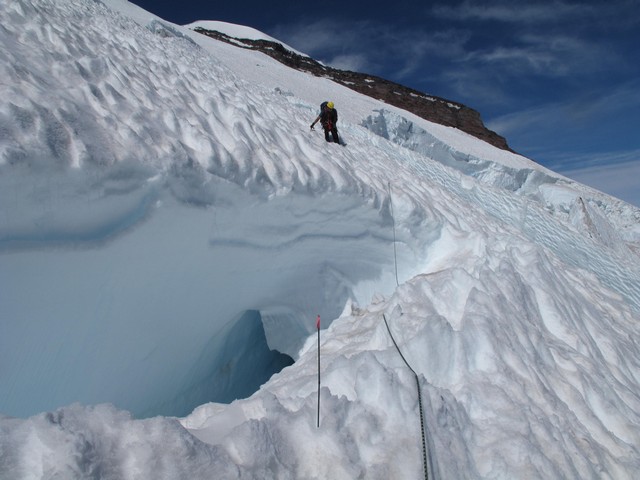 There is some advantage to never getting a view of the mountain on the drive in and then starting the main hike in the dark. If we could really have seen what we were doing on the way up we may have decided against it.


---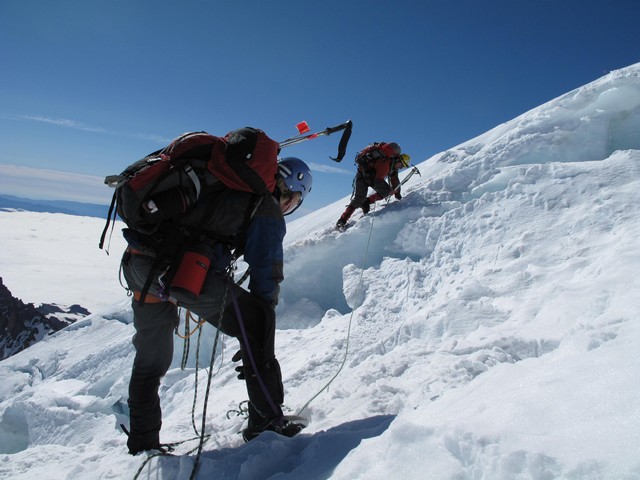 Only one crossing though didn't involve a complete bridge. This one was about 6 feet wide with a 5 foot vertical difference between lips. There was a melting snowblock leaning into it that we used to do the crossing. It was questionable enough that we belayed each other as we crossed it, but it held totally firm.


---

We were getting extremely hot on the way down. Your body absorbs an amazing amount of heat from the sun and reflecting off of all the snow. Though it's considered best practice to keep at least a shell on during glacial travel (in case you fall in a crevasse) the heat was making us too dizzy to keep them on safely. So we had to stop to remove them.


---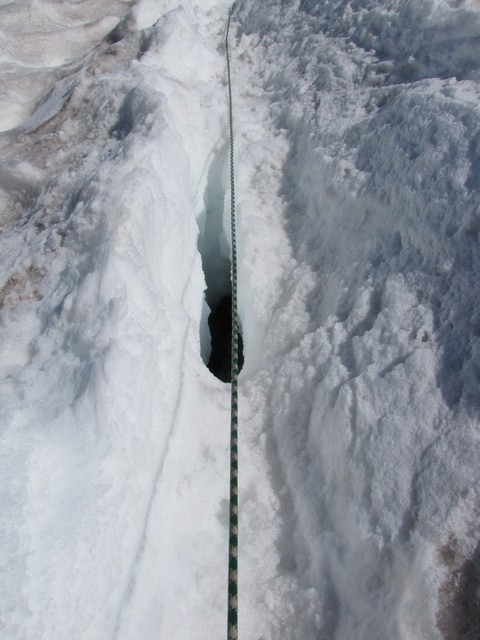 As we neared Camp Schurman we had a scare of our own. Jason punched through right in the middle of the boot pack. Fortunately he did not fall all the way in. The crevasse below was 3 to 4 feet wide and quite deep. This shook him up pretty good for several minutes. I think after hearing the story from a couple of days before added to the scare. We were actually within 100 yards of where the two guys had fallen into one. After he got out and exposed some more of it to make it visible for future hikers I had to cross. I tried to walk across a thicker rib of snow but lost my balance and ended up doing sort of a Dukes of Hazard slide across the rib and spun back down into the boot pack. I guess if you're going to cross a crevasse you should do it in style.


---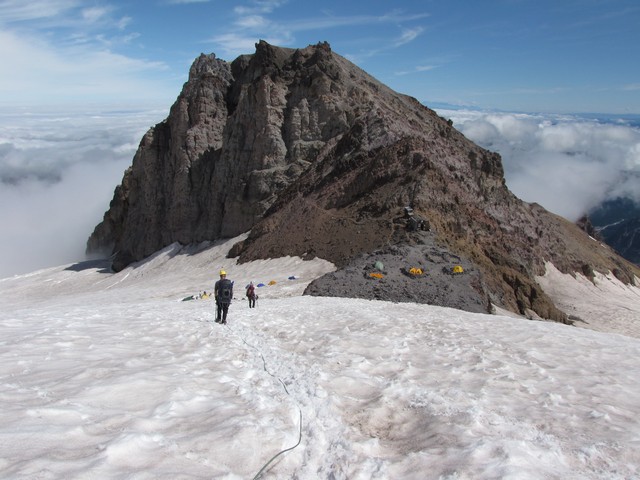 We finally reached Camp Schurman a little before noon. It felt great to have such a huge hike behind us. We decided to pack up and head down, even though we still had one more night reserved at camp. No point sticking around and we all still had the energy left to get out.


---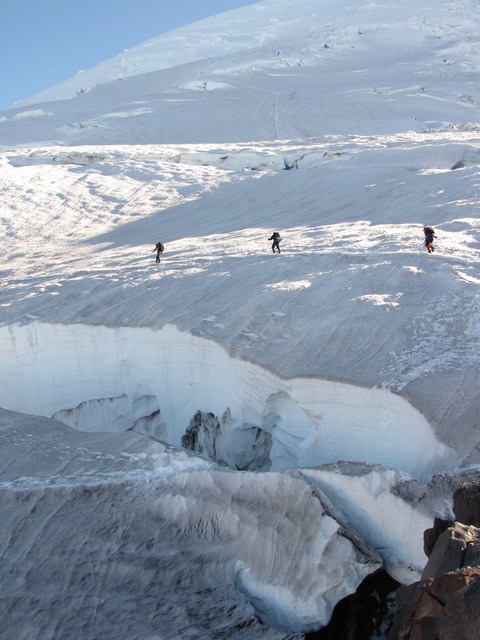 And so we were off.
(Different group of three leaving via the same route.)


---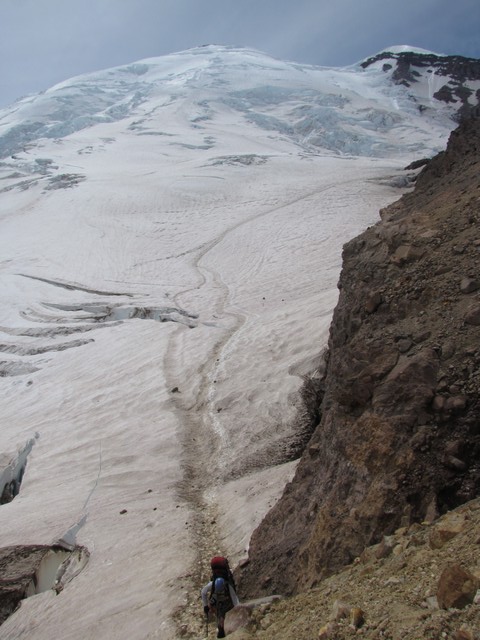 Looking back from near Camp Curtis I could see the route again, I had hiked this route now, yet I still could not comprehend the scale of the mountain I saw before me.


---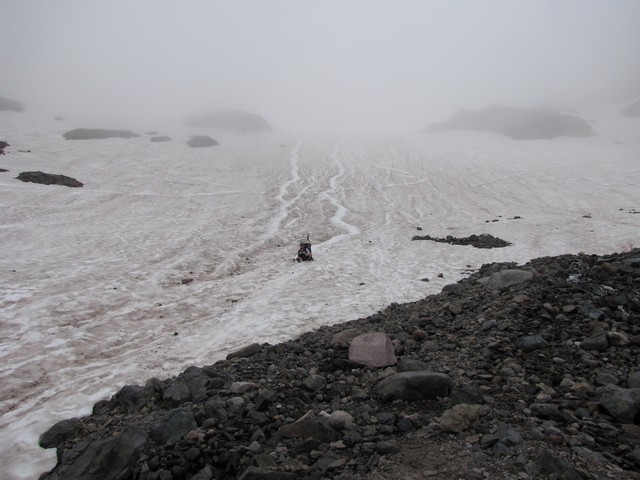 We did a glissade down the Inter Glacier that took us from well above the clouds to well below them in a matter of minutes. This is a huge boost to morale to cover so much distance so quickly. We covered over half a mile and dropped 1500 vertical feet on our butts in just a few minutes.


---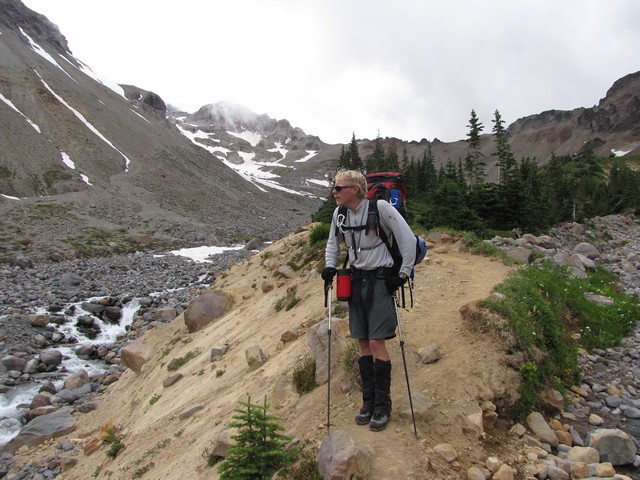 The rest of the hike out wasn't exceptionally interesting. Still quite scenic though. It's always funny how you can tell how close you are to the trailhead based on the people you encounter. First was a ranger at Glacier Basin campground with a shotgun loaded with bean bag round, rubber bullet rounds, and some sort of copper round. She was there to introduce the bear to some real hazing. Then we came across a couple of guys drinking Keystone Lights while hiking, and possibly carrying kegs under their shirts but I couldn't tell for sure. Then finally you reach the people walking dogs that share more genetic material with rats than wolves.


---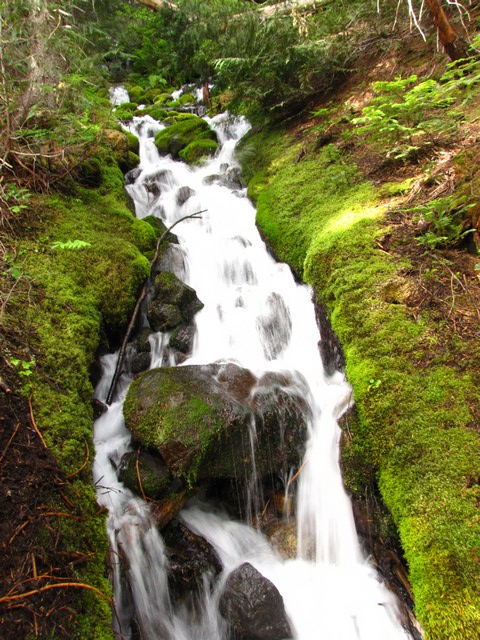 I did enjoy the many water falls in the area. Much more water there than in Colorado.


---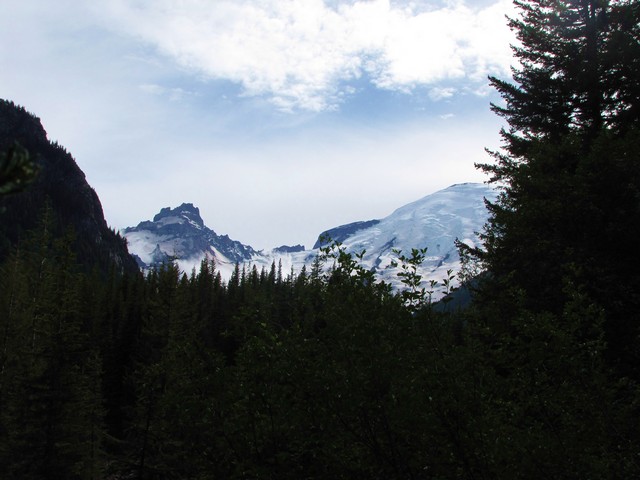 We did get one glance at Rainier on the way out, but not much again. I've heard the view is impressive when you can see the whole mountain, but I'll have to wait for some other time to see that for myself.


---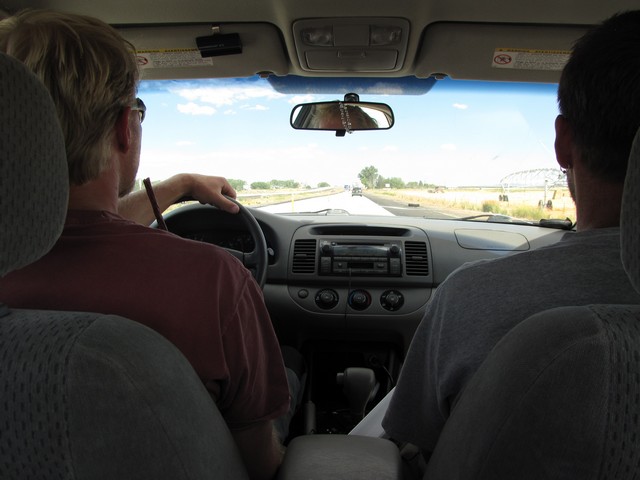 So back on the road for another 1400 miles. I don't recommend pushing yourself hard for 3 days of hiking and then immediately following that up with sitting nearly motionless in a car for 20 hours.


---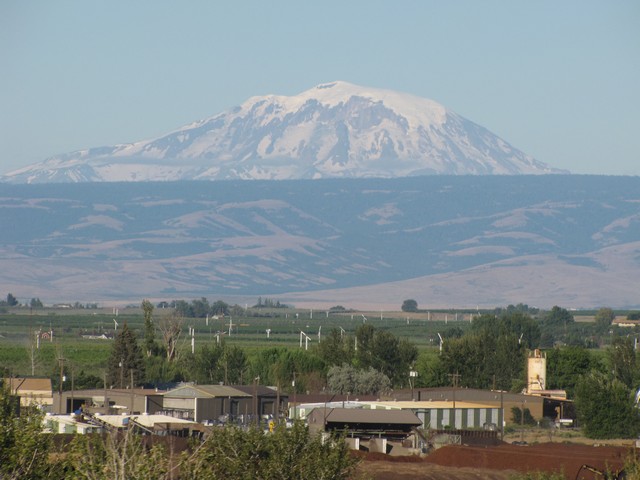 We did get a good look at Mount Adams on the way home. Impressive itself even if it is 2,000 feet shorter than Mount Rainier.



---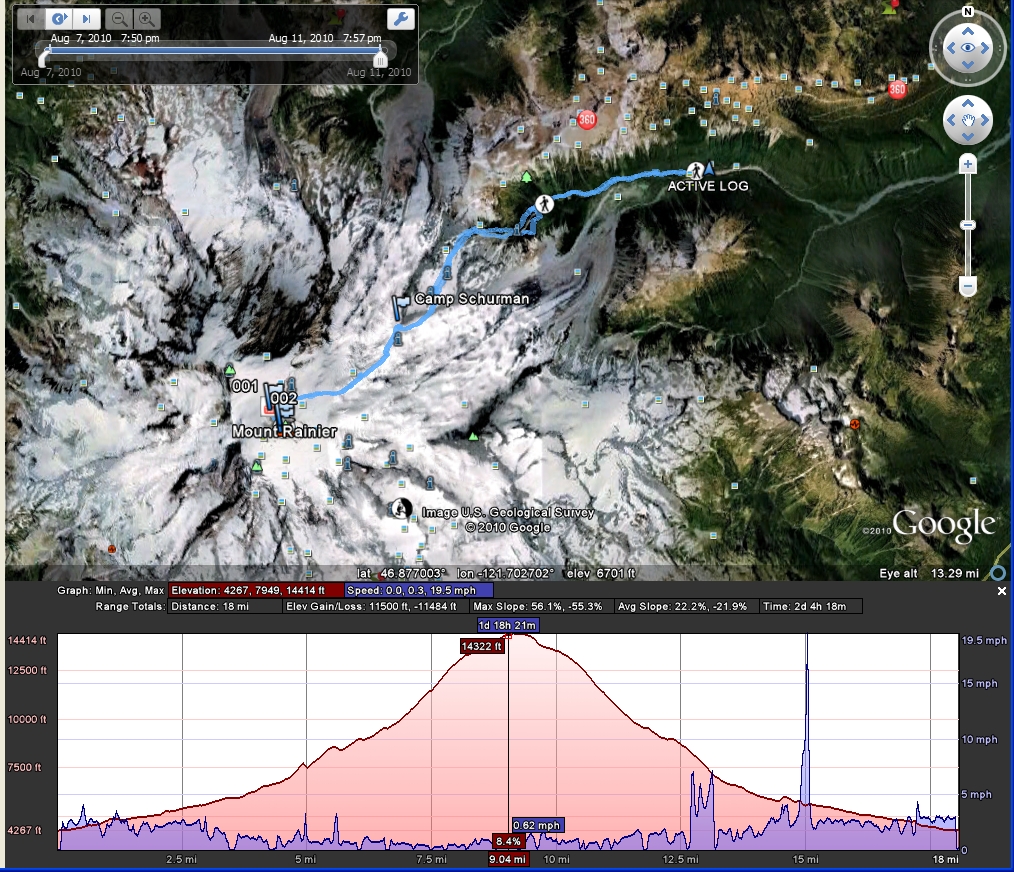 This is using Google Earth's new features that allows you to chart elevation and speed. Obviously the speed chart has some issues (mostly caused by GPS signal errors) but overall it does a pretty good job. You can even tell where we were glissading on the descent a little after the 12.5 mile mark.


---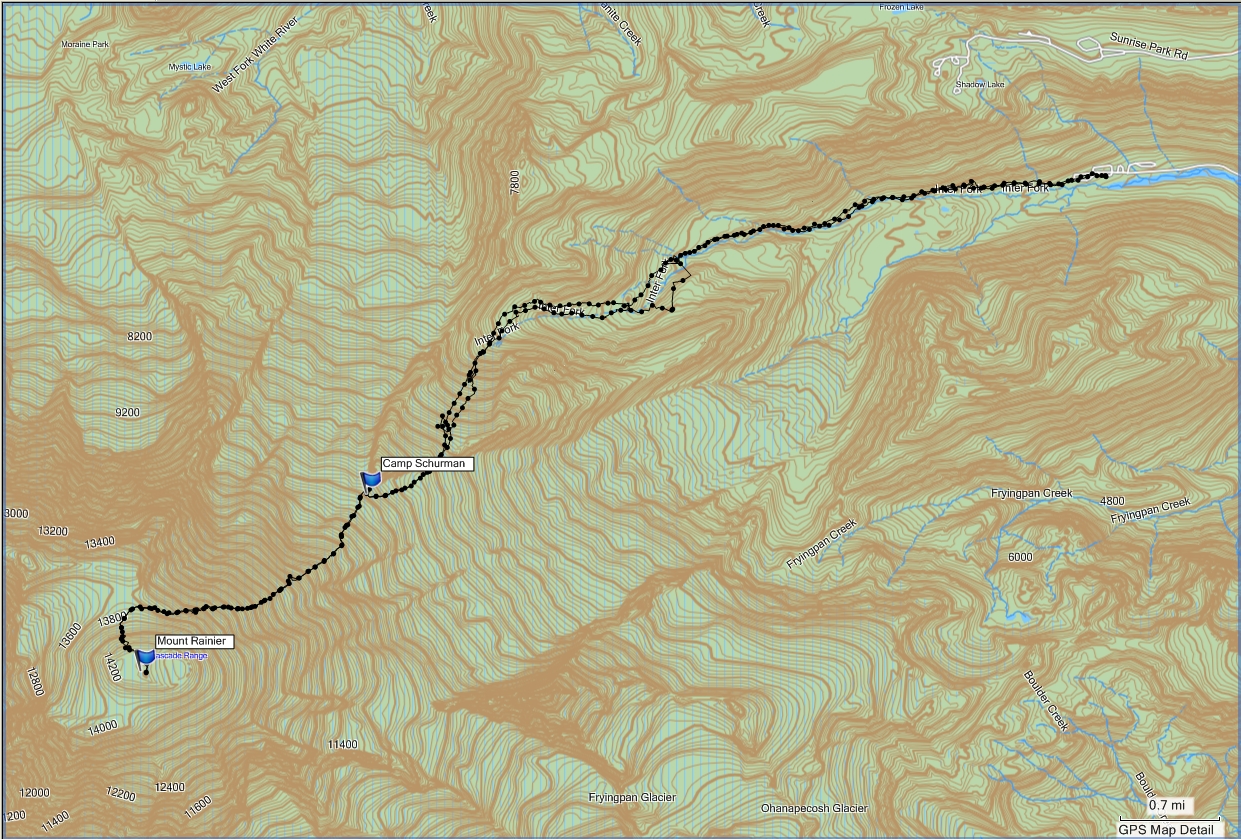 This is our detailed track captured in MapSource.


---
You are welcome to contact me with any questions regarding questions about, or problems with, this website. Just send me an e-mail at josh_friesema@hotmail.com.