Weminuche Trail
Day 2 of 3 - August 7, 2011
Also visit: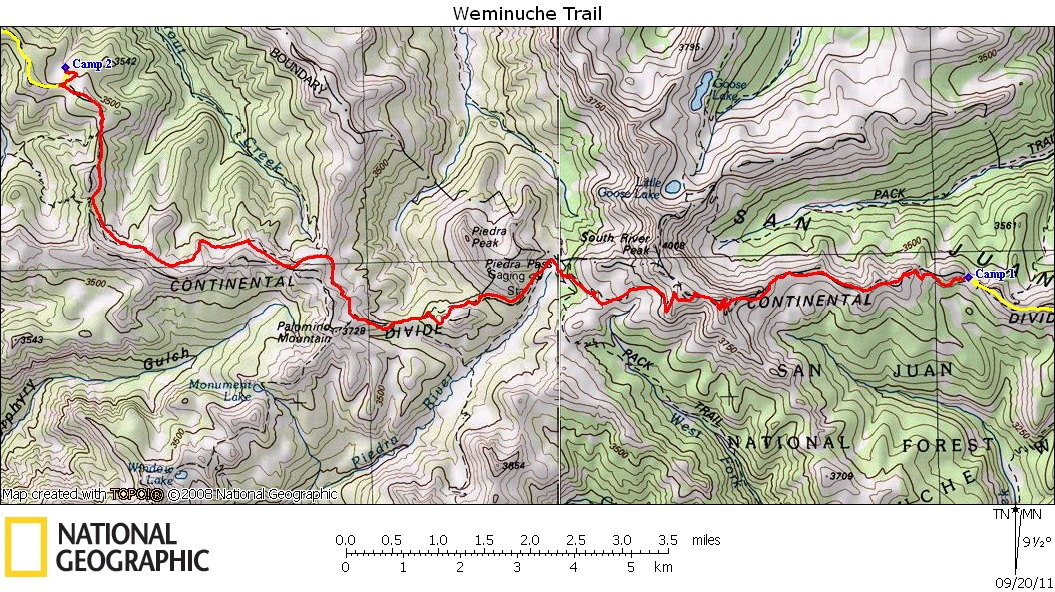 ---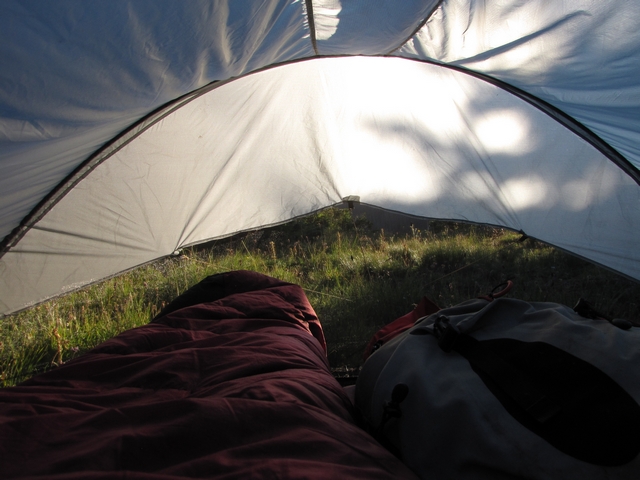 Morning on day 2 was a nice change of pace for us when we hike. We slept in until after sunrise. Usually we're either driving to a trailhead at 3 in the morning or waking up pre-dawn to get an early start for a summit.


---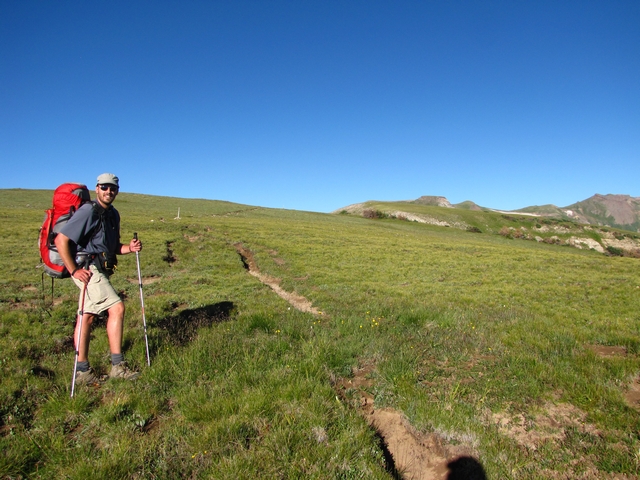 Day 2 was almost completely above treeline, lots of long vistas that were beautiful but intimidating when we thought about how much beyond what we could see we'd be hiking that day.


---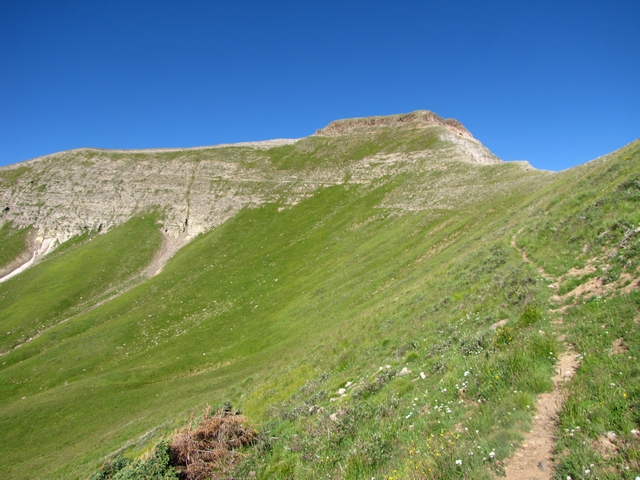 The trail continued to fade the further we went. Reaching this part of the Weminuche requires more than just a day trip so it sees far fewer visitors. The peak in this photo was the first challenge of the day that we had to conquer.


---


Once again as we reached the summit we were rewarded with stunning views that both thrilled us and intimidated us. From here we got our first sight of Rio Grand Pyramid which was our goal for day 5.


---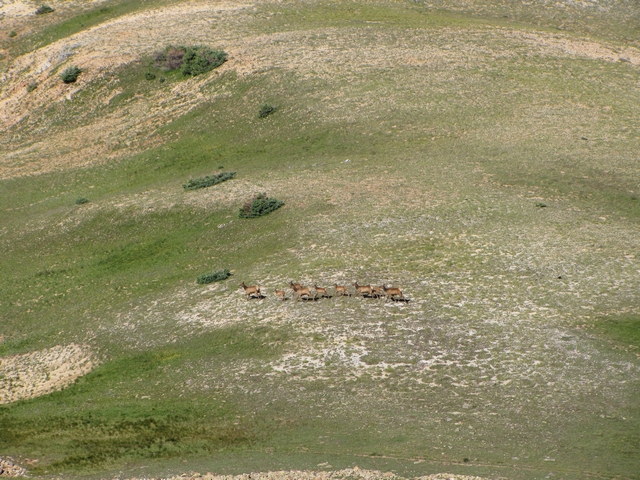 We also spooked another herd of elk.


---

After our high point for the day we quickly descended to our low point for the day, Piedra Pass. The pass was beautiful and lush and provided great access to fill up on our water reserves again. We had heard that after this we'd go 10 miles without seeing water again so we filled up in preparation for a long dry hike. However, this did not turn out to be true for us. Perhaps in dry years it is the case, but it had been a good snow year for the San Juans.

Notice in the photo the old railroad grade going through. It's amazing all the places tracks were laid in Colorado.


---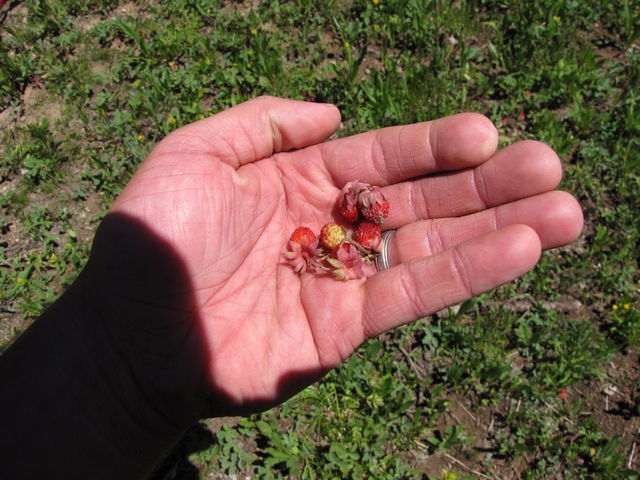 Soon after we passed Piedra pass we were hiking along a slope and we began to come across wild strawberrys. These were a big treat. Not a lot of energy in these little things, but the flavor was already a very welcome change to the dehydrated food we'd been subsisting on for two days.


---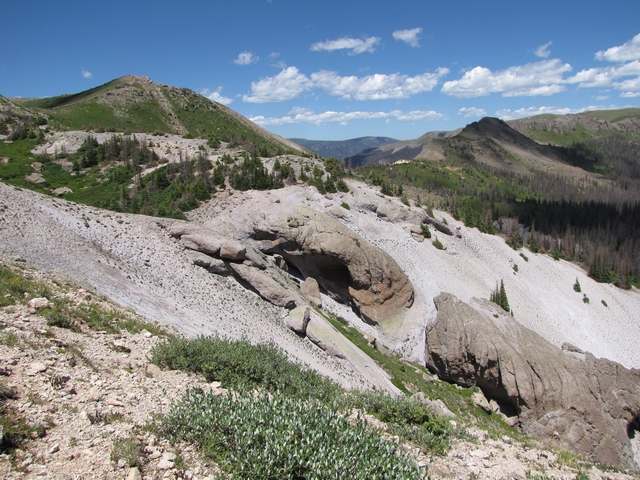 After Piedra Pass the trail quickly regained treeline again. This was also an oddity for us about this trail. Normally passes are the high points of a trail but on the CDT they are the low points.

The mountains west of Piedra Pass had more volcanic characteristics that what we'd hiked so far. At least that's the origin we suspected of this strange rock formation.


---


The trail now at times was nothing more than the occasional post on a ridge or in the middle of a field. Good maps and and awareness of your surroundings are essential to correctly navigating these sections.


---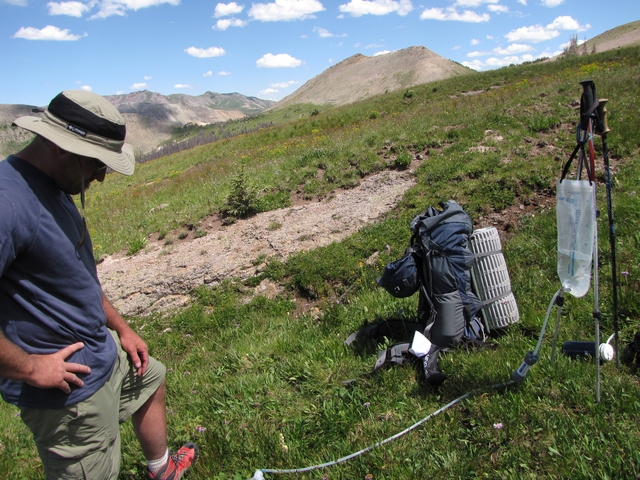 Having learned from earlier lessons we took advantage of even the smallest streams we crossed to gather water.


---


There are some sections of the CDT that do not follow the ridges at all. This ridge for example would just not be very passable if they tried to do so. So for several miles we had the luxury of relatively flat trail. Even small ups and downs of ridges can become quite punishing when you do them all day long.


---


There is apparently no safe place for a tree to hide from the tree beatle. Even the remote ones far from other trees had suffered the same fate.


---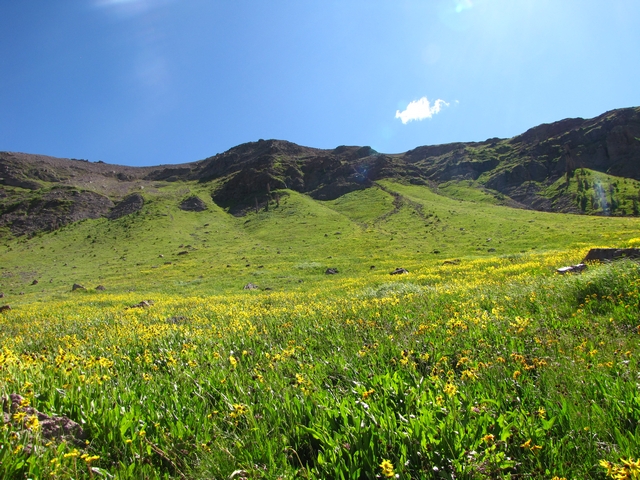 The flowers continued to amaze us along our journey.

I was at this point getting pretty tired. We'd covered a total of 10 miles so far and where we planned to camp was still 9 miles away. We stopped to take a break at one point and I sat down on a log. Sitting on the log wasn't working for me though as the pack weight remained on my shoulders. So I slid off the log down onto the ground into kind of a squatting/sitting position. When I got up from this position to hike again my knee felt weird, but we continued hiking. After 5 more miles (15 for the day) we saw a lake about 300 feet below the trail. I told Jason I couldn't do another 4 miles that day so we made camp at that lake.


---

As we descended to the lake my knee again felt weird a couple of times. Nothing too bad though so I just wrote it off to being tired from 30 miles of hiking so far.


---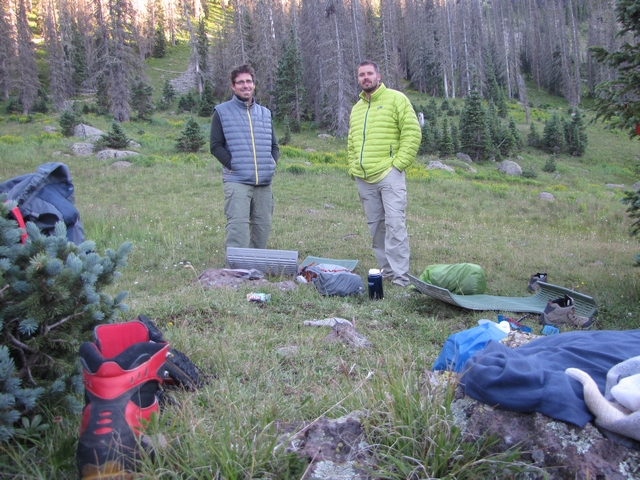 That night we ate well, made plans for the next day, and even took a shower. After sitting around in camp for a while I had trouble standing up on my knee, so I took some Ibuprofin.


---
---
You are welcome to contact me with any questions regarding questions about, or problems with, this website. Just send me an e-mail at josh_friesema@hotmail.com.