June 9, 2012
I wanted to give my two boys a chance to hike a fourteener at age 5. I picked Mount Antero because we could drive a long ways up but it would still take some decent hiking to get to the summit. Kenny decided he wanted to give it a shot, Isaac decided he didn't. He was the reason I scheduled it so early in the summer though since his birthday is in June. However with the extremely low snowpack it hardly felt like early June in the mountains.

You can also view my trip report from June 29, 2002.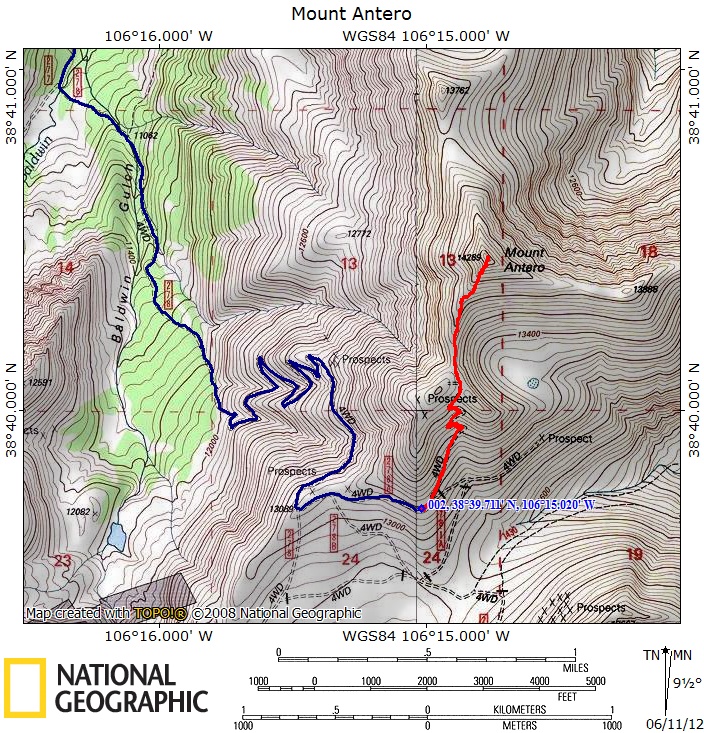 | | |
| --- | --- |
| Distance: | 2.2 miles |
| Elevation Gain: | 1,160 vertical feet |
| Time: | 2.5 hours |
---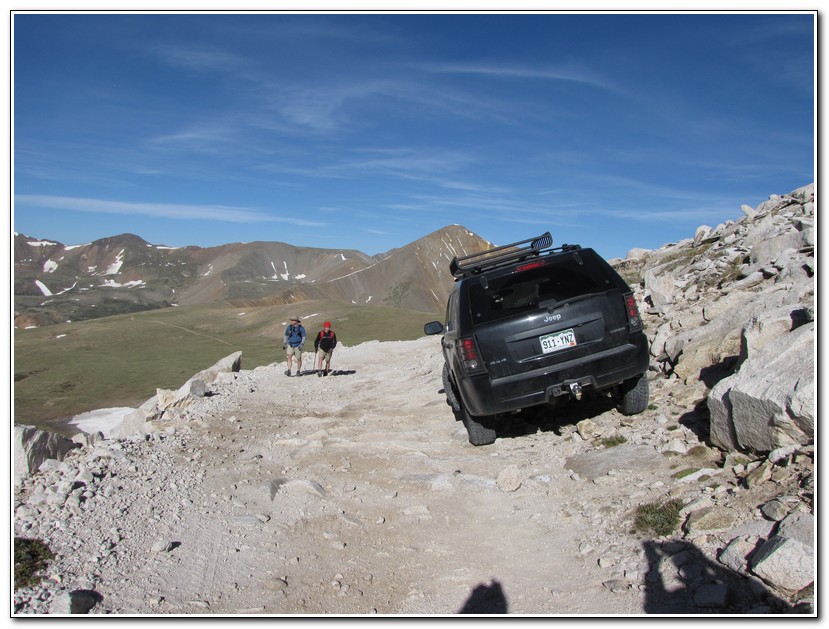 We drove pretty high up Antero so that Kenny's first Fourteener would be an easy one. Jason's new Jeep did great. However there was one snowfield in the road at 12,750. We took a trail that went around it but where it connected back to the road it was soft sand and we slid sideways quite a bit. Pretty spooky and we were pretty certain now that we weren't going to be going out that way.


---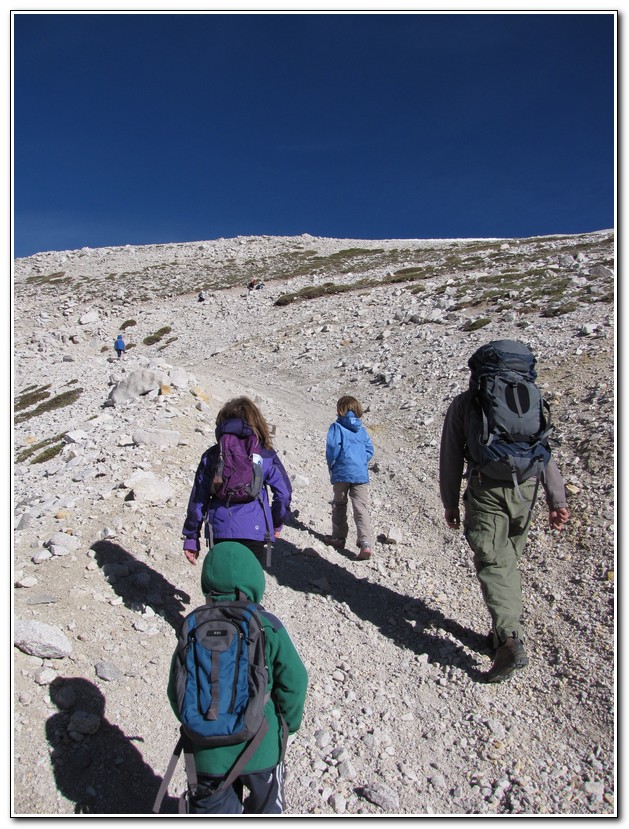 Hiking on the road was easy for the kids, though we were starting to feel some of the high winds forecasted that day. Kenny took out his water bottle to take a drink. It was a camelbak bottle and when he opened it, it sprayed him with quite a bit of water. Apparently it had only last been opened at 8,000 feet and not again until 13,000 feet. A wet face is not a great way to start the day when it's cold and windy.




---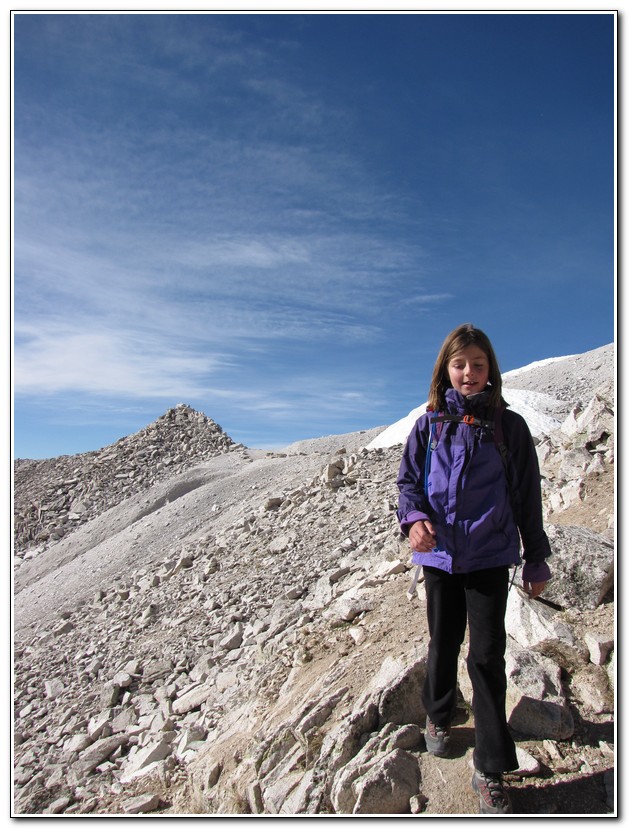 Ellie was experiencing a little altitude sickness for the first time on a 14er, even though this was her fifth. I think it was because we drove so high before we started hiking that her body didn't have time to adjust.


---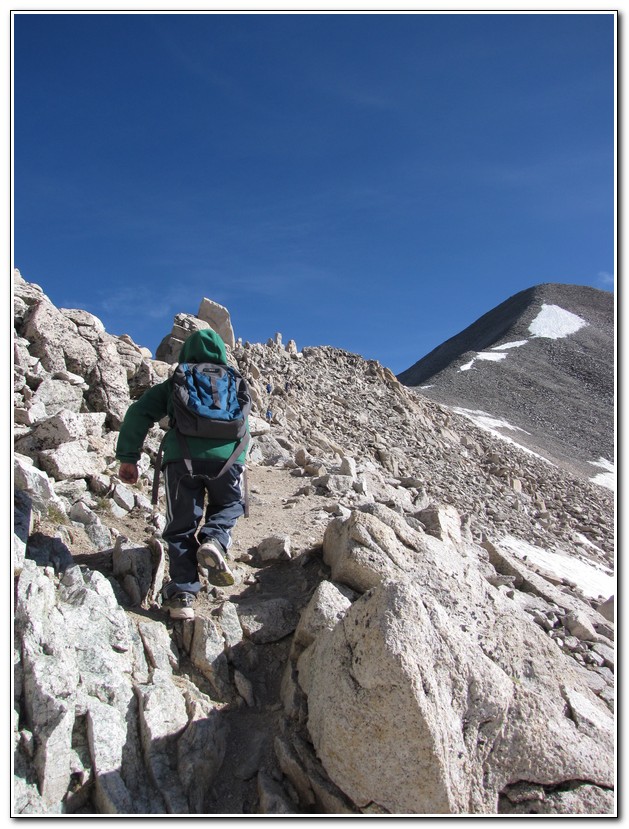 Once on the ridge Kenny's great climbing skills shined. He loves being on rocks.


---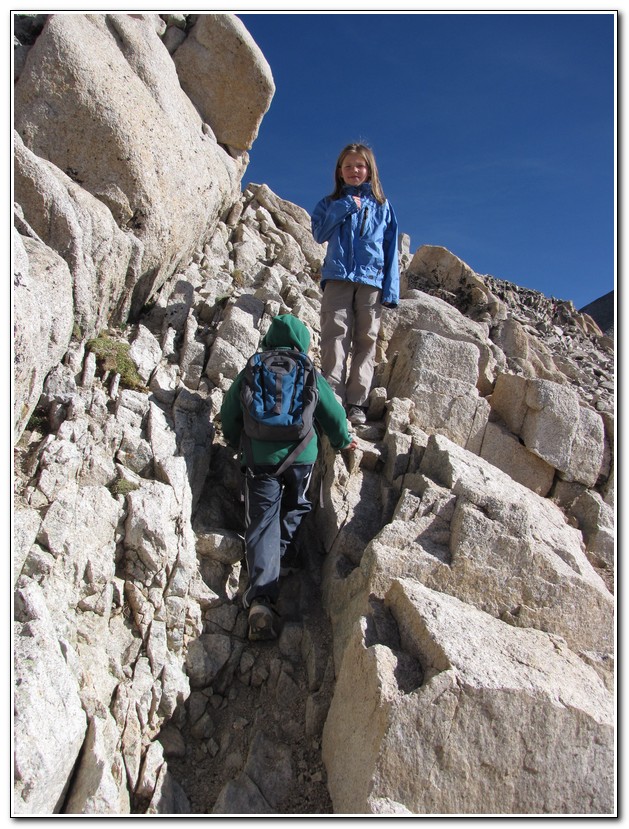 Though only a class 2 route the trail along the ridge is not without the occasional fun rocky section.


---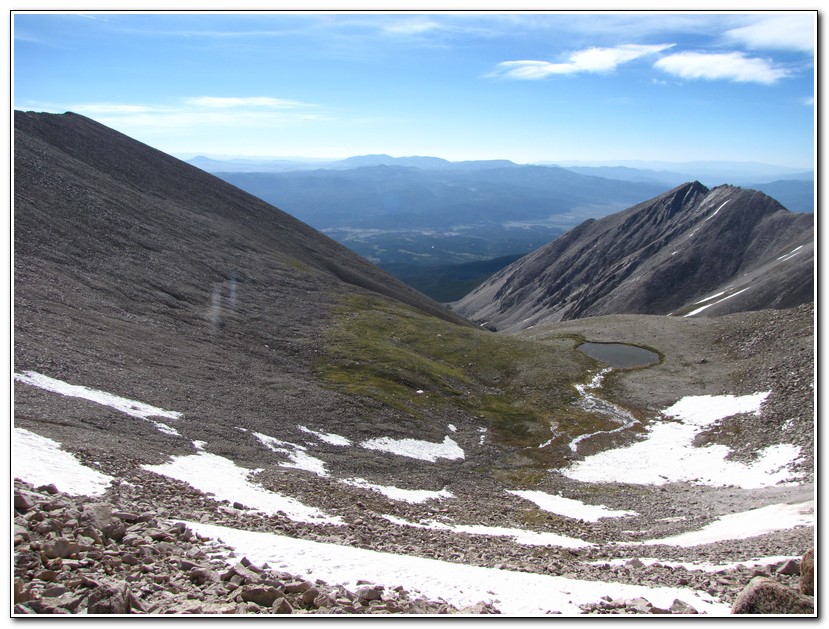 The weather was beautiful that day except for the wind.


---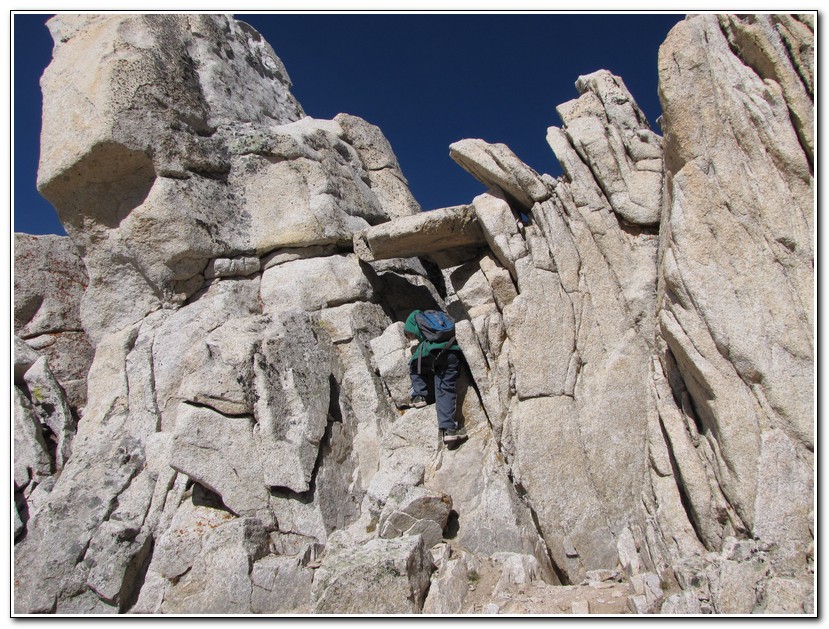 I think Kenny wanted more of a challenge than the trail had to offer so he climbed some of the rocks during one of our rest breaks.


---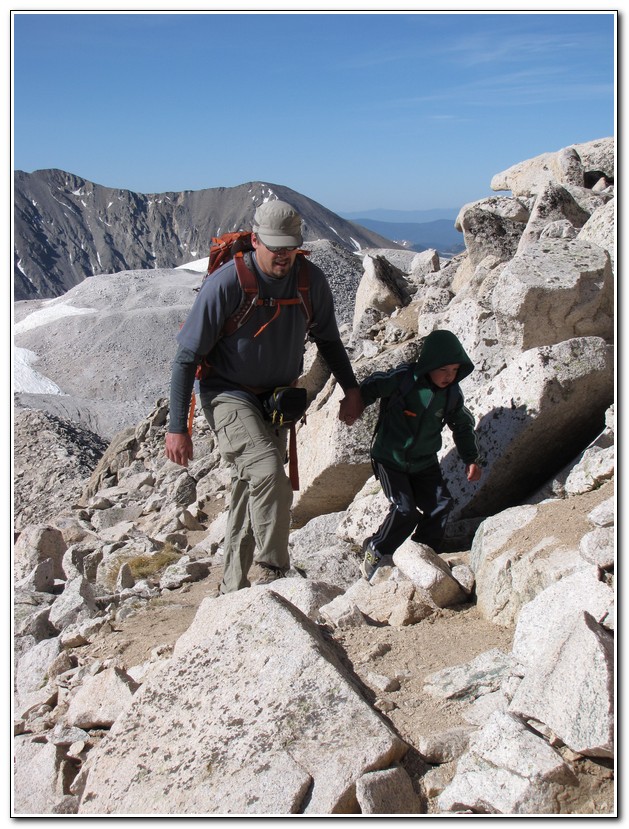 Kenny did prefer to hold my hand as his shoes did slip some on the loose gravel, however at times we couldn't due to the narrow trail.


---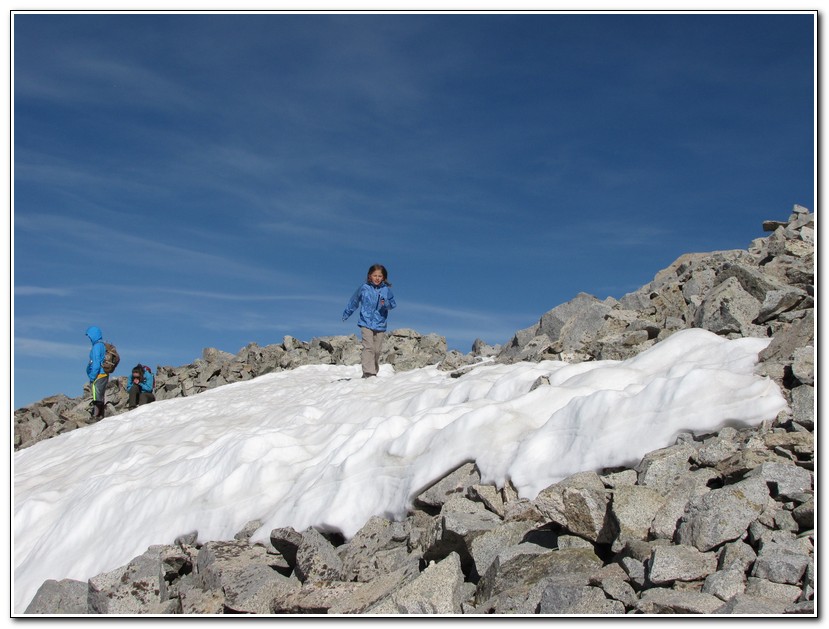 Keziah had found a pedometer on the trail as we were heading up. She asked everyone we passed if it was theirs. At one point a group had gone a different way around a snow field so she had to go out of her way across it to ask them. Good thing she did too as it belonged to one of them.


---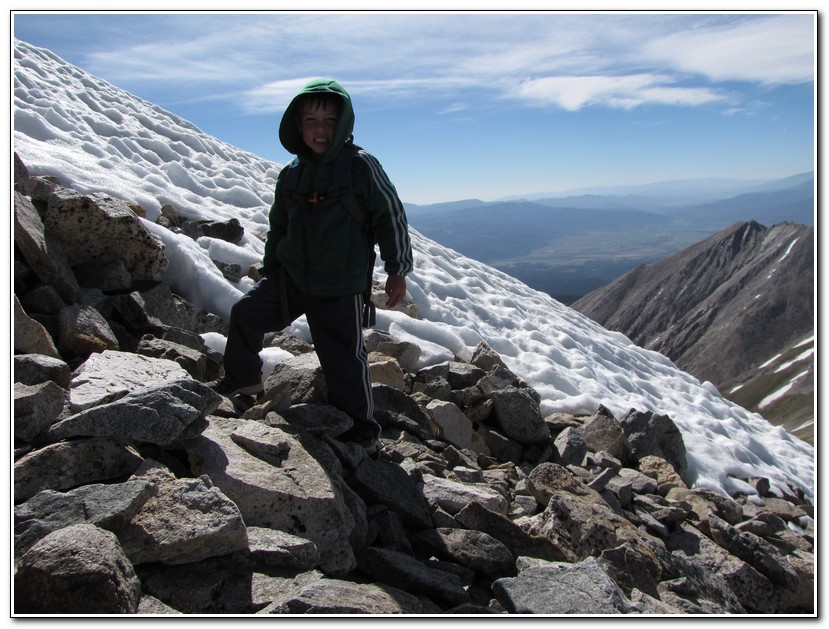 On the steepest part we couldn't follow the trail as it was still buried by hard packed snow. I was a little worried about Kenny being able to ascend the talus, but he impressed me again with his determination and I actually had a little trouble keeping up through part of it. As we neared the summit the winds really picked up too. Yet he pushed on never even asking to turn back or take a break.


---

Those are big steps for him.


---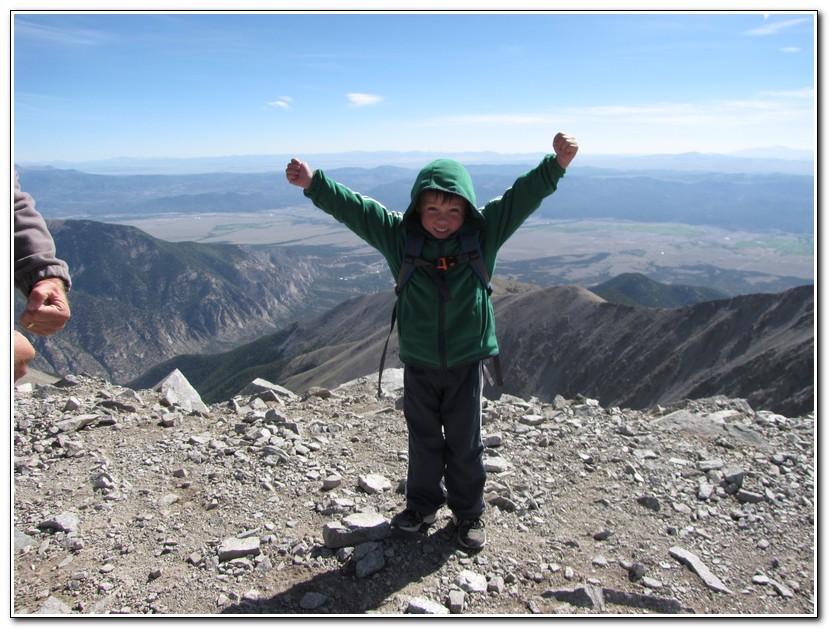 On the summit! I'm so proud of him. Even though we drove up a long ways on this one Ellie said it was the hardest 14er she's done yet because of the wind and not being able to follow a trail the whole way.


---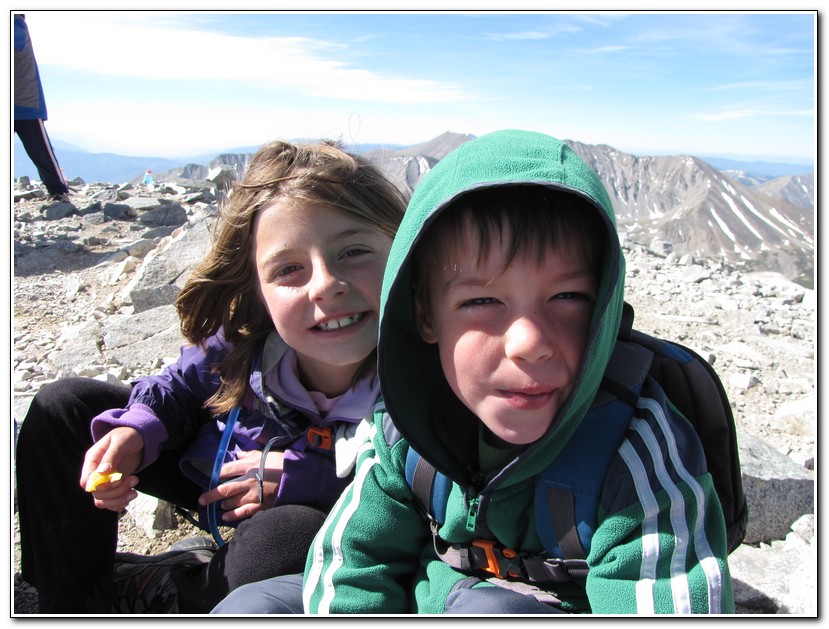 A proud big sister too, showing her little brother the ropes of climbing 14ers.


---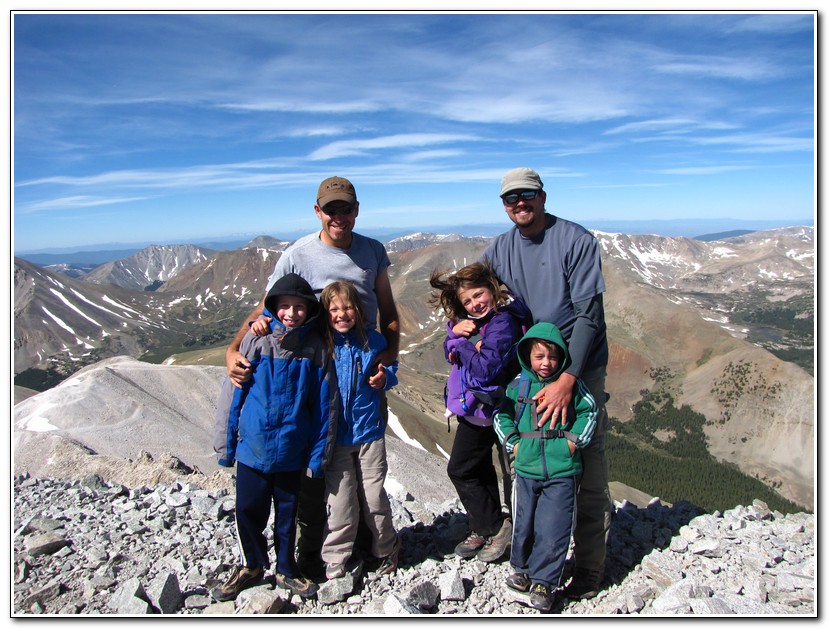 Our entire group on the summit.


---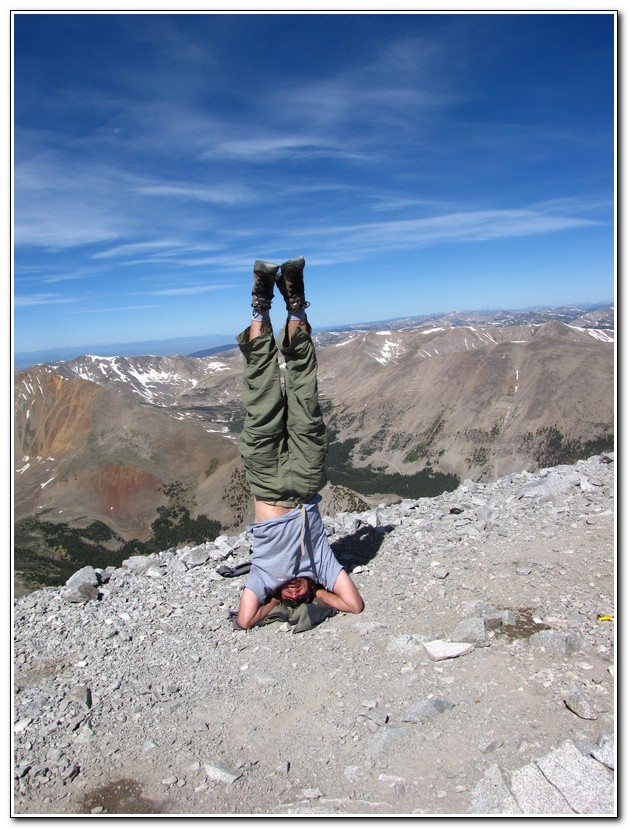 Jason stepping up the summit Yoga.


---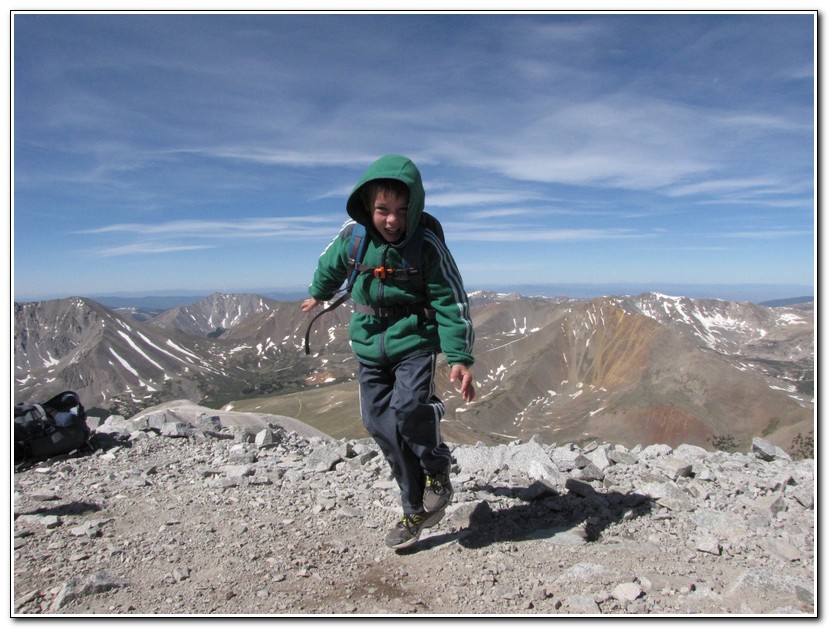 Kenny's summit heel click for joy.


---

The summit Panorama.


---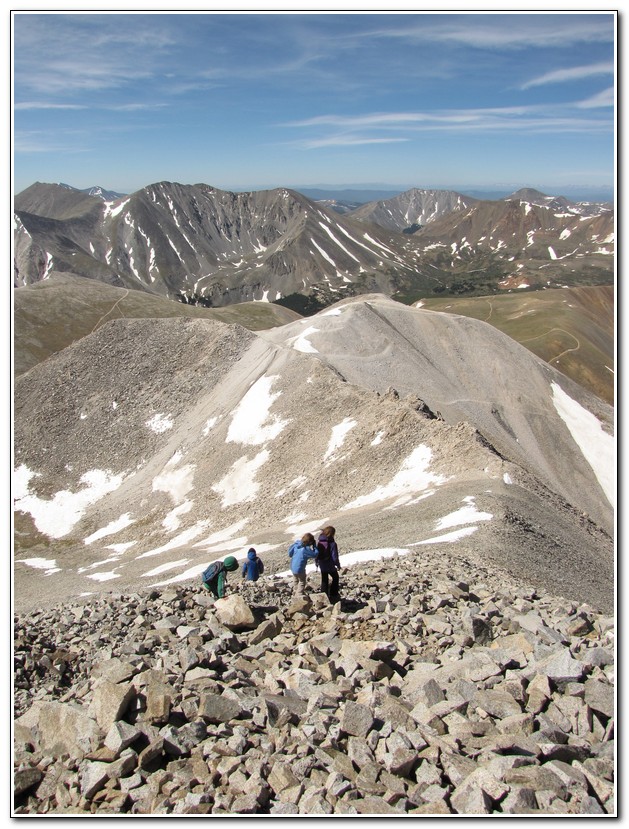 Then we began our windy descent back down the mountain.


---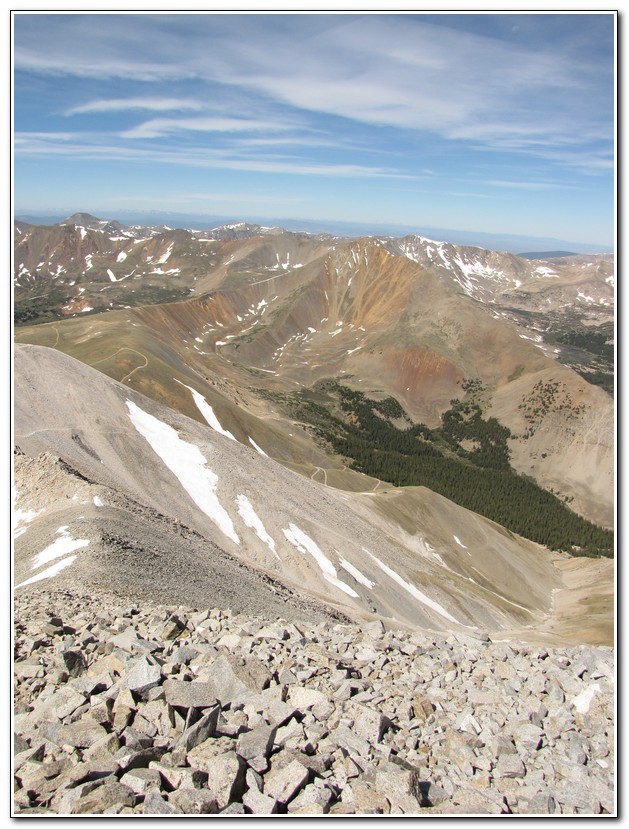 I measured winds up to 43.8 mph on the ridge.


---

Once off the steep part we could follow the trail on the leeward side of the ridge and it was easy hiking again.


---

We still hit some winds in the saddle though.


---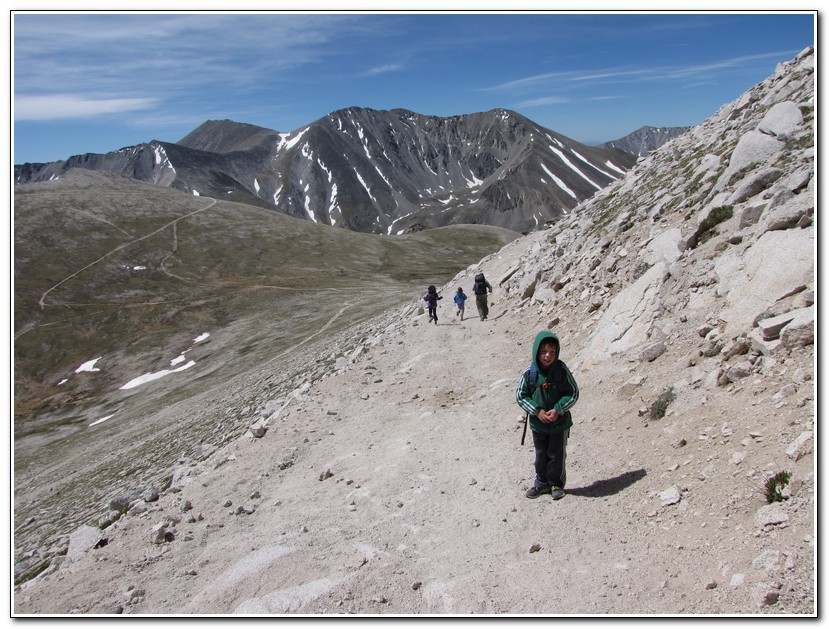 The last couple hundred yards back to the car everyone ran (Kenny waited for me). That really gets your heart rate up at 13,000 feet.


---

Then it was back to the task of figuring out how to get past the snow drift. The other guy had gotten there first and began digging. We pitched in when we arrived. Another guy in a Jeep offered to help winch us through if we got stuck.


---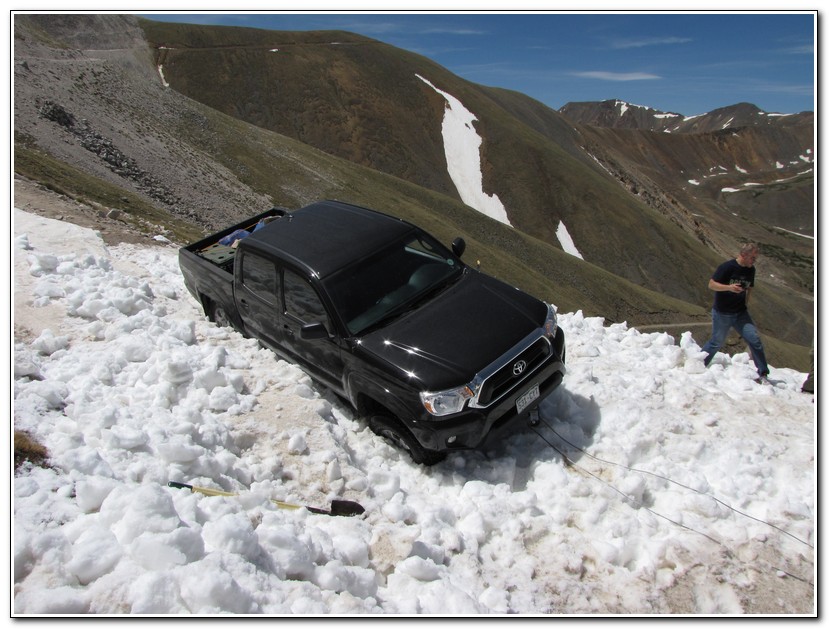 It's fortunate the guy in the Jeep was there to winch us as the truck got stuck less than halfway across even after we did a lot of digging. It would have been hours of digging to make it without him.


---

Thank you, whoever you are that helped us through the snow.


---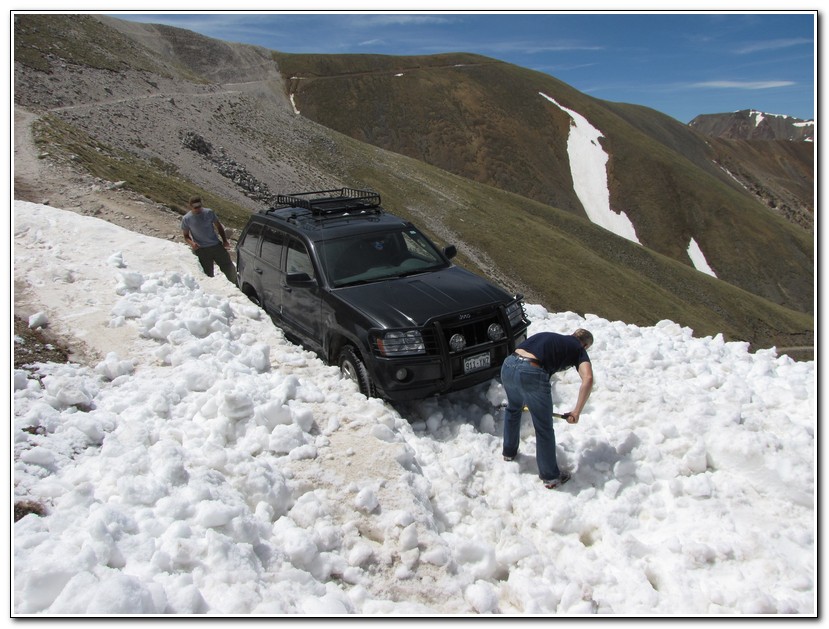 Then when my brother tried his Jeep sank even deeper. More digging and more winching.


---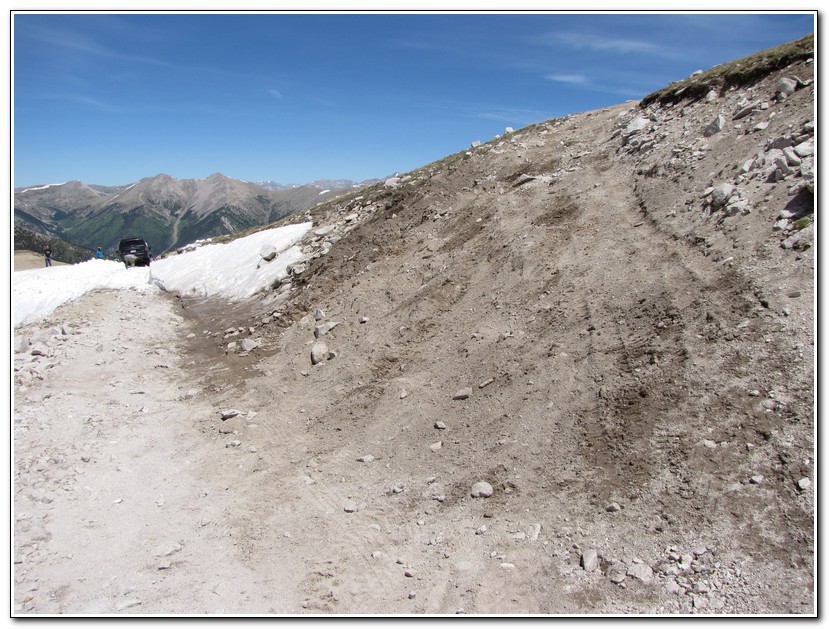 This is a look at the loose part we slid down and couldn't get back up.


---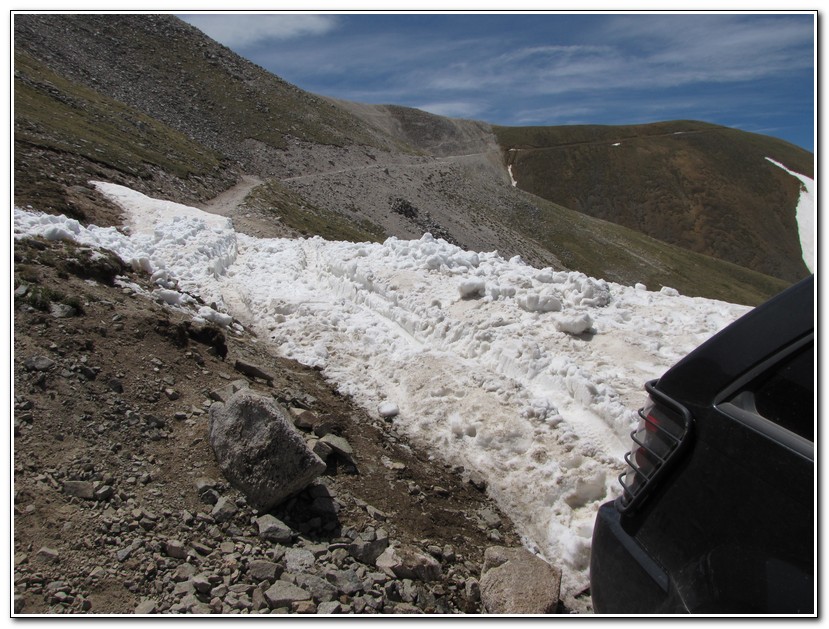 Once out though we left behind a great trench for future drivers.


---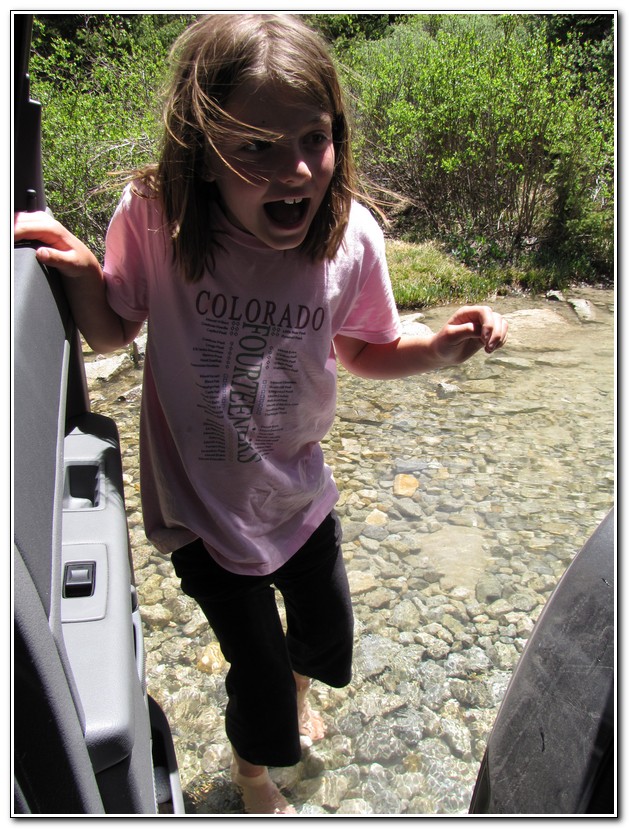 We stopped the Jeep in the middle of Baldwin Creek so the girls could dip their feet in water. Frigid and refreshing.





---
You are welcome to contact me with any questions regarding questions about, or problems with, this website. Just send me an e-mail at josh_friesema@hotmail.com.