Also view my 2004 trip
November 22, 2009
It had been a while since I had been out climbing this year so I used 14ers.com to help find a group heading out for a mountain. I came across a post that someone was looking for partners on the same weekend so I posted I was interested. Soon there were several interested and the trip was on. As it always is with this sort of thing the group changed a lot right up to the day of the hike. In the end 5 people, including myself, showed up for the hike.

We decided to meet at 4:30 am at the trailhead to get an early start on what we knew was going to be a long day. The forecast wasn't calling for snow, but we did expect some wind and cold.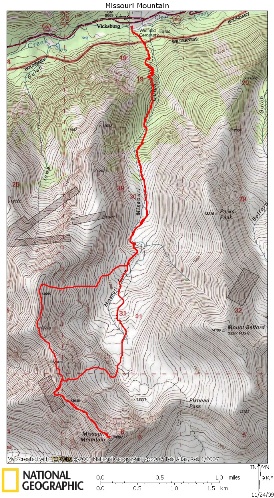 click for larger version.



---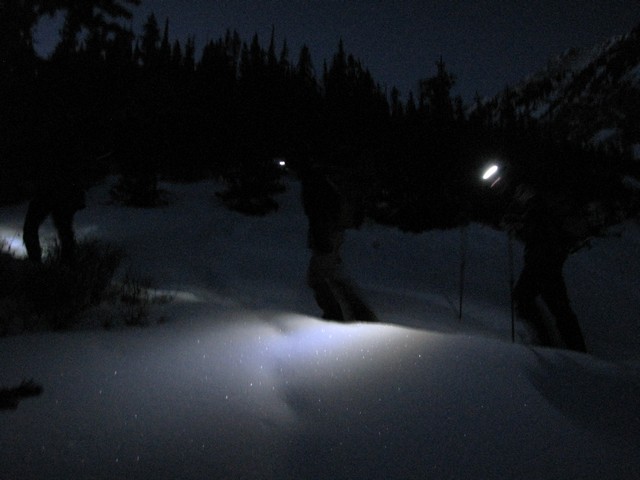 Nothing like a good alpine start in the winter.


---

As we passed the Missouri Basin cabin the sky was just beginning to get light.


---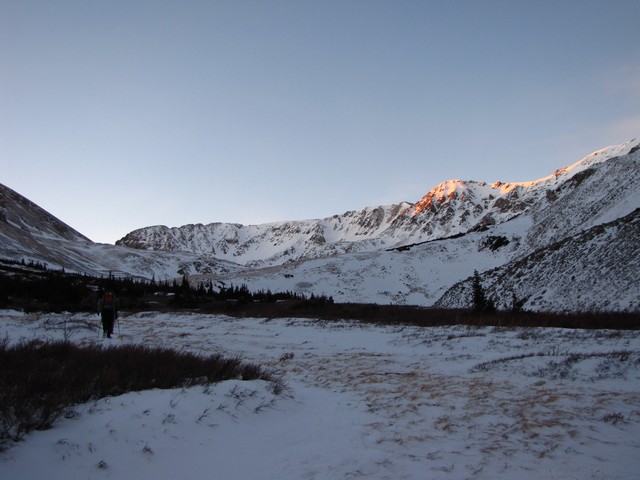 Then as we reached treeline the alpenglow began to appear.


---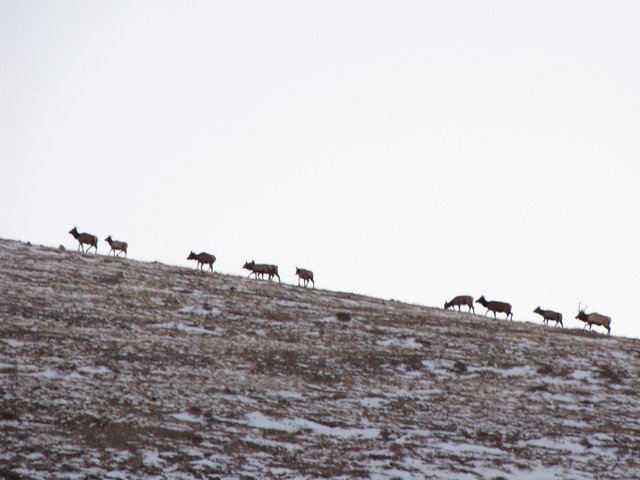 We also got to see a nice herd of Elk disappear over Pecks Peak. Missouri Basin above treeline was covered with their tracks and droppings.


---

Looking behind us as the alpenglow hits Quail Mountain.


---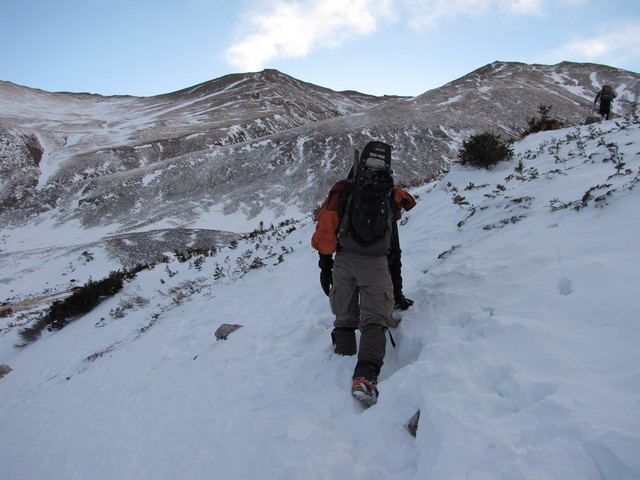 Getting over the headwall at treeline gave us the first taste of postholing for the day.


---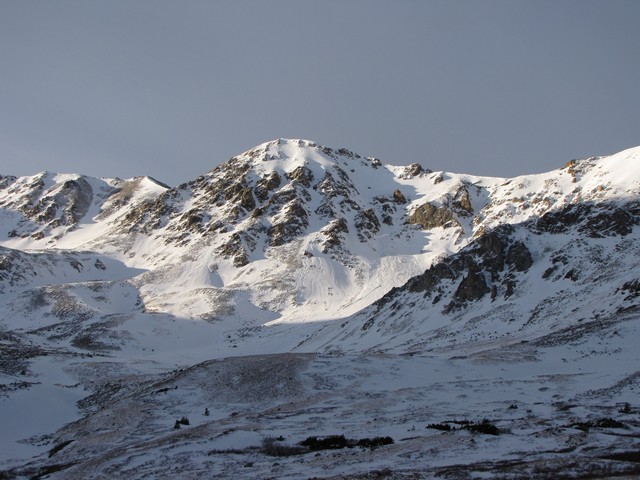 Point 13,784 (frequently mistaken to be Missouri Mountain) looked fantastic as we approached.


---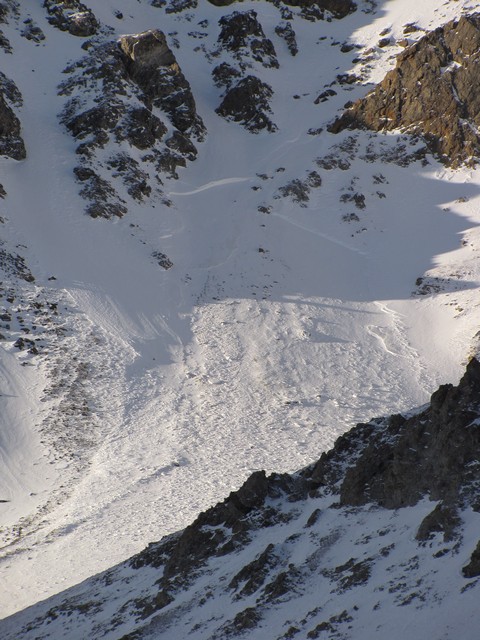 It also however showed the instability of the snow. Several slides looked fairly recent. At this point we decided rather than to risk following the standard route where we couldn't see the conditions, we chose to take a much earlier ascent of the ridge. This was my third time to use this route. It's a sustained steep route, but can be used to avoid avalanche terrain.


---
---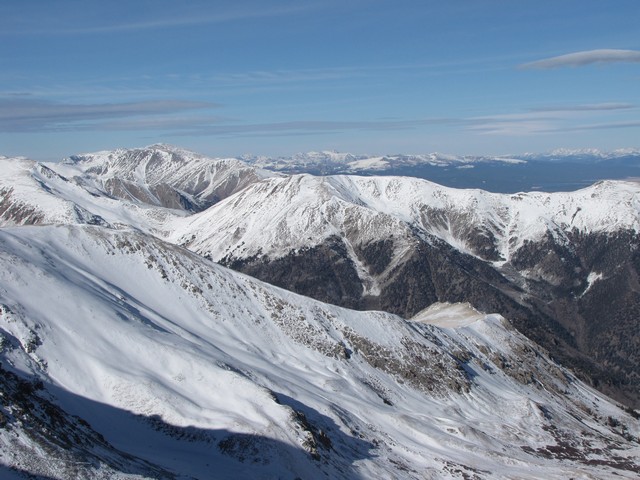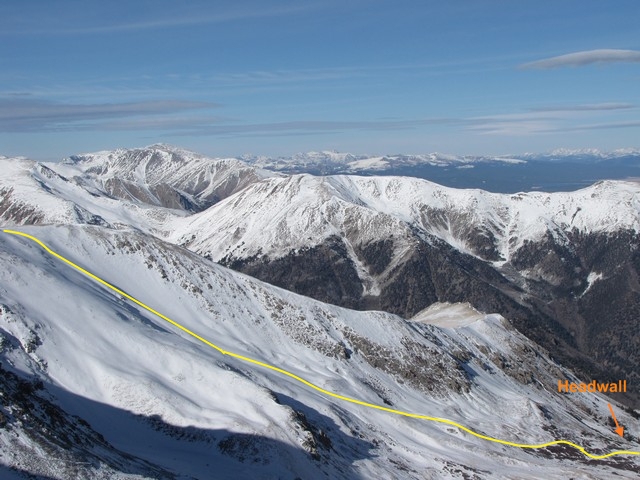 Photo taken later in the day from the summit
These photos show the ascent route up a small rib.


---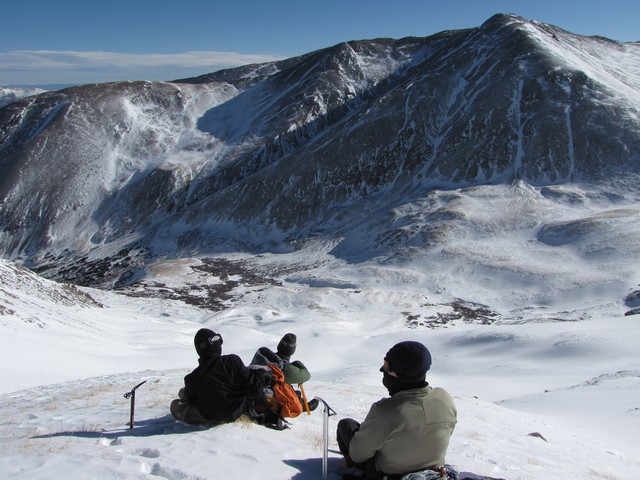 The small rib was minimally covered in snow and the only times we had to cross any real snow the slope angle was quite minimal. It really worked out well as a safe access to the ridge.


---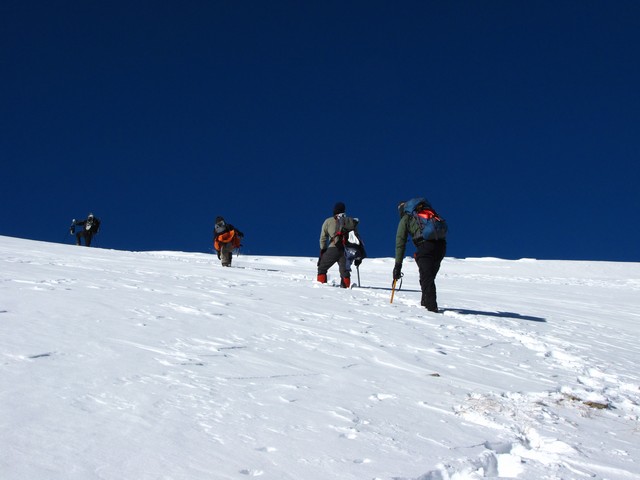 Even the break over to the ridge was gentle enough that there was no cornice to cross, though the snow did get a little deep. (Summitdreams broke trail the whole way up, he's an animal).


---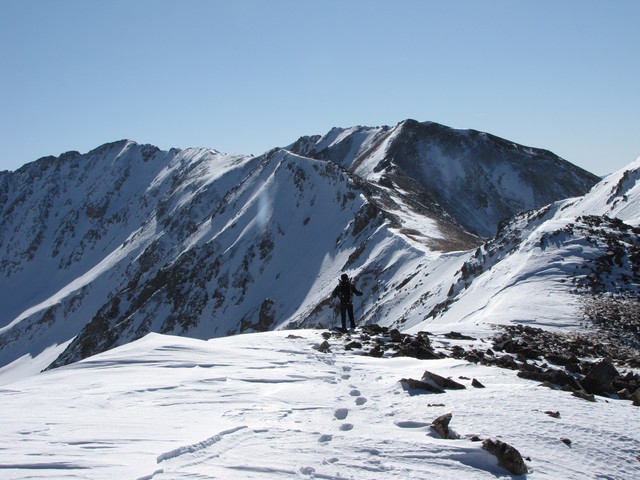 The ridge was long (about 1.5 miles) and windy but much easier going since it was wind scoured.
(Summitdreams continuing to lead the way.)


---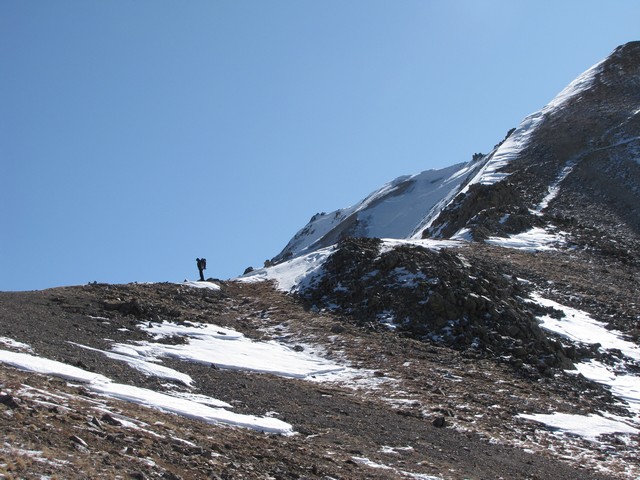 We reached the saddle on the south side of point 13,784 and joined back up with the standard route at this point. It was here that two out of the group decided they'd had enough. Three of us continued the last of the ridge to the summit.


---

The view of Huron and the Three Apostles were ethereal.


---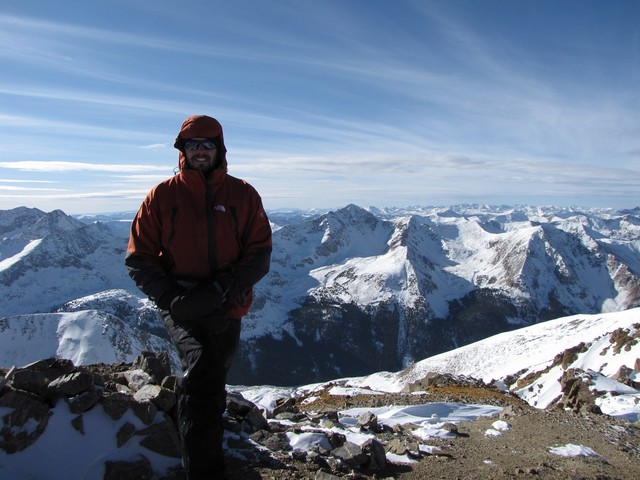 The trip across the final ridge was windy and cold. I pulled out my anemometer in what I thought was the windiest spot. It registered the highest gust at 45mph and anmbient air temperature of 4F, combined that makes a windchill of -25F. Winds on the summit weren't nearly that bad though. As always the saddles had the worst of it. I wish I would have taken a picture of Summitdreams kicking the trail across the crux section just before the summit. Fortunately the snow on the SW aspect was solid and great for kicking in steps.




---


click photo for larger version
The winter air is always so much clearer and allowed us to easily see distant peaks. Many of the San Juans were easily visible.


---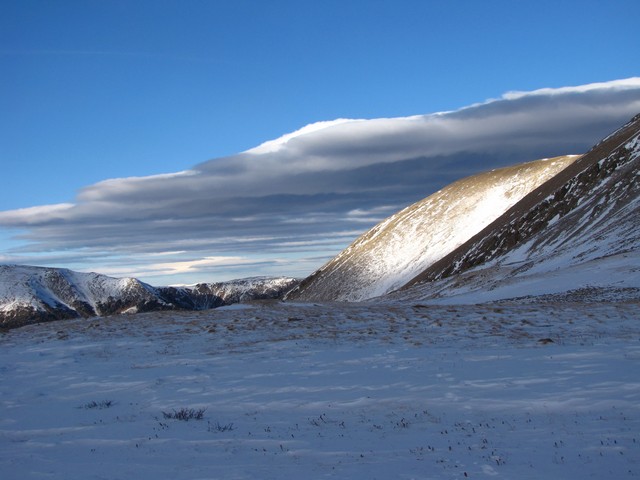 Our trip down turned out more interesting then we wanted. Summitdreams postholed on the summit ridge and took quite a hit to a knee. It was bleeding through his shell pants and slowed him down a bit (on his drive home ended up swelling dramatically). We chose to follow the standard route down which ended up being a lot of work to avoid avy danger. The snow had 3 crust layers all seperated by lots of depth hoar. We did pretty good avoiding anything bad but at one point we had to cross a slope that was definitely risky. Then the 3 guys that had stashed gear on the way up had trouble finding the stash. We were still above treeline and sunset was on it's way. To top it all off I began to have serious breathing problems. Turns out some dental work that had been done a couple of weeks earlier had caused an infection that was now being irritated by the cold dry air. My eppiglotis was not opening fully for me to breathe. I had to hike at a slow enough pace that my shallow breathing could keep up. (I'd had a sore throat for days before this, I really should have known better than to hike without knowing the cause.) Anyway, put all of this together and it made for a long day.


---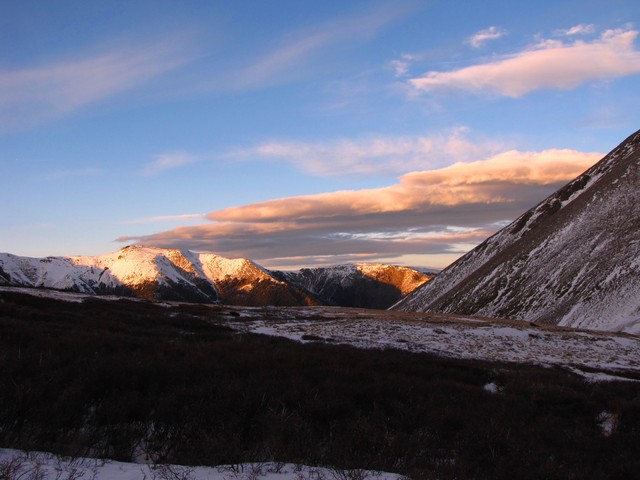 I think this is the first time I've ever watched a sunrise and sunset from above treeline on the same mountain. It turned out to be quite a day. We started our hike before 5am and didn't return to our cars until 7pm. I didn't get cell phone coverage all day until I was almost back home at 9pm (Virgin Mobile has horrendous coverage). My wife had called the sheriff and had them heading to the trailhead to see if my vehicle was still there. Well actually the scary part was Chaffee County SO had no idea that there was even a Missouri Mountain in their county, and asked her to give them directions to the trailhead. Fortunately I got hold of her 10 minutes after she first contacted them so she had not yet called back with details of how to get to the trailhead. Not my greatest day.


---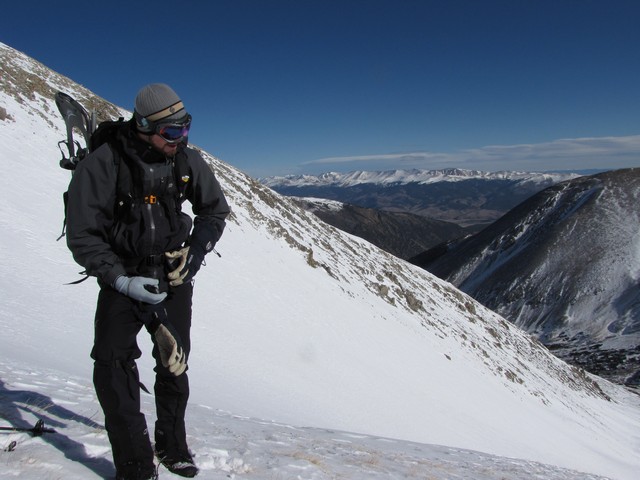 Just wanted to thank Summitdreams again for the huge effort he put forth on the day. He pretty much broke trail the entire day and still outpaced the rest of us. In my humble opinion he's a great mountaineer to hike with and learn from.




---
You are welcome to contact me with any questions regarding questions about, or problems with, this website. Just send me an e-mail at josh_friesema@hotmail.com.