May 28, 2012
This is my second trip up Sneffels. My first time was in 2002 on Labor Day weekend. (Read that report here.) It was fun to return to this mountain after 10 years.

I've been taking my family to Ouray 8 out of the last 10 years. We love it there. Except for the 2002 trip, we've always gone on Memorial Day. Normally on Memorial Day the roads are closed well below the trailhead for Sneffels. This past winter was extremely low snowpack so I finally had the opportunity to sneak in a hike up Sneffels during our vacation there. I wanted to be back early though so I could still enjoy the day with my family, so we left Ouray at 3:30 am. Mike (a guy with whome I got connected on 14ers.com for this hike) drove his Subaru WRX to the lower trailhead. He did scrape bottom a few times, but did suprisingly well on this road.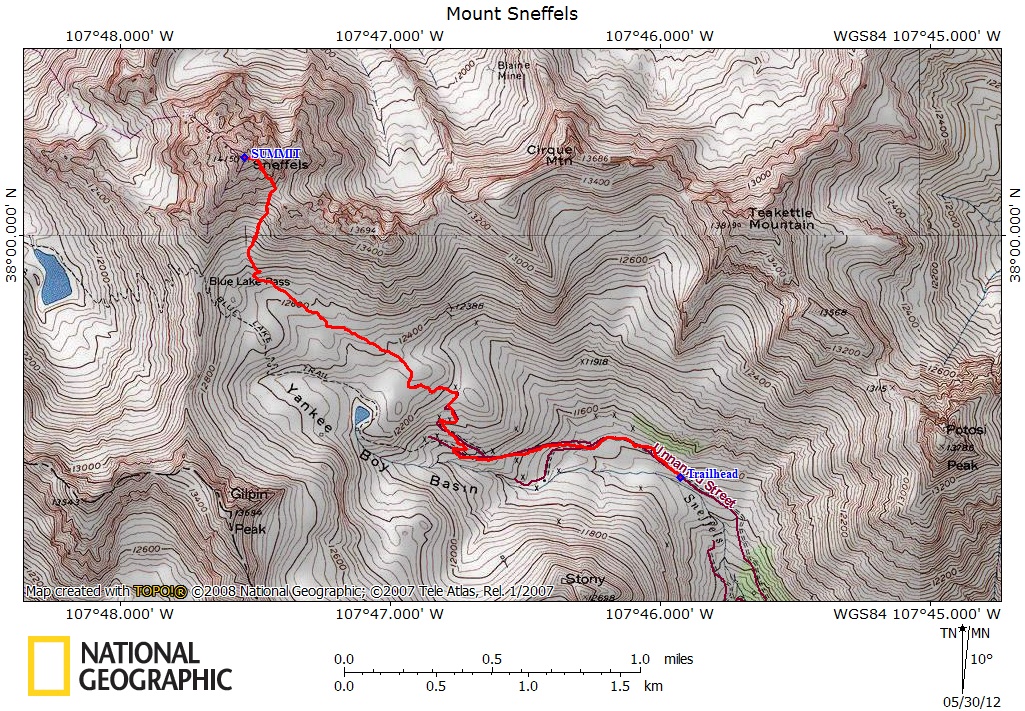 | | |
| --- | --- |
| Distance: | 5.5 miles |
| Elevation Gain: | 2,714 vertical feet |
| Time: | 5 hours |
---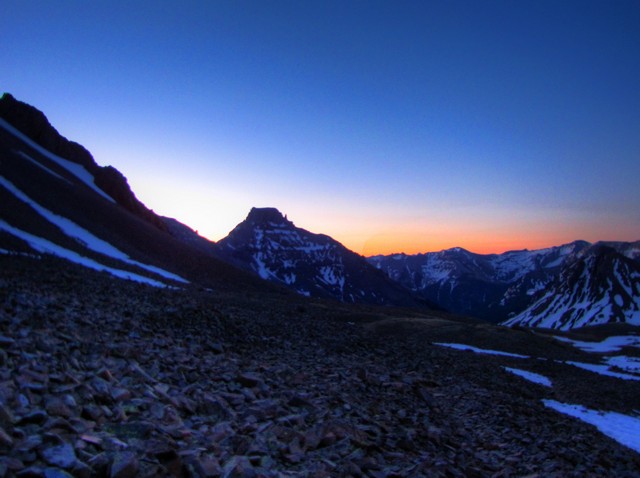 With the early start we began hiking in the dark and only began to see signs of the sunrise as we passed the upper trailhead. The upper trailhead was still inaccessible due to snow, but a Toyota Tacoma did make it up about another mile after the lower trailhead.


---


As we reached the first steep section, the Lavendar Couloir, the morning alpenglow began to light up Gilpin Peak.


---

While the Lavendar Couloir wasn't as steep as I had remembered it, it was still the loose scree and talus slope that I fought my way up 10 years ago. We did have a few short sections of snow left still that we could use to make the trip easier. This couloir would be a lot more enjoyable with continuous snow.


---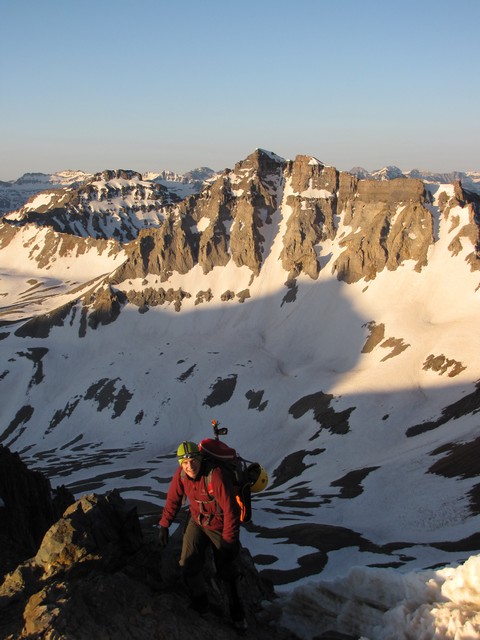 As we reached the top of the Lavander Couloir we were treated to our first sunshine of the day.


---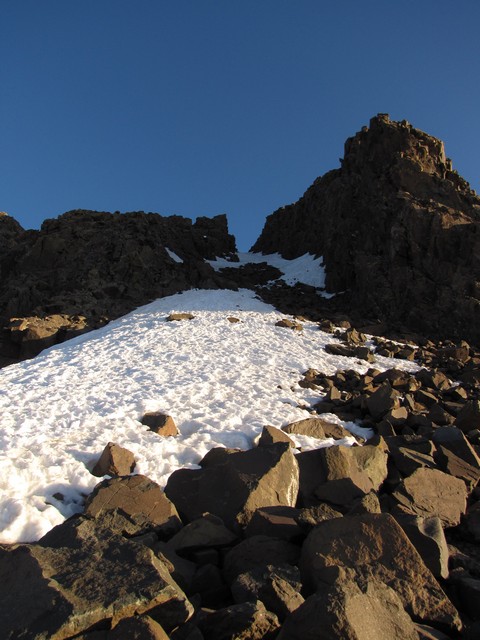 Looking up the southeast couloir from the Lavendar Col I was suprised to see so little snow. This route is going to be completely dry very soon. We continued about halfway up this before putting on our crampons.


---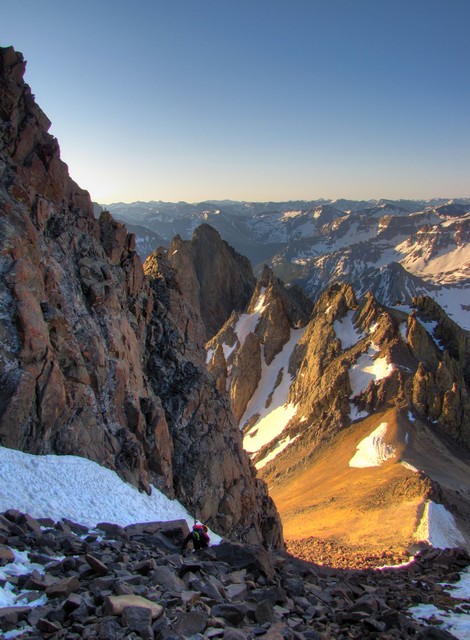 Mike was starting to have some fun now as the route got steeper and a little more interesting.


---

Normally the best route is to stay into the southeast couloir until just before it reaches the ridge and then exit through a notch. We'd heard that the notch was iced up and difficult to pass, so once we saw that the first exit from the couloir was in great condition (the snow route on the left) we chose to go that way instead.


---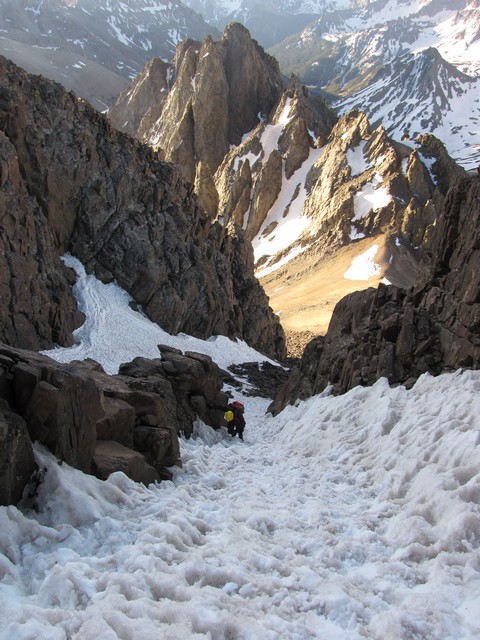 I wish I would have pulled out my inclinometer and checked, but I would estimate this route got us onto some 50+ degree snow.


---


Once out of that couloir we had a short traverse on some steep snow to get to the summit ridge where we took off our crampons.


---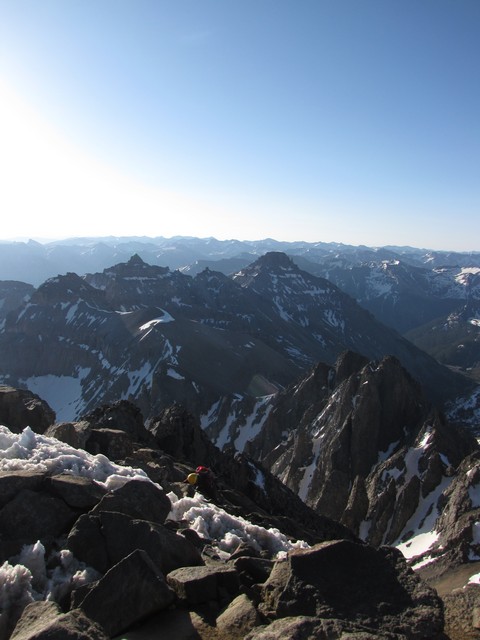 After that it was a short dry trip to the summit. We were on the summit at 7am with perfect weather. There was almost no wind, which was a huge change from 2 days earlier when Ouray was experiencing 65mph gusts in town.


---
Summit Panorama:
---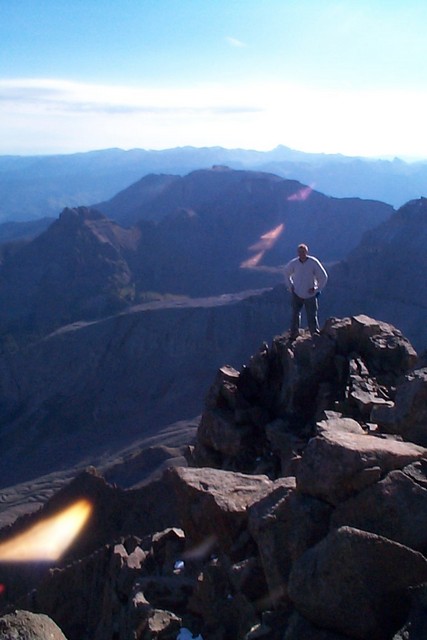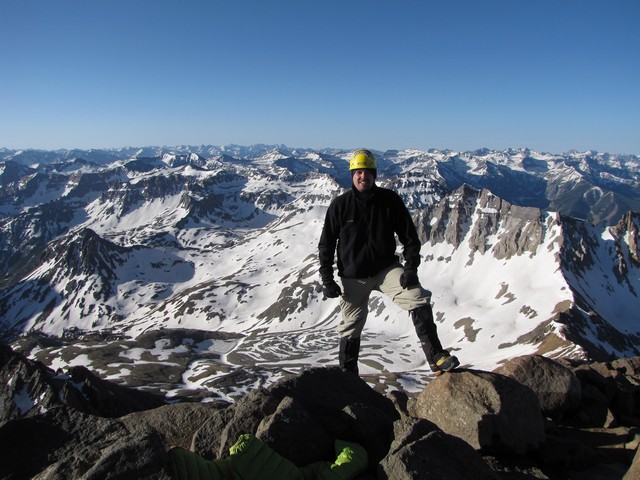 Then and Now.


---
---
---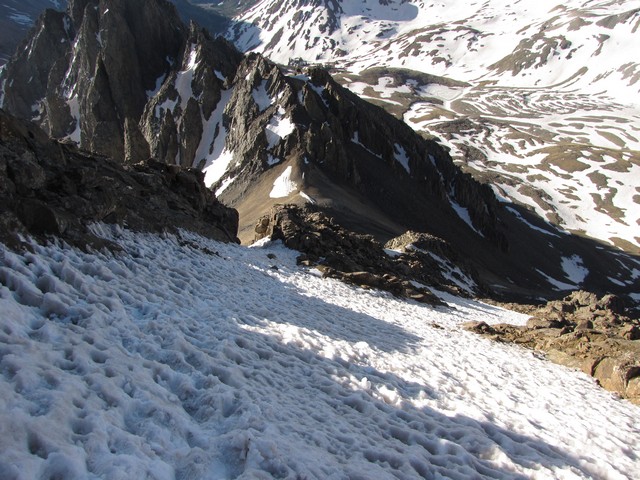 Coming down so early gave us nice solid snow to descend, yet it was soft enough to get purchase with crampons.


---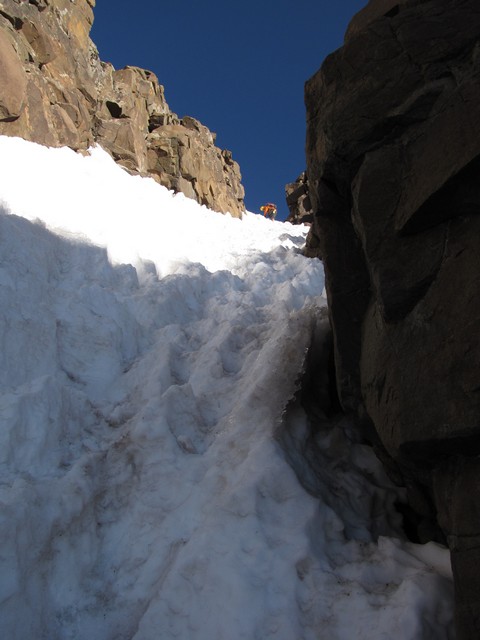 The steepest section of the descent into the southeast couloir required us to face in.


---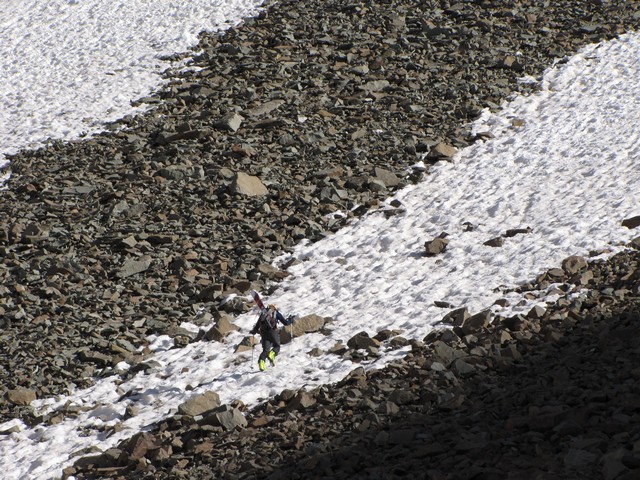 Back in the Lavender Couloir the weather had warmed up nicely. We also began meeting other hikers on their way up. A couple of guys were carrying up skis. I didn't get the chance to ask where they were going to descend, but I'm very curious as I couldn't see any decent lines anywhere on this face of Sneffels.


---

It looked like pretty much anything on the other side of the valley would have been better skiing.


---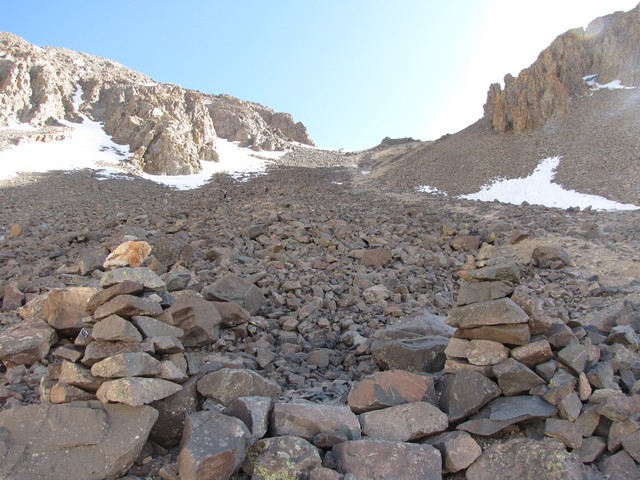 I took this shot looking back up the Lavender Couloir. The trail basically ends at this pair of tall cairns. The rest of the way up is probably just too loose to maintain a trail, but staying left in the larger rocks is easier. On the way down these two cairns are easy to see so you can aim for them and get right back on trail.


---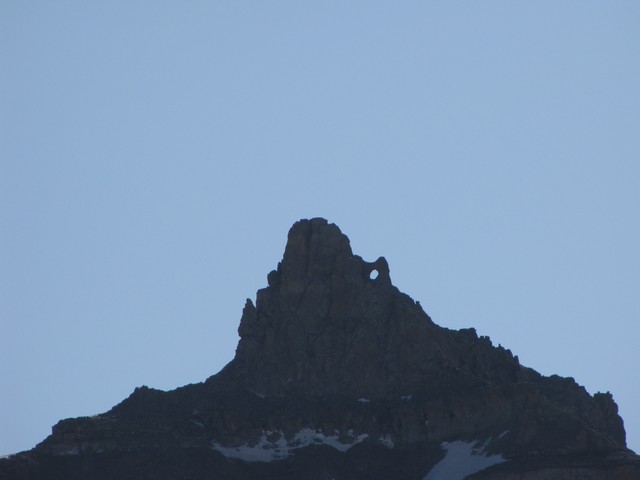 I love this view of Teakettle Mountain on the way out. I look forward to climbing up to that feature.


---


Things are already greening up and the high lakes are starting to thaw.


---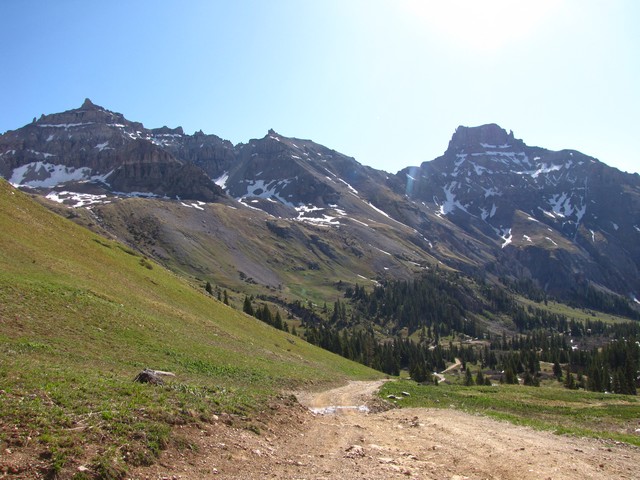 The final stretch to the trailhead went pretty quick, but a few blisters for Mike made the walk out on the road rough on his feet.





---
You are welcome to contact me with any questions regarding questions about, or problems with, this website. Just send me an e-mail at josh_friesema@hotmail.com.