August 3-6, 2012
This was our second time to visit the Wind River Range of Wyoming (see the report from our first trip here). The last time we had been here we had been considering adding Gannett Peak to the trip. Gannett Peak however is not a peak that can just be added to your plans. It is a serious mountain that requires equipment, preparation, and planning. I thought I was fairly well prepared for it this time, yet still found myself caught a little off guard by the difficulty of this hike.

That said, the rewards for taking on this behemouth of a trip make it all worthwhile. This route requires some serious distance, but every inch of it is beautiful. The challenenges it presents too make it quite an adventure.

Trail Map: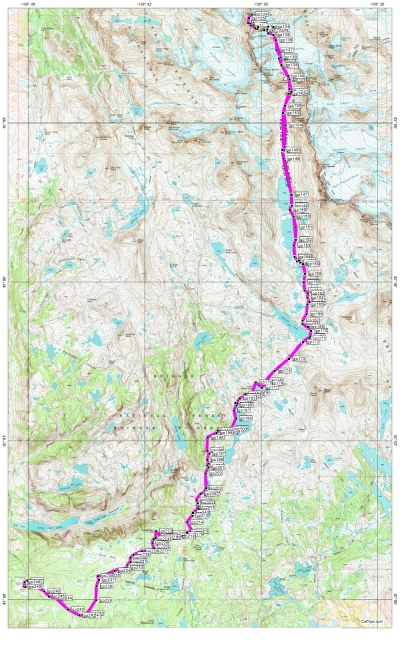 Click map for detail version, be patient it's quite large.
Or Click Here to download the gpx file of the Gannett Peak route for your GPS or Google Earth.

Elevation Profile:


| | |
| --- | --- |
| Distance: | 42 miles |
| Elevation Gain: | 10,280 vertical feet |
| Time: | 67 hours |
---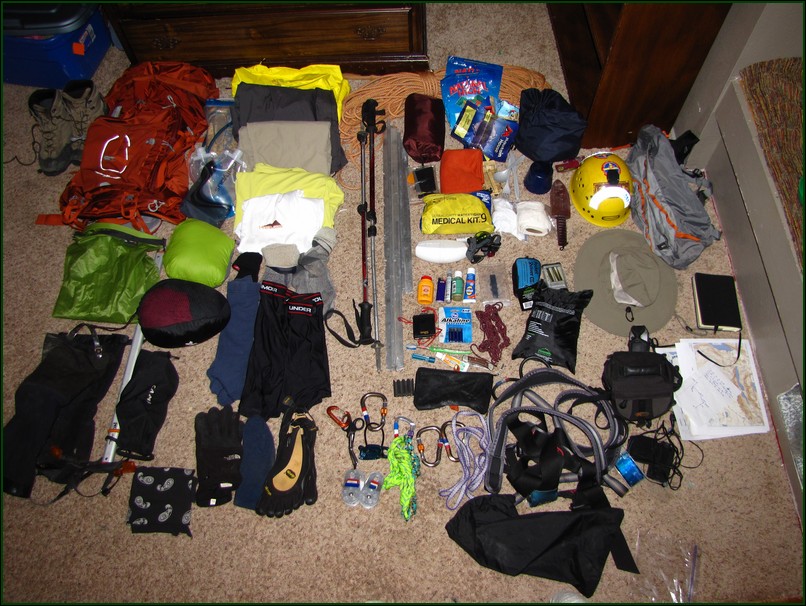 Traveling for 4 days over 40+ miles on terrain that includes scree, talus, snow, glaciers, crevasses, bergschrunds requires a fair amount of gear. The best way to keep gear weight low is to go with someone and share some gear. This is everything I carried on the trip. You'll notice no tent as Jason was carrying that, but I had the rope. (Click here for our gear list.)


---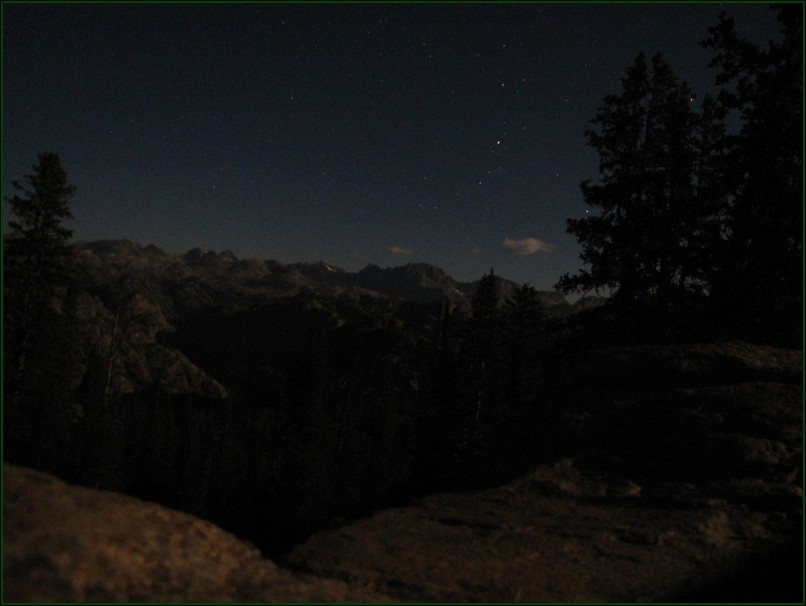 We left early from work on Friday and arrived at the trailhead at 9:30 pm. We decided to go ahead and start hiking in since we both needed to strech our legs some after such a long drive in the car.


---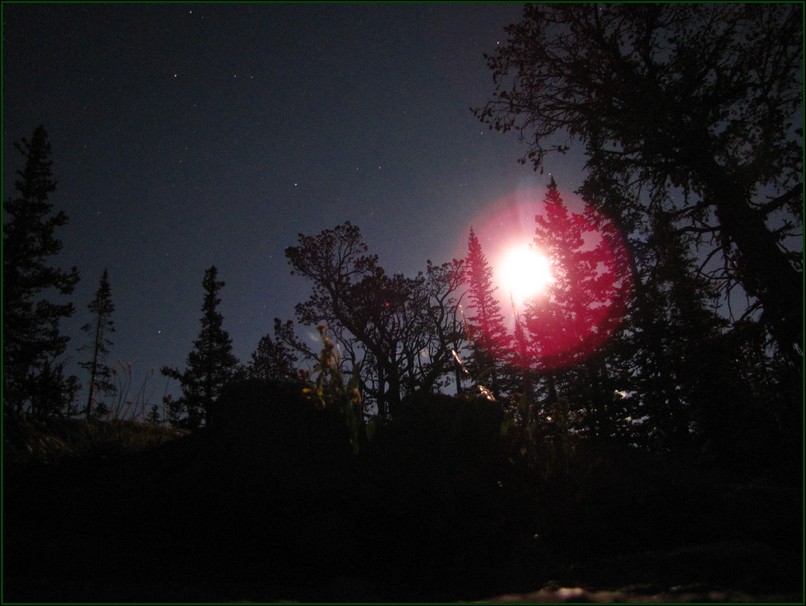 We had only missed the full moon by one night so we had plenty of light on the trail.


---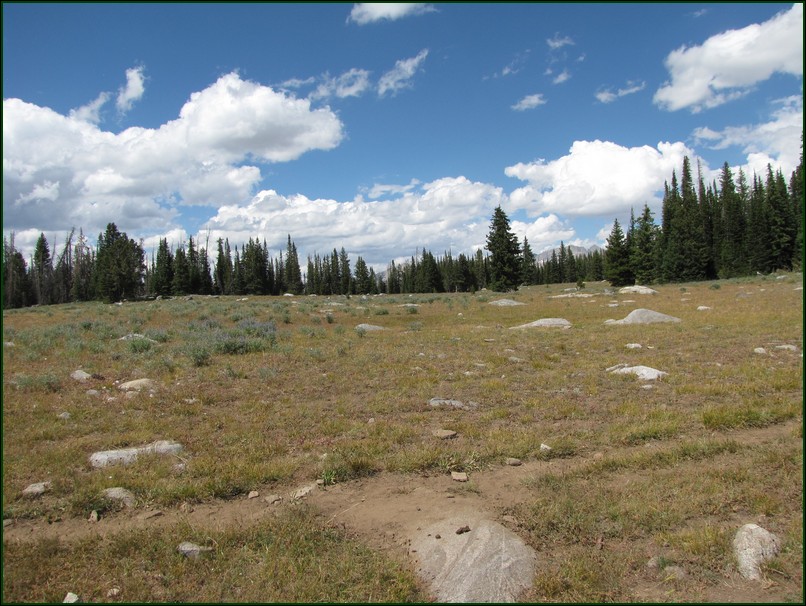 This photo was taken on the way out, but I put it here to show how far this hike starts from the mountains. You begin on very flat terrain with the mountains so far in the distance they hardly break the horizon.


---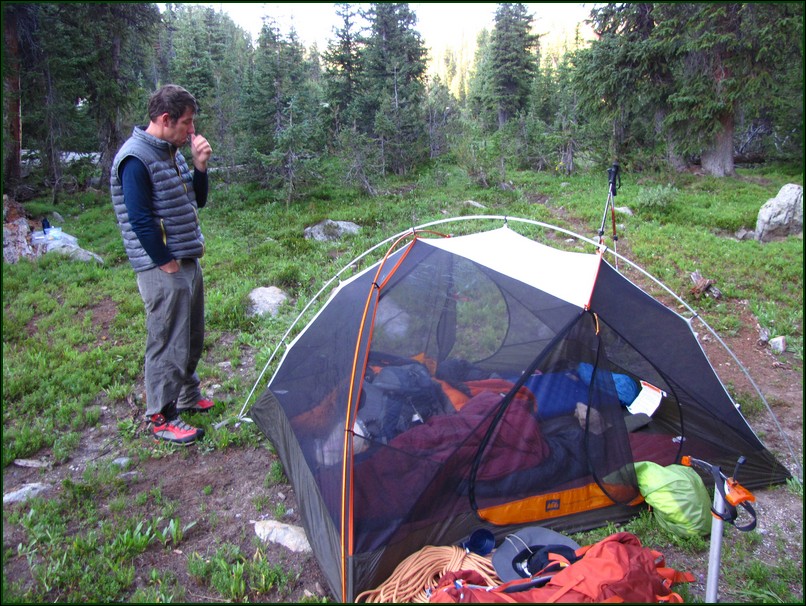 We spent our first night near Barbara Lake approximately 5.5 miles from the trailhead. This left us with a reasonable 10.5 mile hike up to our intended base camp location above the upper Titcomb Lake near Bonney Pass.


---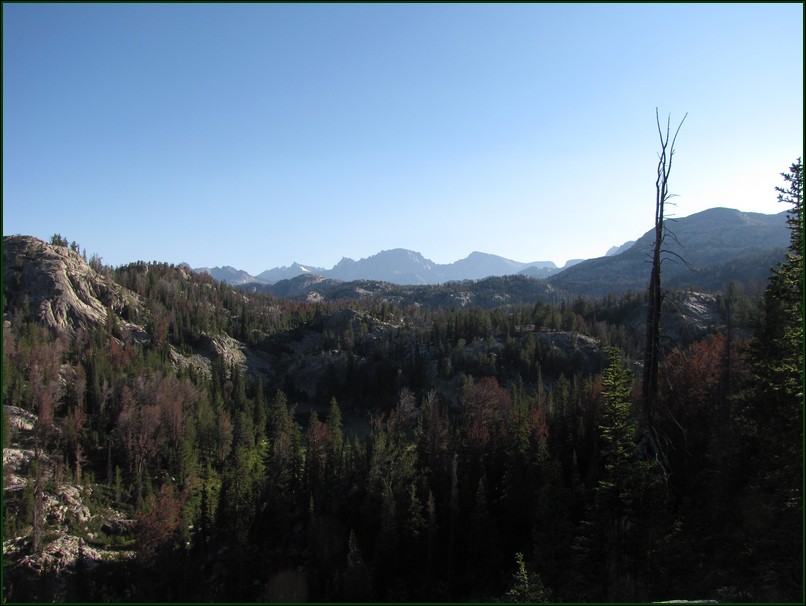 There was no decent water source near Barbara Lake so we decided to break camp and have breakfast at the next good source of water.


---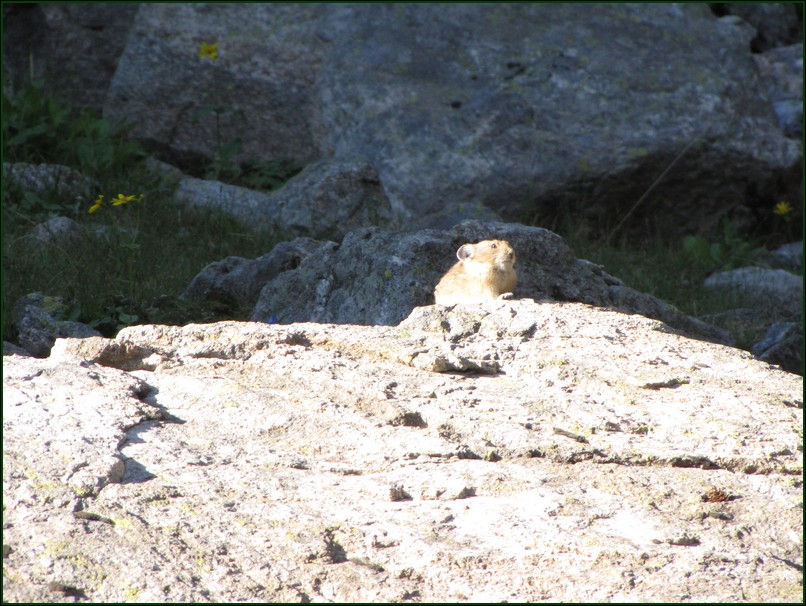 This is one of the fattest Pikas I've ever seen and also living at the lowest elevation I'd ever seen. I've never seen one below treeline, and this guy was down at 10,000 feet.


---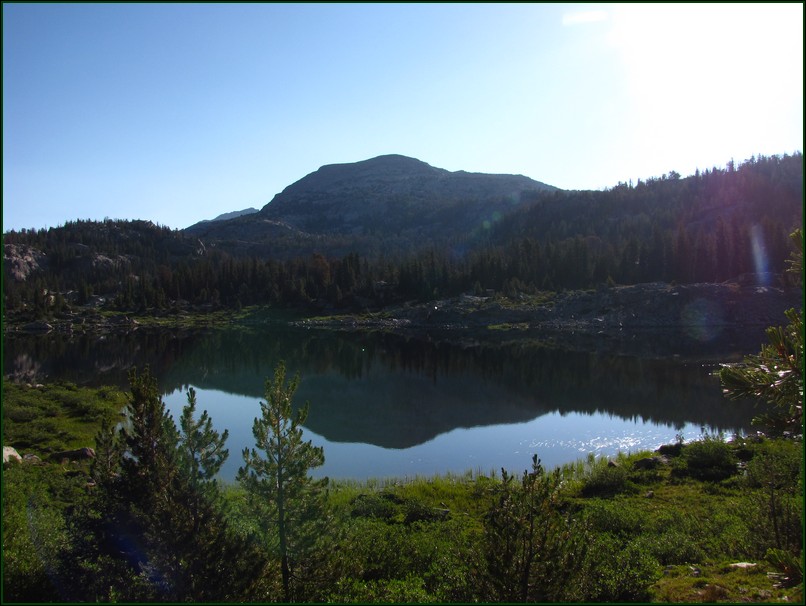 When we arrived at Hobbs Lake we found the stream flowing out of that lake to be barely flowing and nearly stagnant like we'd found at Barbara Lake. So we continued on to the creek that flows out of Seneca Lake, remebering from our last visit that it was a strong flowing creek.


---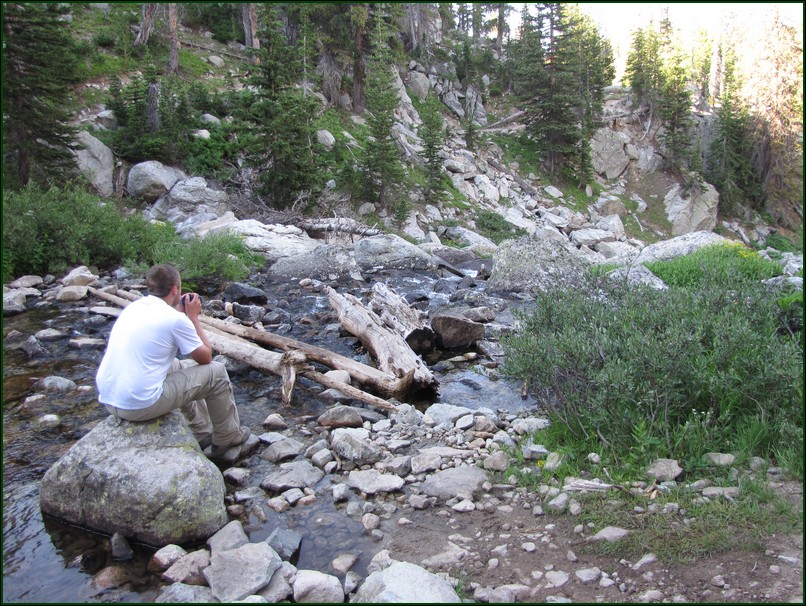 Finally when we reached the Seneca Lake outflow about a third of a mile past Hobbs Lake(I can't find a name for it on maps) we had good water to filter. We made breakfast and I had some nice hot tea on a rock in the creek. We had already hiked 1.5 miles that morning and so were now down to just 9 miles left to hike and an entire day to do it.


---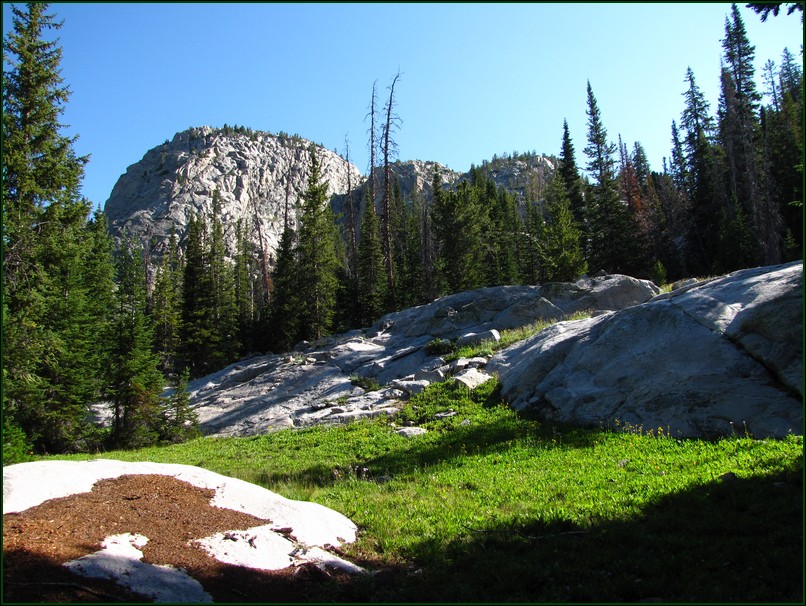 Between Barbara Lake and Seneca Lake are some of the worst ups and downs on the trip. All the down hills you do on the way in you know you'll be having to hike back up on the way out.


---


Reaching Seneca Lake is a sudden specatacular burst of scenery. It's also about halfway to our base camp from the trailhead.


---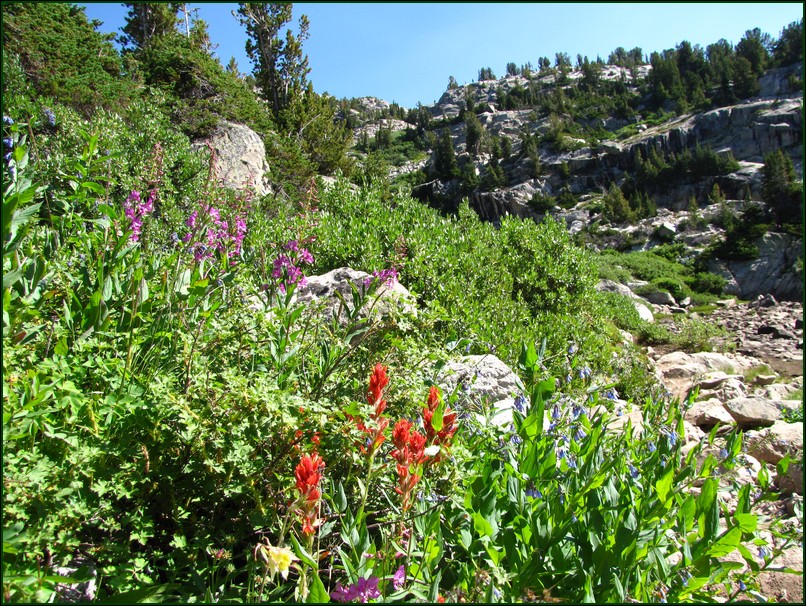 On our previous visit I was captivated by all the wildflowers. I assumed this year wouldn't be quite as good since it was such a dry year. It turned out I was wrong. The flowers were just as present and vibrant as the last trip.


---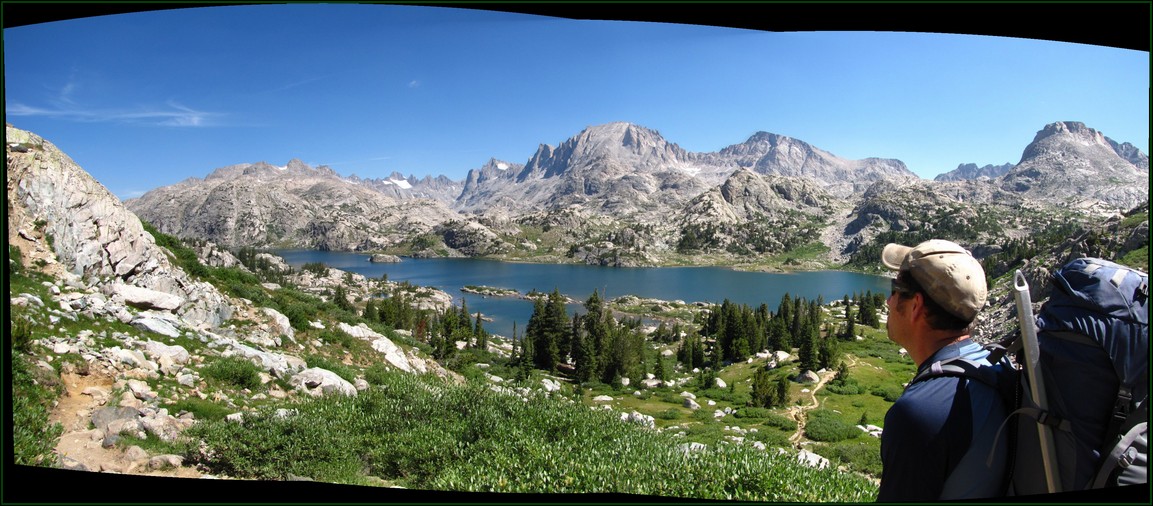 A few more miles up the trail is Island Lake. This is, in my opinion, the most beautiful lake on the trip. It has deep blue water, several large waterfalls feeding it, a few islands, a couple of sandy beaches, and rugged mountains as the backdrop. This is probably why we stopped here to camp last year. However as proved true both trips this is also the worst place to camp on this route. The mosquito population around this lake is absurd.


---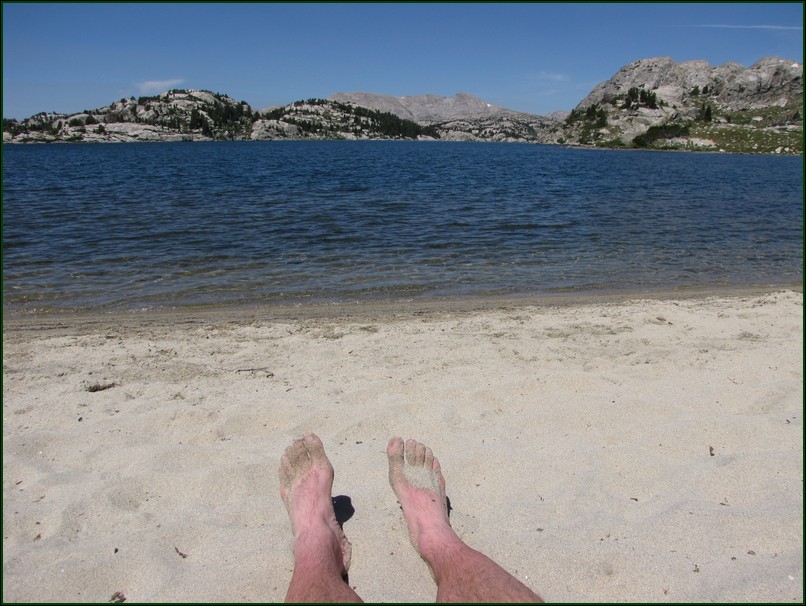 We did stop on a sandy beach and relax a bit. If the wind is blowing the right direction to keep the bugs down, this beach is heavenly.


---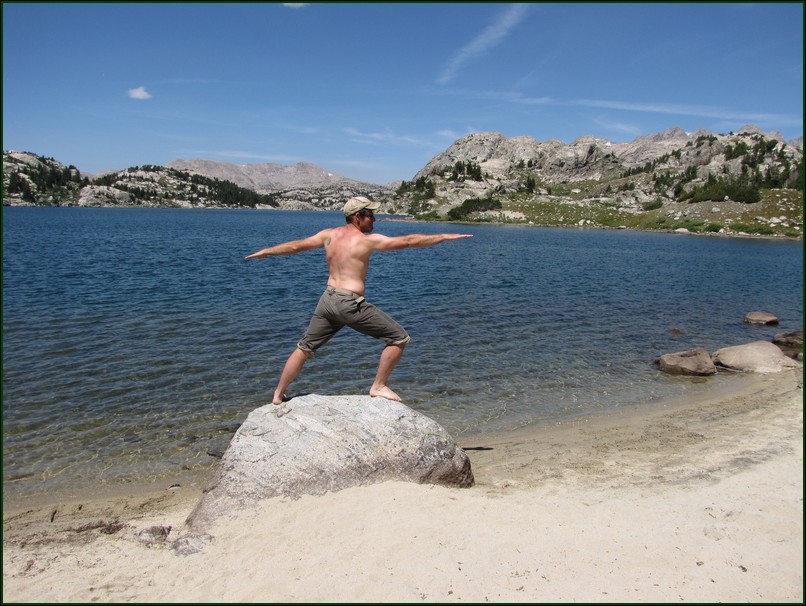 Apparently it's also a great location to do a little Yoga. The setting certainly encourages a peaceful mind.


---


As there were still 4 miles of trail to cover that day we eventually put the packs back on and headed out again. The weather held perfect for us on the approach so we continued to take our time.


---


As we got higher up Titcomb Basin the lakes turned more aquamarine in color due to the glacial silt in them. This is the middle Titcomb Lake and it stretches on for over a mile. We were headed towards the pass on the right of this photo at the end of the valley.


---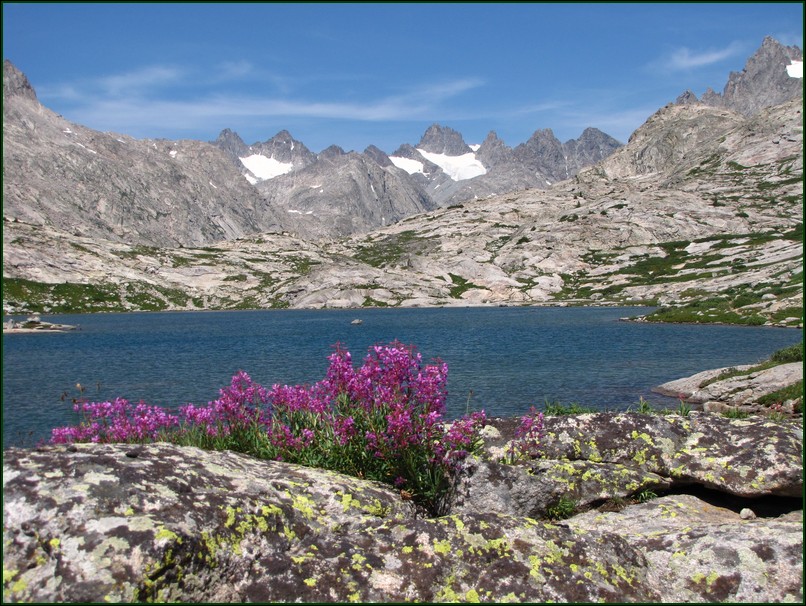 Ahh more flowers. Kristy Simons informed me that these are known as Fireweed.


---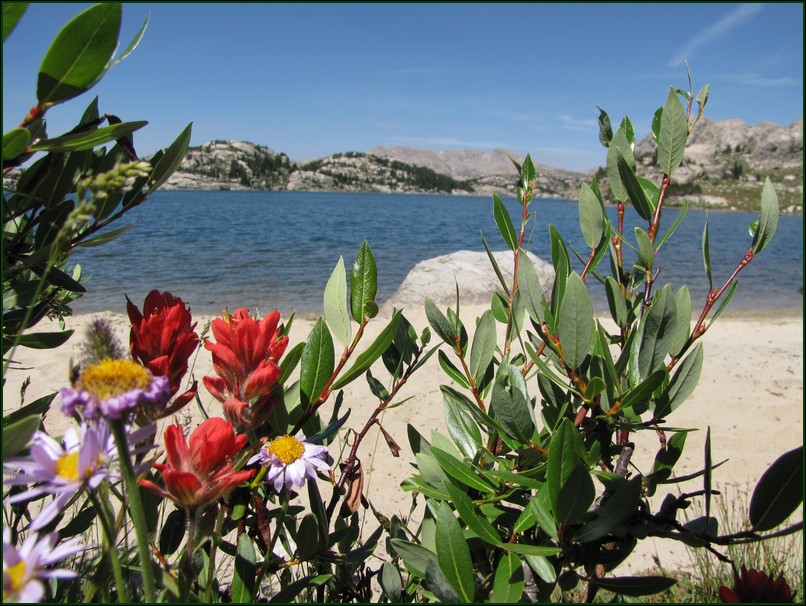 The Indian Paintbrush were very red there. I'm used to the much more orange ones in Colorado.


---

The only ones I know out of these are the bluebells in the background. I really should start learning more of the flowers' names.


---


When we reached our base camp it was still pretty early in the day. We set up the tent and got everything arranged in a wind shelter. We were even able to find a tall enough rock that we were able to set up our shower and make use of it. It was very refreshing, especially when the breeze picked up.


---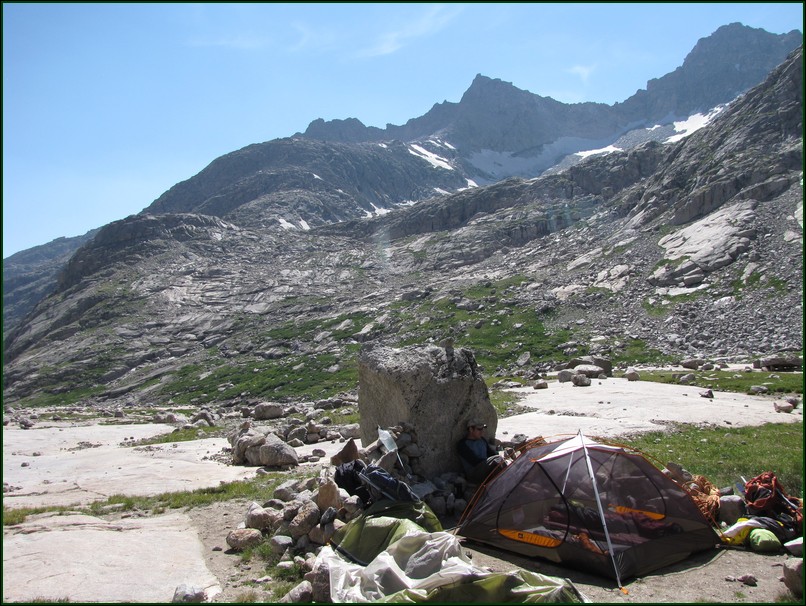 We began making plans for the next day. Earlier in the day we had talked to a group that had climbed Gannett on Friday. They said they had left at 4 and gotten back to camp at 9:30. It took us a while to realize they meant they'd left at 4 am and returned at 9:30 pm. A 17.5 hour day of hiking for 8 miles! We just wrote that off at first, thinking they just must have been out of shape or not acclimated.

However another pair of hikers really got us wondering. They had passed our tent at Barbara Lake in the wee hours of the morning. They were running the trail up Gannett Peak and we heard them talking about maintaining 11 minute miles. When we finally saw them coming back off of Gannett we figured out that from our base camp it had taken them 11 to 12 hours to do the 8 mile round trip above Titcomb Lakes.

We really started to wonder how hard the 8 mile round trip to the summit and back would be. There would be 5,000 feet of elevation gain on class 3 trail, but we'd done that before on other mountains in well under 12 hours. Still we decided that since the weather outlook was great the next day we wouldn't worry about getting up until 5 and hitting the trail around 5:30. That would allow us to climb Bonney Pass in the daylight, and if it did end up being a long day the weather was supposed to hold up anyway.

We met a couple of guys that were camped near us. They said they were high-pointers and were going to make their attempt on Gannett Sunday as well. They'd already made one attempt on Saturday but one of them wasn't feeling well on that attempt so they waited another day to give it a shot.


---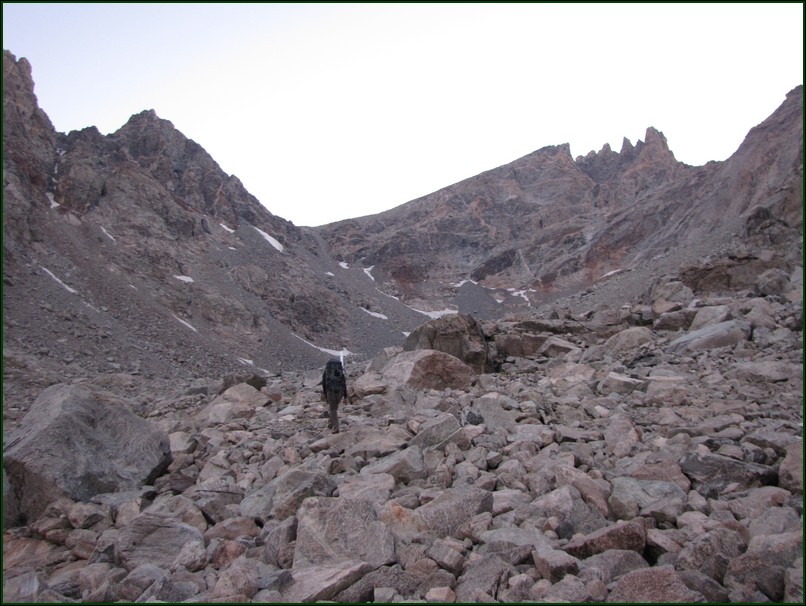 The next morning we got up as planned and had breakfast. We both decided that we'd hydrate well before leaving and just carry two liters of water. After all we only had 8 miles to cover.


---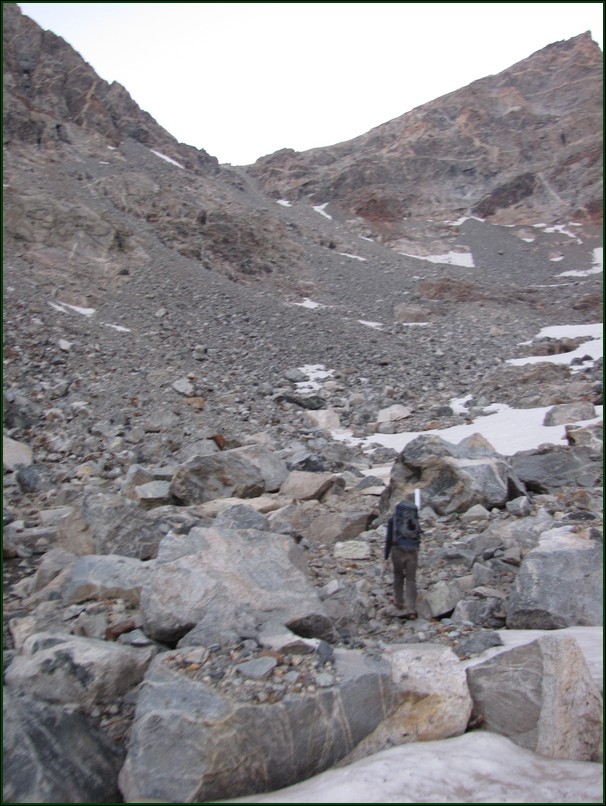 I was very glad we didn't try to find our way up Bonney Pass in the dark. It would have been doable, but difficult. There are cairns everywhere. As soon as you find something that looks like a decent trail it disappears into a slope of loose scree. You just have to work your way up through it all as best you can.

From a distance Bonney Pass looked really steep and difficult to ascend. As we got closer we found it wasn't as bad as it looked, but still a challenge. I certainly would have prefered more snow this year so we could have done this part as a snow climb.


---
---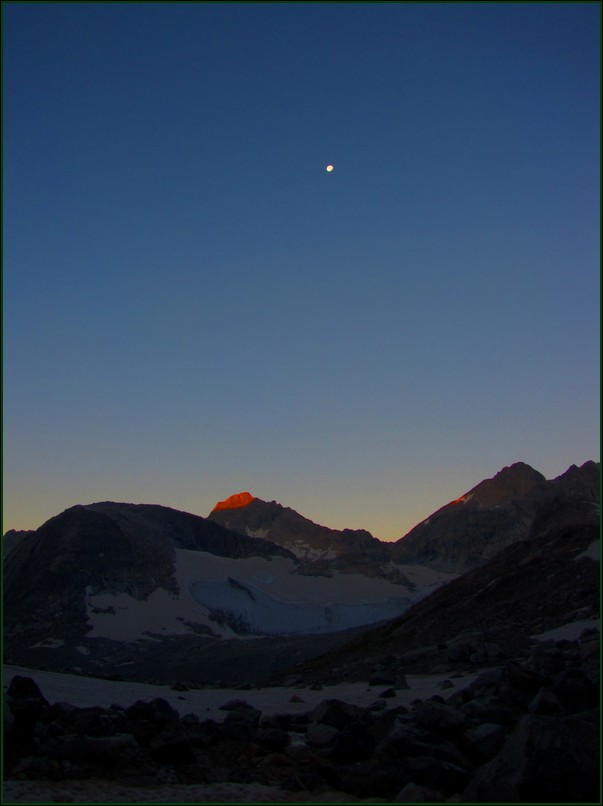 We did still get up early enough to catch a nice sunrise. This is some alpenglow catching Winifred Peak above Twins Glacier.


---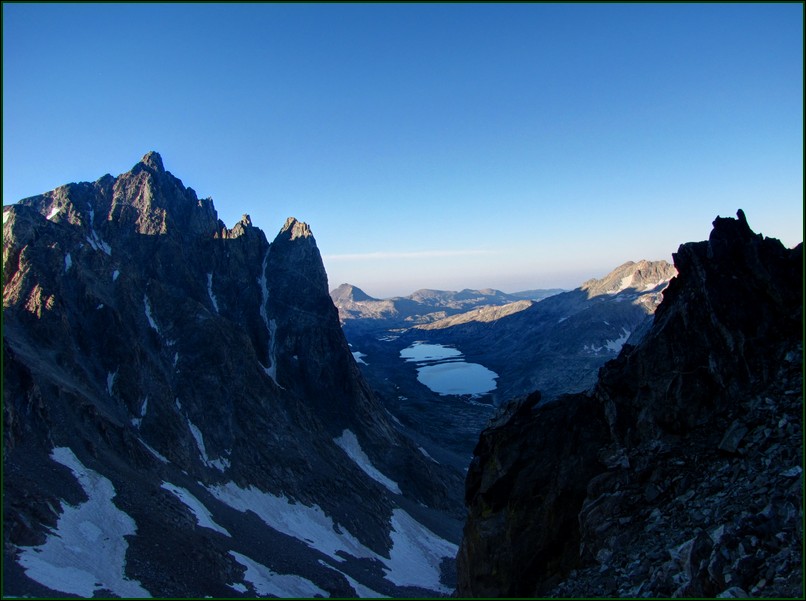 After 2 hours of hiking we'd reached the top of Bonney Pass. This photo is looking back down towards camp, just above the lakes.


---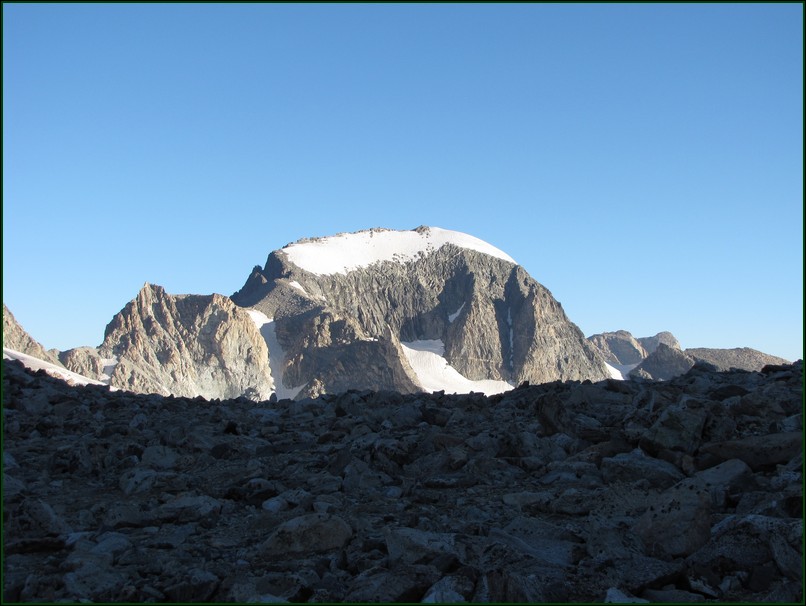 We also got our very first look at Gannett Peak. It takes over 18 miles of hiking to get to the point that you can even really see the peak. Which is probably why this mountain doesn't have widespread recognition.


---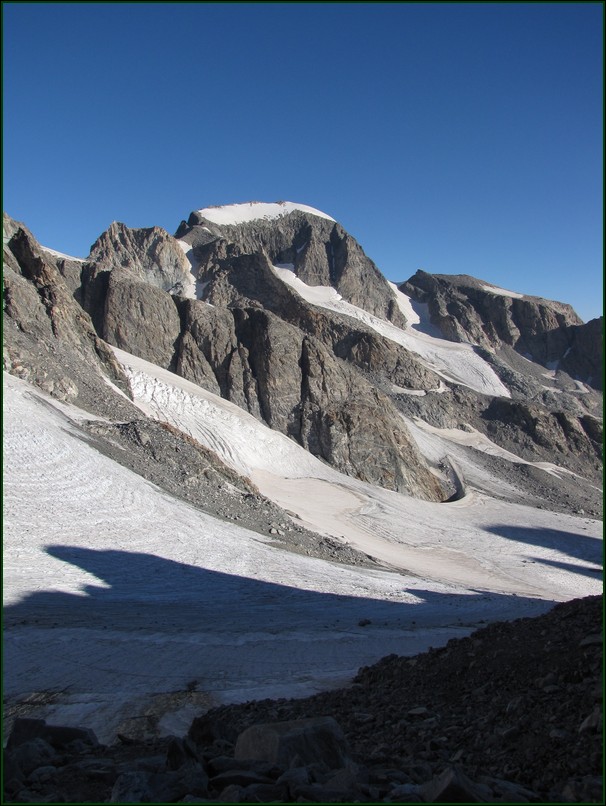 From the top of the pass you can see most of the remaining route. From here it's a 1200 foot descent down onto Dinwoody Glacier, then crossing a rocky ridge to get onto the Gooseneck Glacier. We alternated between being on the Gooseneck Ridge and the Gooseneck Glacier to avoid on crevasse field. We gained the summit ridge early as the bergschrund no longer had a snow bridge and the standard route was not passable. (hover the mouse over the image to see the route.)


---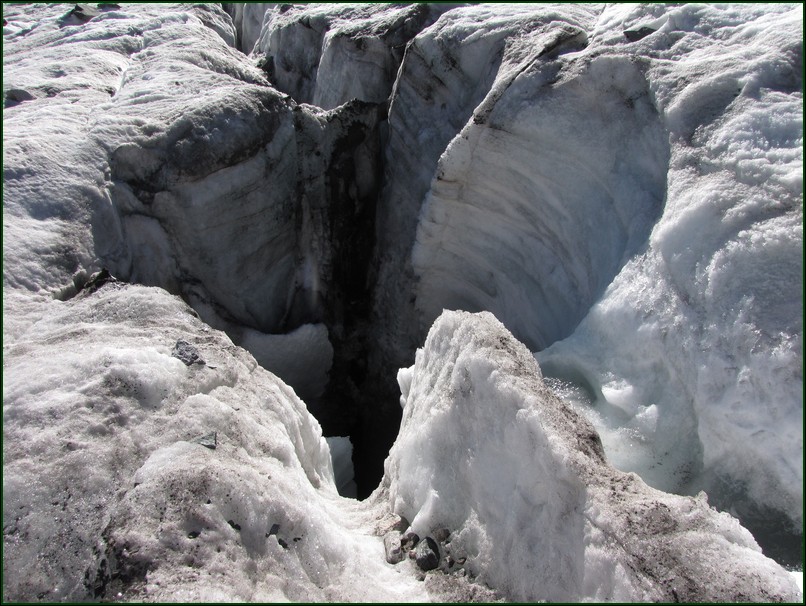 About half or more of the parties we saw beyond Bonney Pass did not rope up for the glacier. One party only had ice axes. No crampons, no helmets, no harnesses, no rope. I was a bit suprised by this. I don't think these glaciers are know for having a lot of large crevasses, but it only takes one big enough to fit into to get you. We came across this very deep moulin very early on in the hike and had no trouble finding crevasses. For reference this moulin is about 15 feet wide.


---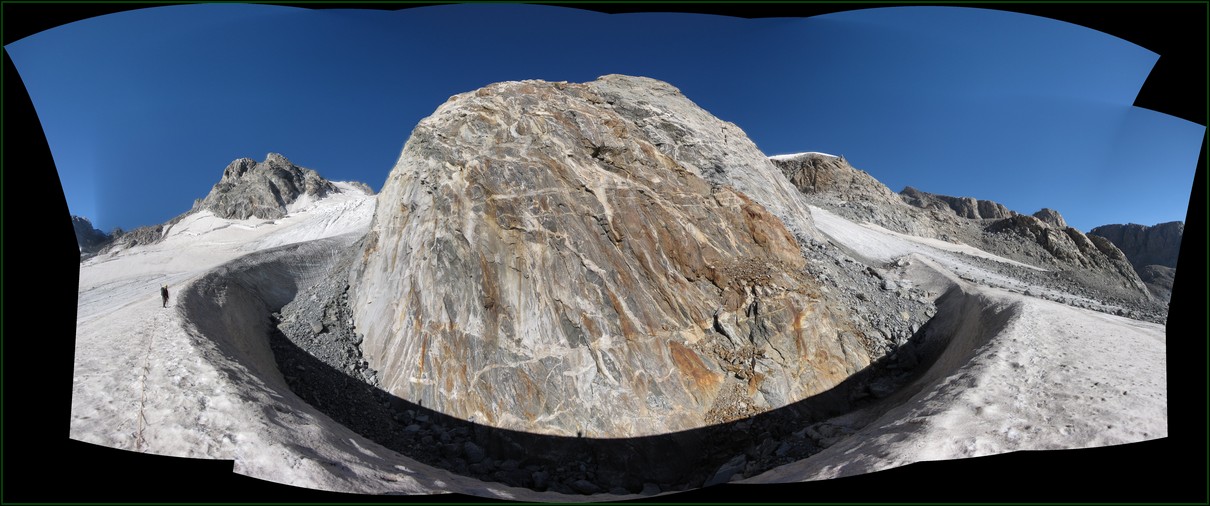 The low point of this part of the hike is just below a large rock wall. The gap left as the glacier passes this giant dome is impressive. I'd estimate the depth of the glacier to be 80 feet here.


---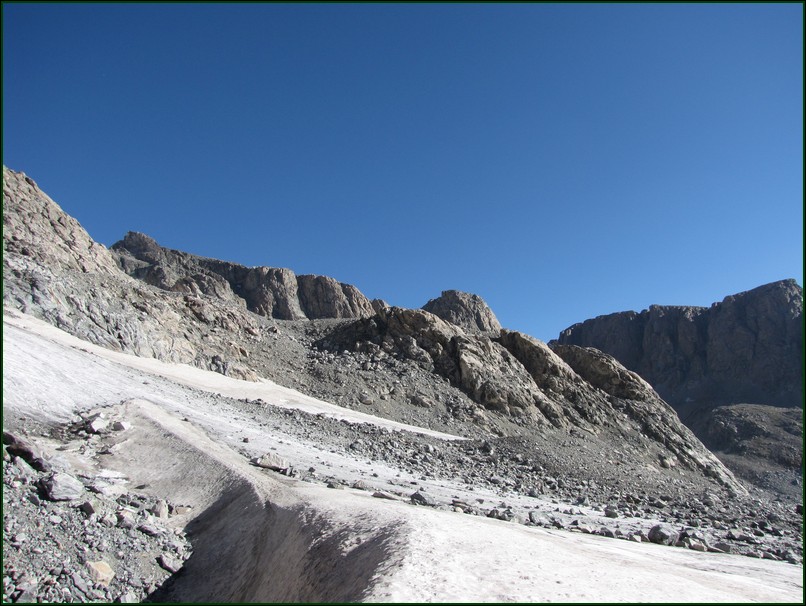 From here there are two options to take (hover over image to see arrows). We took the upper route as this allowed us to stay on more snow (not visible in the photo), it did however get us into some larger crevasses as well. The lower route would have avoided these crevasses but would have had more scree climbing. Either way, be very cautious of rockfall through here.

Just after this area we caught up with the two high pointers that had camped near us. They had left 3 hours earlier than us, but were struggling some with the altitude. We talked to them a bit more and learned one was from Michigan and the other from Washington (if I remember correctly). They had met at the Nebraska high-point a couple of years back and started doing some of them together. This one is certainly a lot harder to get to than the Nebraska state high-point.


---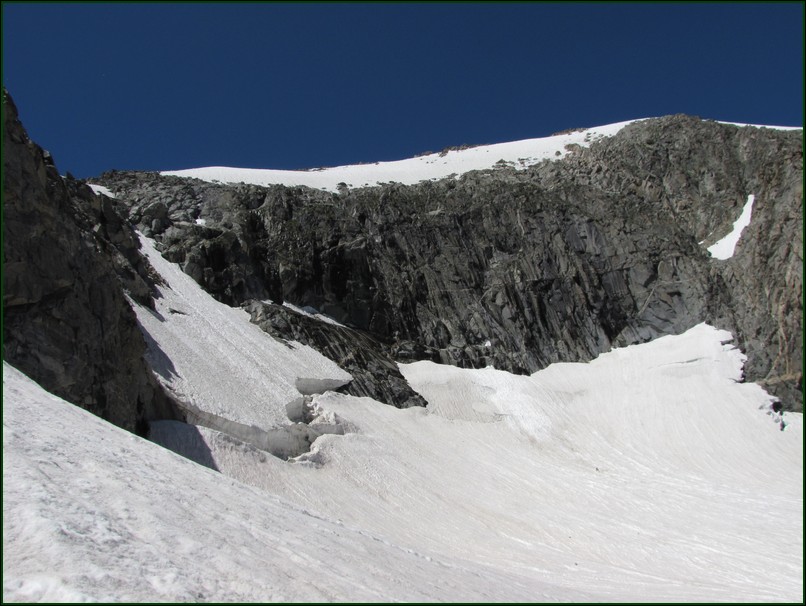 As we neared the standard couloir for the ascent we saw the bergschrund was completely open and looked to be impassable. However just to the left of where this photo was taken was another couloir where the snow bridge had collapsed but part of it had wedged in only about 4 feet below the low side and a guide had left a fixed rope hanging there. We didn't fully trust the fixed rope as we couldn't see what was above so Jason belayed me as I crossed the bergschrund and climbed the other side. Then I belayed him across it.

This was the end of the road for the two guys with nothing but ice axes. They had to turn around so close to the summit. I can't imagine hiking that far unprepared for the glacier only hoping you'll find a way to get by. By this point they were only a half mile and a thousand feet from the summit.


---

Unfortunately there was a bit of a traffic jam at this little chockstone of snow in the bergschrund. This party wound up being pretty cool about it though and letting us sneak by when they were resetting their system between climbers. We thanked them by helping get their systems reset for the next climbers.


---

Once up on the summit ridge it was just some relatively easy rock scrambling on class 2 to light class 3 terrain to get to the summit. Some people used the snow more, but I didn't want to put crampons back on again so I stayed on the ridge crest the whole way. This added a little up and down for me, but a slip on this snow field means you only have thrity meters to stop before a long drop. Just such an accident occured the previous year.


---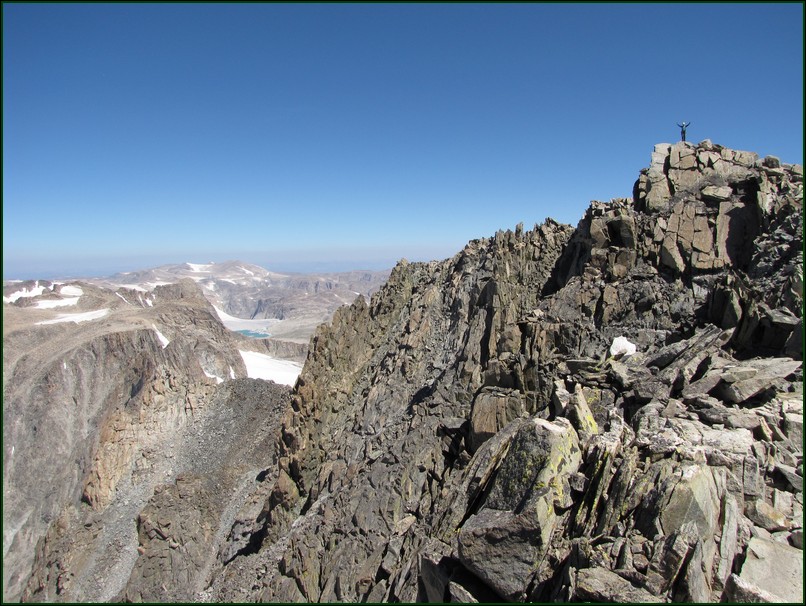 Reaching this summit definitely feels like you've earned it. Having come 21 miles on foot to reach it certainly had worn us out a bit, but we were exhilerated by the accomplishment as well.


---

Click to view the summit panorama. May require the installation of Microsoft Silverlight.
---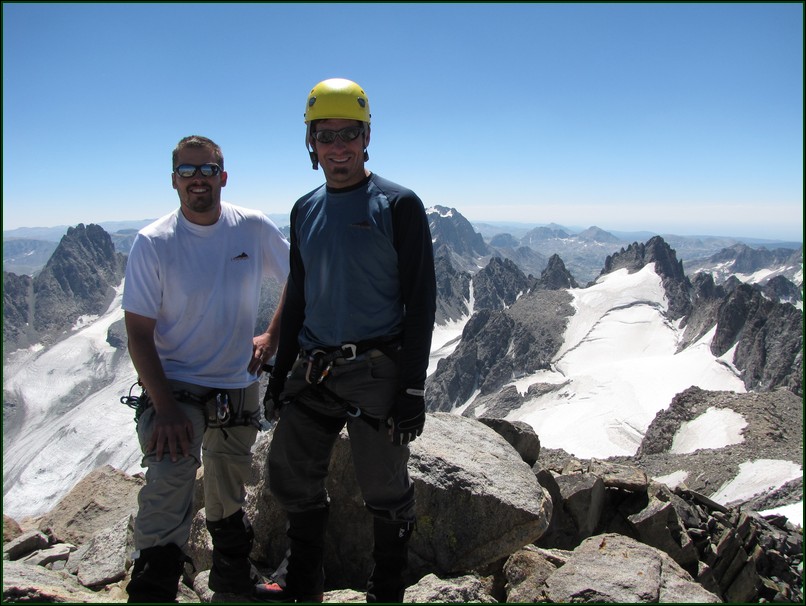 It was powerful to take on this mountain and succeed. It certainly felt like a lot more of a challenge than most of the 14ers in Colorado, and was right up there with Rainier as well.


---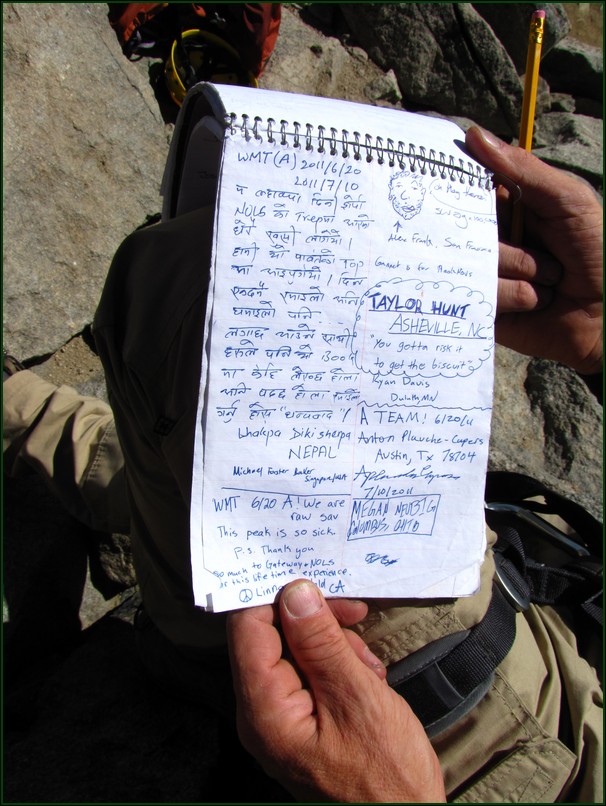 This was the first time I'd ever seen a Sherpa from Nepal sign the summit register. Must be a decent mountain to attract that kind of hiker.


---

We spent a little while on the summit, however the task that remained nagged at us and called us to get going again. Unfortunately that 1200 vertical feet we'd lost coming off of Bonney Pass we would now have to regain to get back to our camp.


---

On the way up we'd had a great chance to inspect the fixed rope and the anchors we were satisfied they were strong enough for a rappell. Thank you to whomever set this up as was a huge time saver on the way down.


---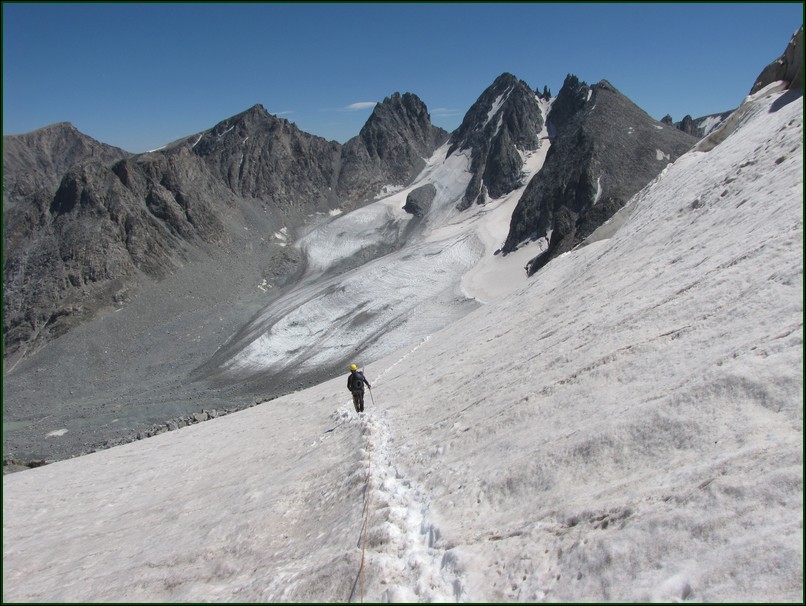 The descent went fairly quickly. The most time consuming part was taking on and off the glacier gear a few times.


---

As we reached the low point on this side of Bonney Pass again we were both in serious trouble for dehydration. The 8 miles was taking more effort and more time than we had planned. We had to have water but had not brought along our filter. The dehydration was really beginning to effect our coordination, stamina, and cognitive abilities. We concluded that we really had no choice other than to drink the glacial flow and hope it was clean enough. It tasted amazing. I drank a liter of it as quick as I could (I kept getting brain freezes while doing this). Then bottled up another and drank it as we climbed back up to Bonney Pass. I felt my mind return once I had some water in me. We had clearly gotten very dehydrated. Don't underestimate this part of the hike and make the same mistake we did.


---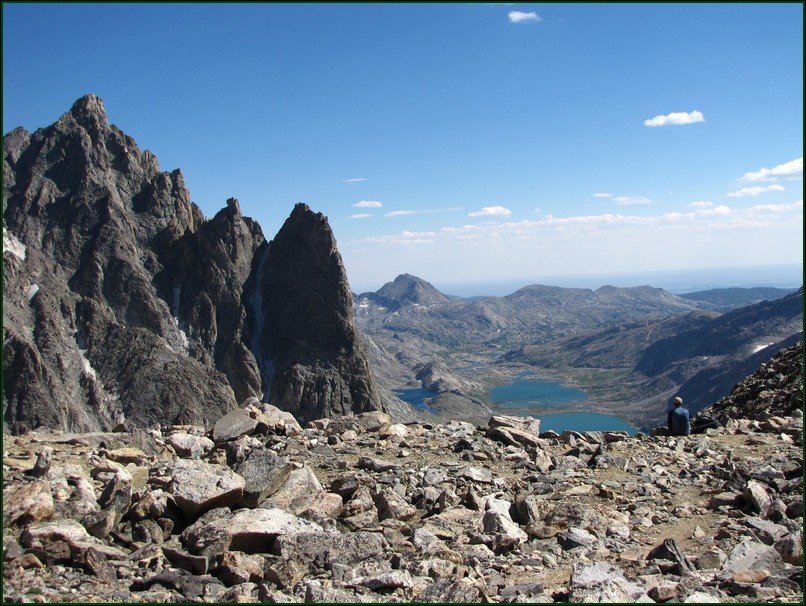 We were back up on Bonney Pass by 4:30. 9 hours after we'd been there that morning, and we'd covered less than 4 miles during that time. The descent down Bonney Pass was back on loose scree, but we were glad to be done with any uphill travel for the day.


---


Even though the forecast had called for it, I was still amazed that the clear blue skies lasted all day for us. We had run out of water again though and definitely didn't want to drink the water straight out of these creeks.


---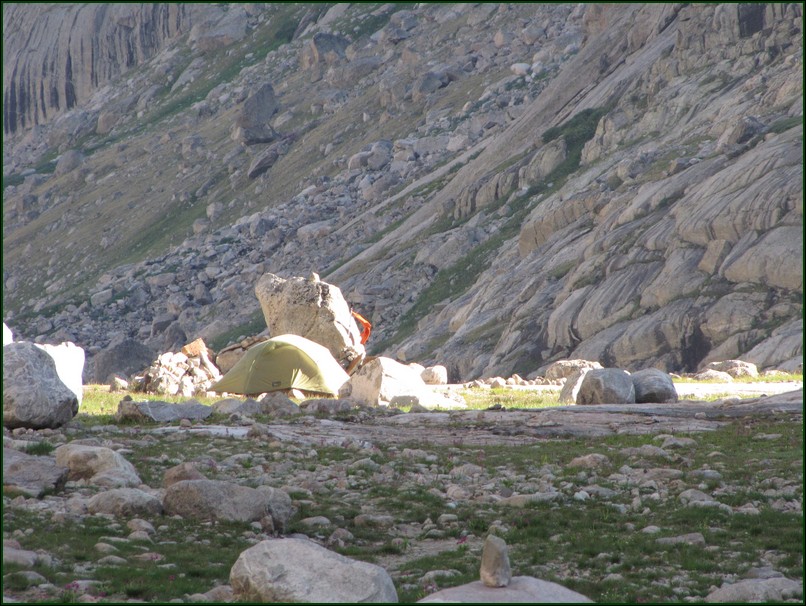 Camp finally came into view where we had clean water waiting for us. I had hung an orange pack towel up before we left as there are no trails in the area and our tent blended in perfectly with it's surroundings. This made it much easier to find on the way back. After getting back we filterd 12 more liters of water. I personally drank 4 of those and we used some for cooking and sanitary needs. In total I drank over 2 gallons of water on summit day. We were also very hungry as our snacks during the day didn't come close to keeping up with calories burned. Quinoa burritos were the chef's (Jason's) specialty that night.


---


As the sun began to set we were feeling much better but were getting worried about our two high-pointer friends. We'd been back for hours and still saw no sign of them. As we crawled into bed we agreed to keep an ear out for them and look to see if we saw them during our multiple responses to the call-of-nature we expected that night. (Seriously I drank over 2 gallons that day.) Around 9:30 Jason saw their headlamps on top of the pass. Around 11 pm I saw their headlamps nearing the bottom of the pass. We guessed they got back to camp between midnight and 2 am. A 21 to 23 hour trip for them. We were glad they made it back safely though and impressed they were able to push on so long. A well earned high-point for them.


---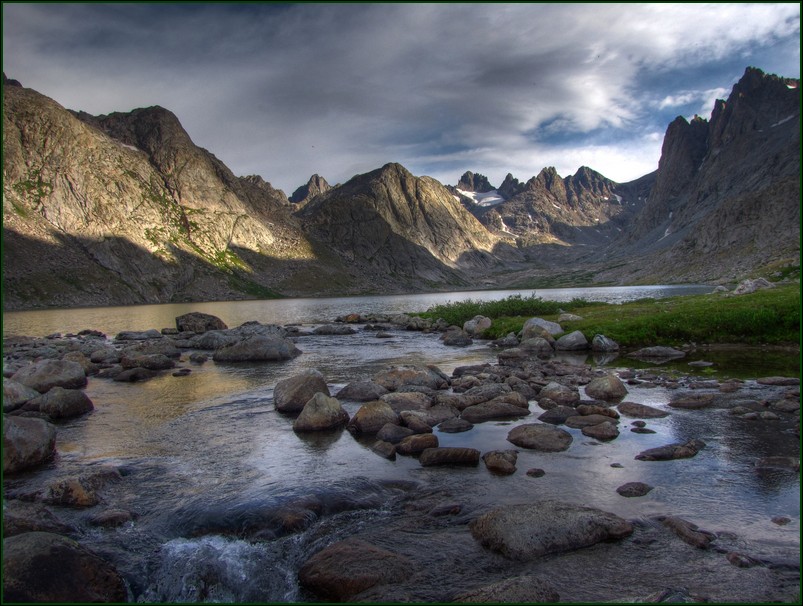 The next morning we woke to the sound of rain drops. Both of us immediately sprang from our sleeping bags and gathered everything we needed to keep dry and brought it into the tent. Fortunately it was a short storm and we'd awoken to the very first drops so nothing got very wet.


---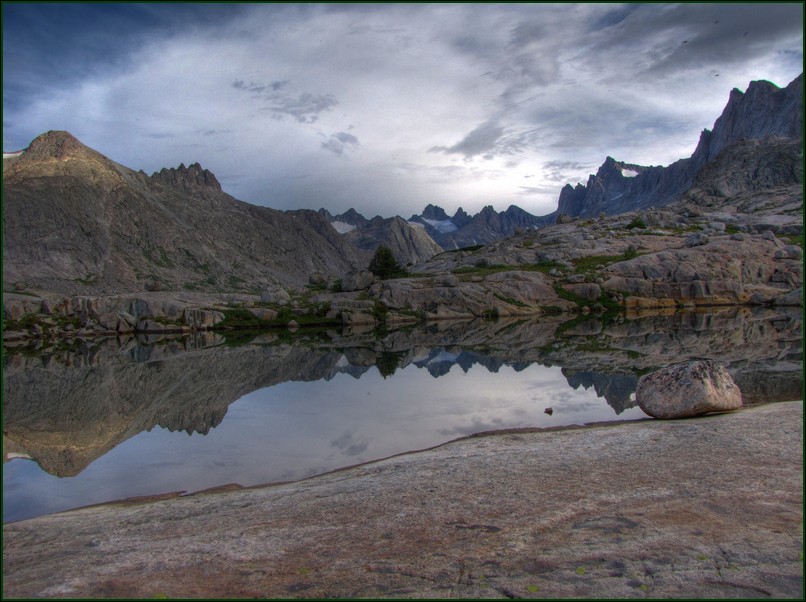 We began Monday's hike with tentative plan to just start hiking and watch our progress. Then we'd decide if we were going to hike all 16.5 miles out that day or break it into two days. We were suprised at how well we felt and it wasn't long before we knew we were on a good pace to make it all the way out that day.


---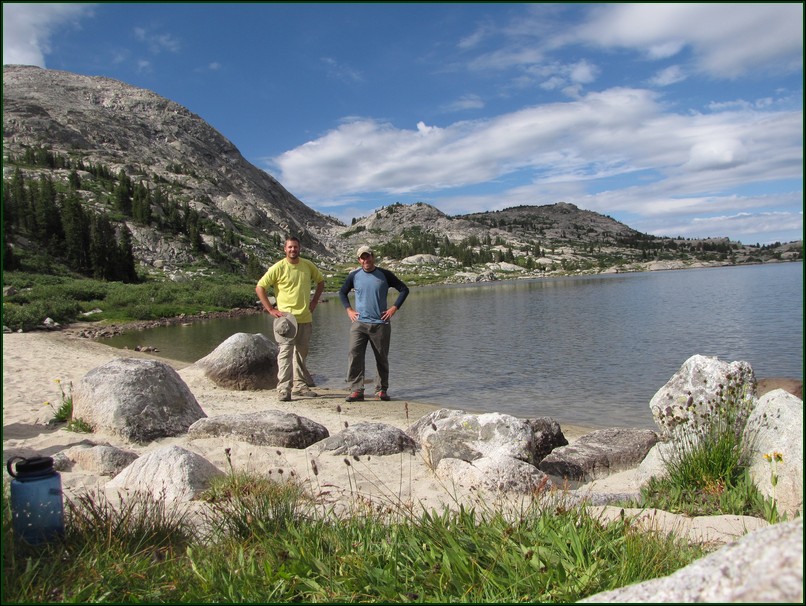 We did stop and enjoy ourselves a little still, but the thought of a hot meal cooked for us drove us on.


---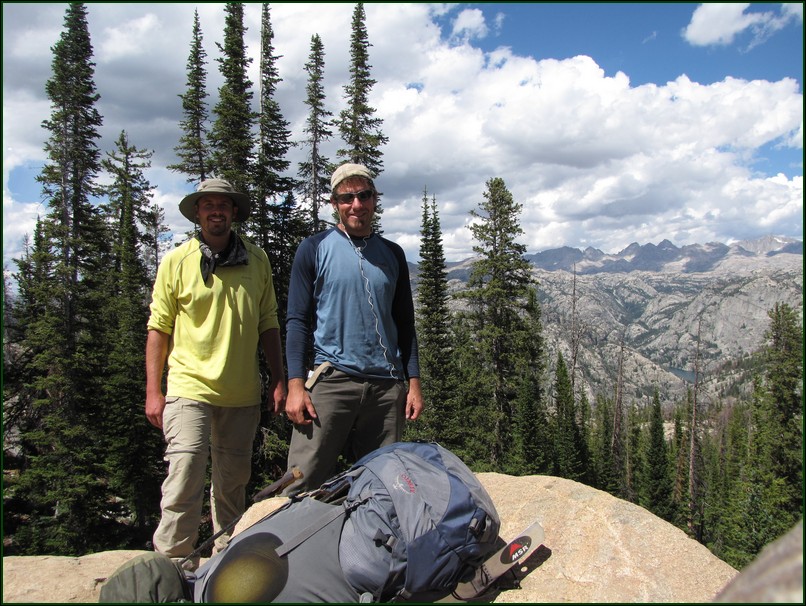 We reached photographers point in great time and with only 4.5 miles left to go at 2:30 in the afternoon we knew we were almost there. At this point though our feet were tired and very sore so we put in headphones turned on some upbeat music and just kept putting one foot in front of the other.


---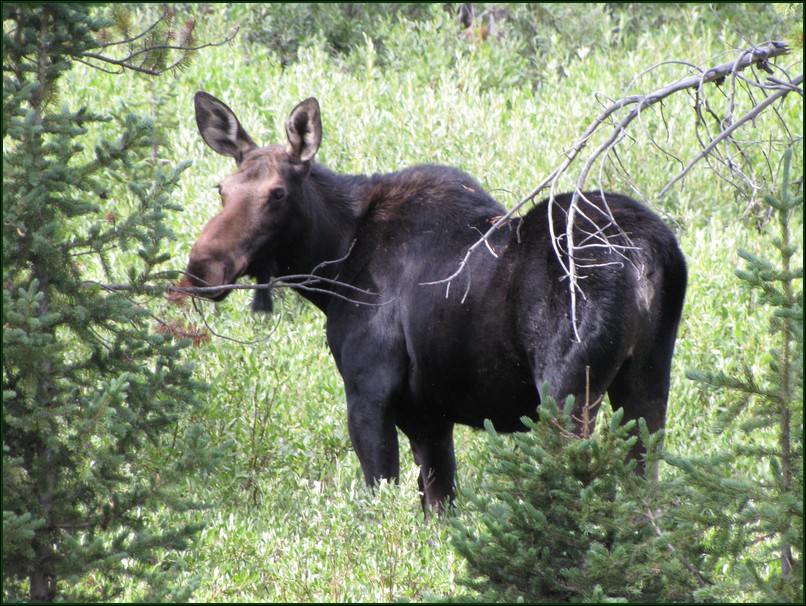 Within a half mile of the trailhead we did break our rythym when we saw this next to the trail.


---

I don't really know how to sum up this hike. It was a trip 5 years in the making for me.

Five years ago, even though I hadn't really intended to do Gannett, I felt like I had failed and pretty much had a bad trip. I wasn't fit enough, my pack was way too heavy, we weren't at all prepared for the mosquitoes, and after some car problems on the way up I started the hike in a funk I never really escaped. I loved everything about the area, I just wasn't mentally there for it.

This time it was almost totally the opposite. First off my Jeep ran great the whole trip (though going 80 on the interstate into a 35+ mph head wind did kill my fuel economy). Even though I was carrying much more gear this trip (rope, harness, carabiners, pickets, ice axe, helmet, etc) I packed smarter and my pack was 27 pounds lighter than last time! The last trip actually was what inspired me to start going lighter with my gear. I also weighed 15 pounds less than last time and was in much better shape for the trip. I still can't keep up with Jason, but that's another issue. I also had much better knowledge of what I was getting into, well except for what was over Bonney Pass. We came better prepared for the mosquitoes receiving not one bit the whole trip. Even our food was much better this trip. Winning the mental game defnitely makes it easier to have a successfull trip.

This trip I was totally prepared to enjoy the splendor of the Wind River Range and Gannett Peak, and I loved every minute of it even the last few brutal miles felt like they were just emphasizing the magnitude of this trip.





---
You are welcome to contact me with any questions regarding questions about, or problems with, this website. Just send me an e-mail at josh_friesema@hotmail.com.