Sunshine and Redcloud Peaks
---
The San Juans have been a challenge to climb, mostly due to their remote locations. These two peaks are some of the easiest to access, yet it was still a 4 hour drive involving some roads that could have been considered questionable for passage with a Jetta.

These peaks were Jason and I's last summer hike for 2005. Jason was dealing with a recently twisted ankle and I had a cold that made breathing a bit difficult, but we really wanted to get a couple more mountains done before the snows began to fall. Our speed was slower than usual and our starting time abnormally late in the day for us, but we knew the weather was going to be perfect and really had nothing to worry about. It turned out to be a great hike, of course.
---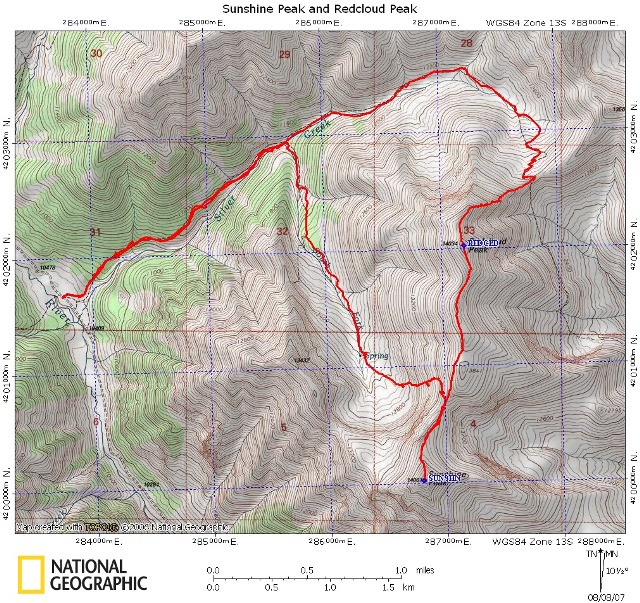 Click on map for larger image.



---

From the trailhead neither Sunshine nor Redcloud are visible, however Handies Peak (another nearby fourteener) was already in the sunlight as we began our hike.
---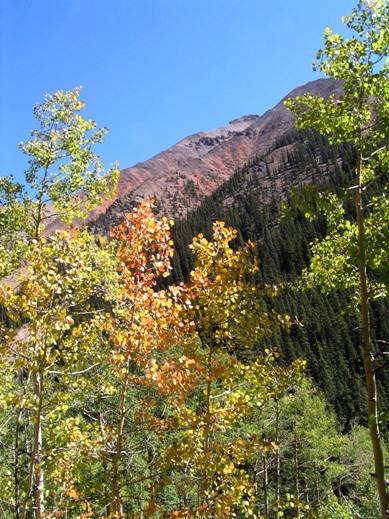 The Aspen trees in the lake city area were changing colors which greatly added to the beauty of this hike.

---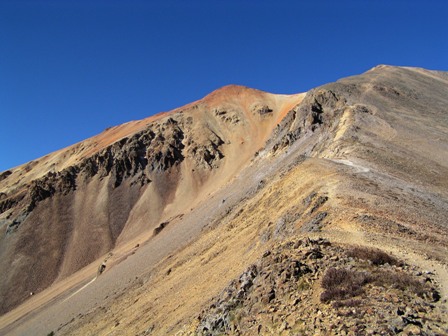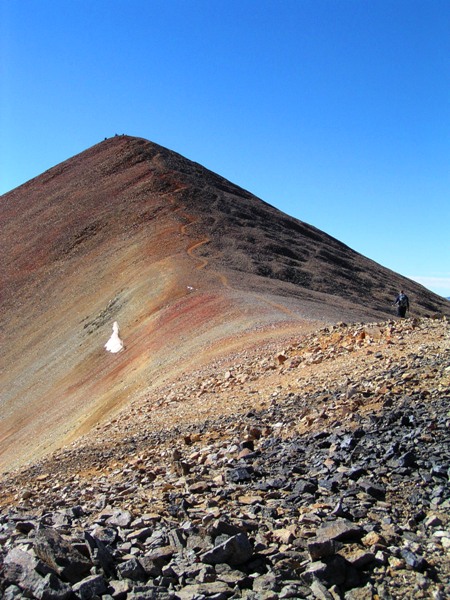 The San Juan mountains come from volcanic origins, this area happens to have a high iron content in the volcanic rock. As the iron rusts it gives the mountains their red colors.

---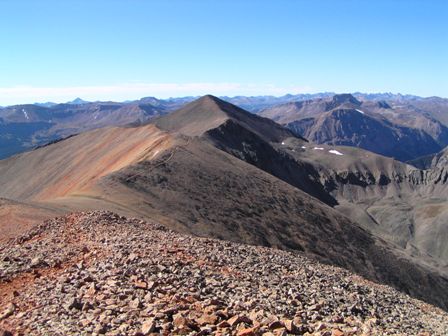 The traverse from Redcloud to Sunshine is nearly a mile and takes most people about an hour to complete. The trail itself is in great shape, it just takes so long because the lowest point on it is 13,500 feet.

---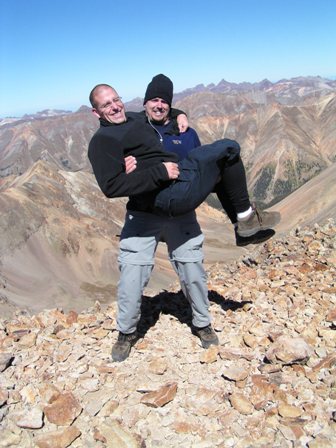 Jason's ankle was getting really bad as we headed for the summit of Sunshine so I carried him to the top. He's not heavy, he's my brother. (ha! he is heavy, I couldn't carry his butt)

---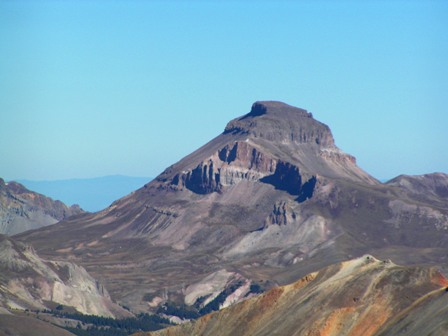 From the summit of Sunshine we had a great view of Uncompahgre Peak which I hope to take on next summer.

---

As we began to descend, we found this sign above our descent route. We decided to continue in spite of the warning. Jason and I have seen a lot of terrain now and we didn't run into anything that was terribly dangerous, however we did have to be really cautious and take our time to prevent killing each other with rock fall.

---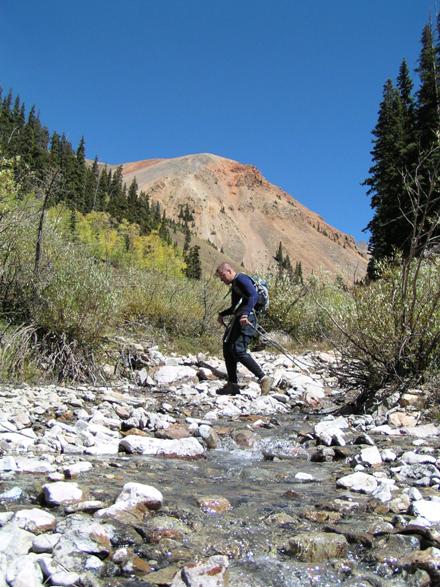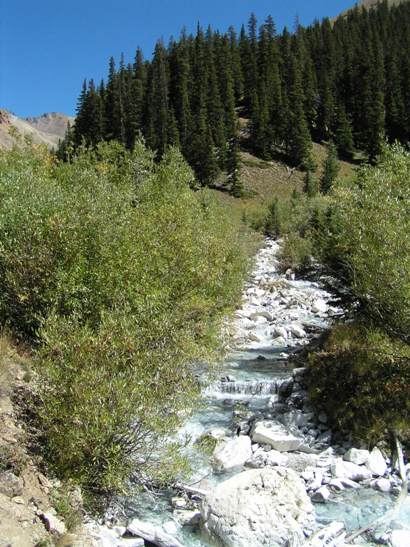 The trail we took follows a creek named Silver Creek. A very appropriate name as you may have noticed in the pictures above. After speaking with a geologist I learned what makes Silver Creek silver. Apparently the volcanic rock in the area makes the water acidic. The acidic water then dissolves aluminum out of the rock it flows through before entering the stream. After entering the stream and getting mixed with other water or snow melt the acidic level drops and the aluminum is then deposited on the rocks. Cool huh?

---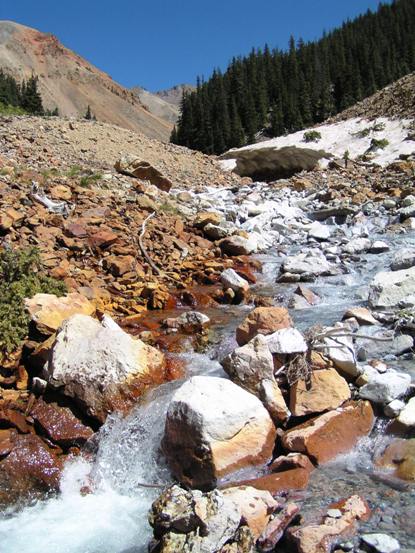 I loved this spot where two streams merged. One was carrying a lot of iron and therefore colored the rocks red, while the other is Silver Creek and is coloring all the rocks white.

---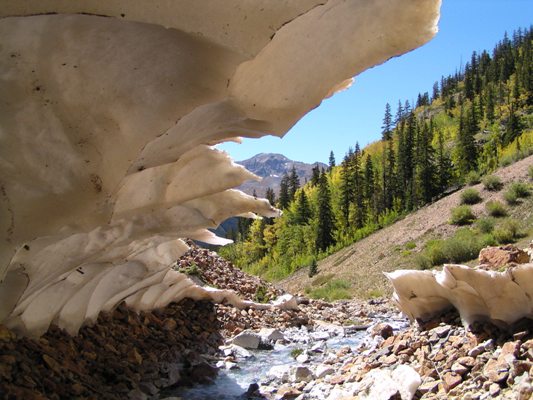 My parting shot was take from beneath what was left of an avalanche runout field. Pretty cool to still see snow from the previous year at such a low elevation.


---
You are welcome to contact me with any questions regarding questions about, or problems with, this website. Just send me an e-mail at josh_friesema@hotmail.com.